Not all moms breastfeed. Some moms want to use bottles to feed their babies and then comes the most obvious questions all parents face. Which bottle is the best? Plastic? Glass? Stainless steel? There are many bottle brands and types and we created this best baby bottles list to help you figure out which one is the right brand for you and your baby.
Quick table of the best baby bottles
Why do we need to use a baby bottle at all?
Newborns babies have to eat, your options are either breastfeeding, giving bottle or a combination of both, so buying the best baby bottle you can is a must gear for every parent. And i know some moms will say that they plan on breastfeeding their child all the way so there's no need for a bottle, and to those i say girl please. Breastfeeding is great, but every new parent should have at least a few bottles and here's why:
Mommy needs a break too
Even if you plan on breastfeeding your baby right from the start and you hope to do it all the way, there will be a time when you need or want to take a much needed break to do real world stuff or just for your sanity sake, whatever the reason, a goo baby bottle comes in handy for this situation. This usually happens after 3-6 weeks when the baby starts to have a normal feeding routine, this is the time to introduce the bottle and mix it up a bit so the mommy can get a good night sleep.
Give dad a chance to bond with the baby
Holding your baby in your arms and feeding him using a baby bottle is a bonding experience, and we want our new dad to do this with his child. The more obvious reason is to give mom a break and take some of the workload, but this reason is also very important, at the early stages of a baby's life he or she is very connected to the mother. Giving the dad some time feeding him and holding in his arms while making eye contact is a powerful way to bond and create a stronger love connection between the baby and the dad.
It's very convenient
A good baby bottle is the difference between a fun day outside with dad or a hungry baby crying because he's not getting feed. So it is very convenient to own a few good baby bottles so you can use them on the go and free one of the parents ( usually the mother ) from that responsibility for a while.
Helps to develop independence
When the baby is developed enough, feeding him with a bottle is a good way of improving his eye hand coordination. Learning to hold the bottle, twist it and rotate it when needed, squeezing it and more actions needed to feed from it helps with the self motivating and encouraging skills you want to give your baby
Feeding with formula
Sometimes your breastfeeding dreams don't pan out or you decided to bottle feed your baby right from the start. Either way, you will need a few baby bottles on hand to be able to feed your baby the proper way. Usually it is recommended to have a few different ones so you can test them out and see which one the baby likes, having only one can confuse you as to why the baby is not eating, a lot of the time it's just the wrong bottle or nipple for him and changing the bottle quickly fixes this issue.
Here are the different types of baby bottles:
If you think a bottle is just a bottle, you're wrong. There are many different types of baby bottles that are made from different types of materials. Below we will try and explain on each one.
The body of the baby bottle:
Plastic – Plastic bottles are usually cheaper, lightweight and easier to transport. Usually you will see a volume marking on the outside of the bottle and they usually come with a silicone nipples with plastic collars. Some bottles have venting systems to keep the air flow out of the milk so your baby won't inhale so much air while feeding.
Glass – Glass baby bottles are easier to clean than plastic bottles, but they are heavier and can break more easily. They are more eco-friendly than plastic bottles obviously and also have longer life spans and won't scratch as easily. The glass bottles could be more difficult for your baby to hold and have narrow nipples, they usually come with a silicone sleeve and nipples. Back in the day people only used glass bottles before plastic was a thing and it is still being used today and widely popular.
Stainless Steel – The stainless steel option is also an eco-friendly option that is very easy to clean, it's recyclable and has a longer life span. They are heavier than plastic bottles but not as much as the glass ones. Some will come with silicone sleeves for better grip like in case of the glass bottles but if there's one negative in stainless steel bottles it's the fact you can't see inside the bottle to see how much milk you have left.
another important thing to note is the fact that the Academy of Breastfeeding Medicine said in their 2010 paper called " Human Milk Storage Information For Home Use for Full Term Infants " that " steel containers were associated with a marked decline in cell count and cell viability when compared to polyethylene and to glass " So take this into consideration when choosing from the best baby bottles list
Silicone – Silicone bottles are rare, but there is at least one of them on the market that we know off. The silicone bottles are lightweight, very easy to clean,scratch resistant and generally easy to work with. You can wash silicone baby bottles in the washer and even heat in a bottle warmer and it won't break if you drop it. These type of bottles are considered safe for babies. We feature one brand here which is a silicone bottle.
Baby bottles Nipple types
For most part nipples come in two shapes, a narrow shape and a wide shape. All the nipples are made of silicone and the main differences are just in their shape like we mention below, some are wide and some are narrow
Narrow – Unlike some of the wider nipple products, the narrow nipples usually don't have vents, they also usually fit the narrow bottle necks which are harder to clean. It has been found that babies have a harder time latching on these nipples but they do take a narrow nipple and can go back to breast with ease, so this is a plus.
Wide  – With a wider base these nipples that connects to wide bottles are much easier to clean. It has been said that wider nipples are more friendly to babies but both narrow and wide nipples are pretty much the same in this regard. If your baby is struggling to get a good latch or having trouble nursing in general, a wider nipple is not a plus here.

What are vents and valves?
Simply put, vents and valves decrease the level of air that flows inside the bottle so your baby doesn't inhale so much air while feeding. Inhaling air while feeding will cause colic, gas, burping and spits.
Most of the best baby bottles have some sort of a venting system in the bottle itself or in the nipple, there aren't much differences between each one, but having one is a good indication that the bottle is of better quality.
Having said that, be aware that too much is bad in some cases, there are some models with such sophisticated venting systems that it's hard to assemble the bottle and also to clean every part every time. In this case, less is more.
How to choose the best baby bottle
Take it one step at a time. Don't just buy a bulk load of bottles and hope your baby likes them. It's best to just get one bottle of each brand and test them out, when you see your child is loving one bottle and agrees to use it, that's when you know you have a winner.
Just to recap, there are several things to consider before buying a baby bottle. Chose the material you want to use: Either plastic, glass, stainless steel or silicone. Chose the type of bottle you want: Either narrow or wide. Lastly choose the type of nipple you want. Wide nipple, narrow nipple? There are so many choices it's pretty much endless.

Browse the list of the best baby bottles below:
1. Lifefactory Glass 4-Ounce Bottle With Silicone Sleeve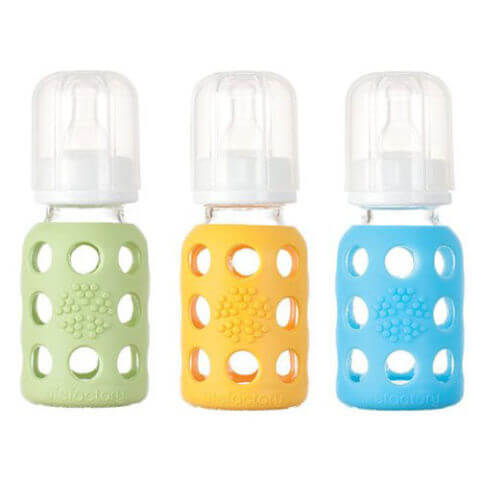 The Lifefactory Glass bottles come in 4-ounces size and they are perfect for weaning your baby from boob to bottle. The bright colors keep it interesting and the soft silicone perfectly hugs the glass bottle making it easier and safer for your baby to handle and hold. You can boil the silicone covers with no worry also when you're sterilizing and the final kicker is that when it's time, you can change the nipples out for solid caps. The first item on the best baby bottles list and it's a great one!
2. NUK Elephant 10-Ounce Bottle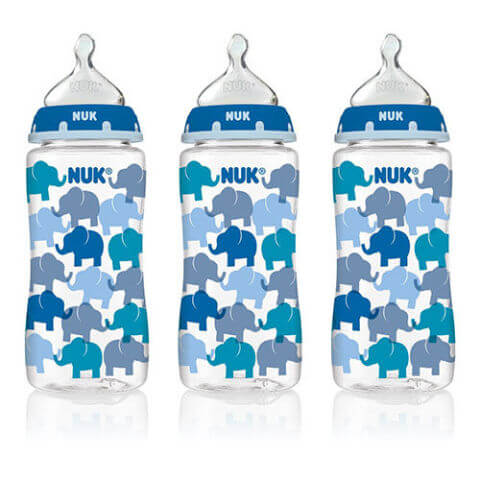 The unique feature of this NUK Elephant brand bottle is the fact that the NUK nipple is a little bit more curvy than other baby bottles, this make it feel more like a real mama's nipple during your baby's sucking session. It also has a perfect fit nipple and an anti-colic air system. You can get the silicone nipples in two sizes and three different flow rates. Overall great choice.
3. Sassy Baby Food 4-Ounce Nurser Bottle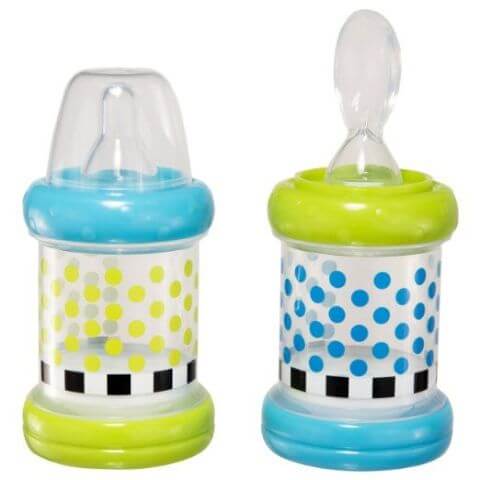 This Sassy Baby Food item is a cool bottle, when you want to transition your baby from nipple to solids, this will be a great choice, the special bottle can dispenses solids through its nipple so your baby can ease in to eating solids like a champ! There's also a vacuum disk that will keep air out so the flow will be consistent. Awesome!
4. Comotomo Natural Feel 8-Ounce Bottle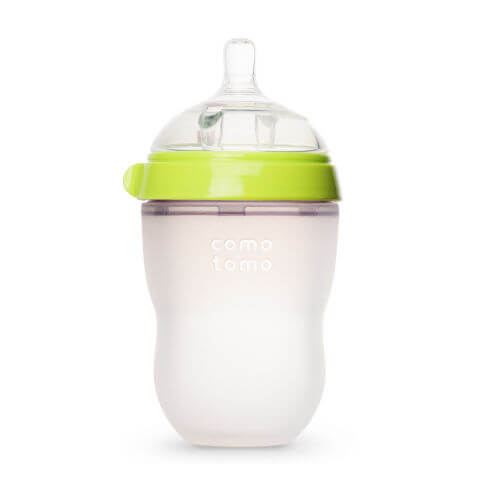 Did someone want a squeezable baby bottle? YES PLEASE! Throw away your glass or plastic bottles and use this cool Comotomo Natural Feel bottle that is flexible and made completely out of silicone. So just like your boob, it will feel soft to your baby's touch. You can give it a little squeeze when you give it to your baby to give him the milk-let-down experience.
5. Mimijumi Very Hungry 8-Ounce Bottle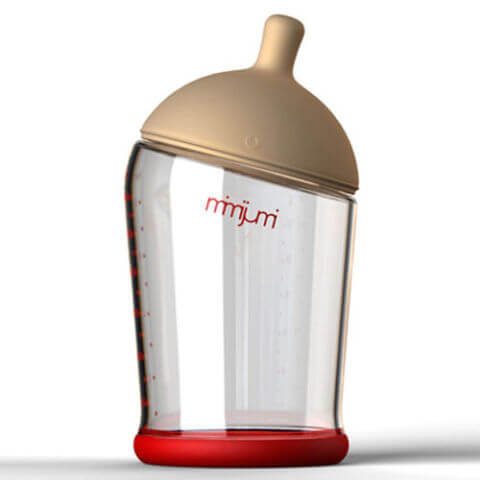 If you want the real thing, or as close as it gets to it, than the Mimijumi Very Hungry is the one for you. From the flesh toned nipple with real textures that will feel and look like a real breast to your baby to the angel of the neck that will help with positioning your baby just like nursing. Final cool thing is the wide mouth that makes cleaning the bottle an easy and quick task.
6. Medela Calma 5-Ounce Feeding Set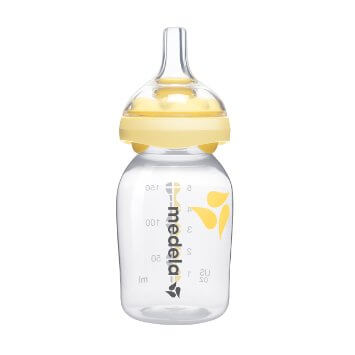 You know the makers of the breast pump will make a cool bottle right? This is exactly what babies who refuse to take a bottle need. The Medela Calma 5-ounce has a unique nipple design that looks more like a real nipple than others. It requires the baby to use the same sucking action as he would on a real nipple to release the milk, this will make even the most stubborn babies eat from this bottle. So fill it up and let your hubby work for a while.
7. Munchkin Latch 8-Ounce Bottle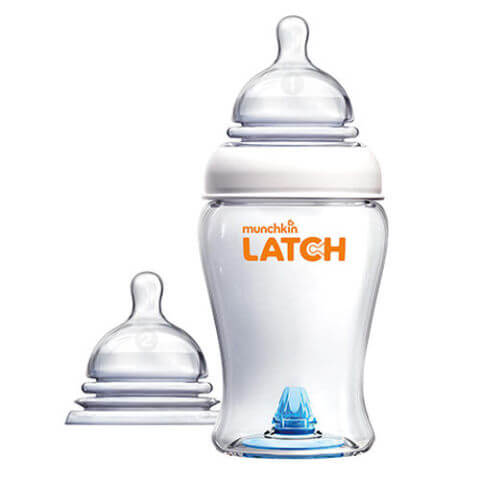 You wanna get that perfect latch, doesn't matter if you use a bottle or a real nipple, it's important so it wont hurt while you feed your baby. Well the latch nipples of this baby bottle is designed in  a way that gives your baby a wide latch that will reach all the way to their soft palate, this is decrease the ingestion of air which can cause gas. Last thing is that this nipple has the accordion style look just like a real nipple has.
8. Dr. Brown's Natural Flow Options 8oz Bottle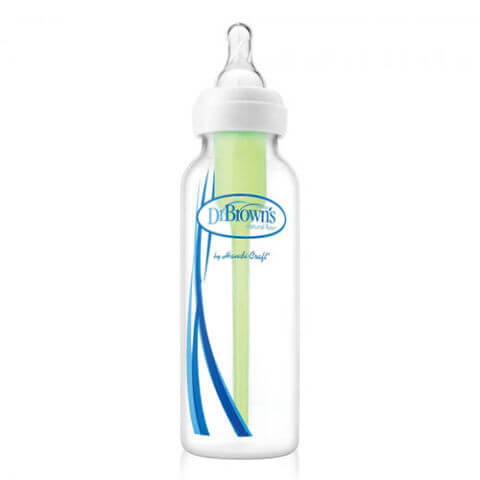 This is a good bottle to transition to a sippy cup. The bottle from Dr. Brown's Natural Flow has the option to remove the internal air vent system when your baby starts to grow and wants to drink from a bottle without swallowing so much air. You can use this bottle from day one because of all these facts and this makes it a good option on the best baby bottle list.
9. Joovy Boob 5-Ounce Glass Bottle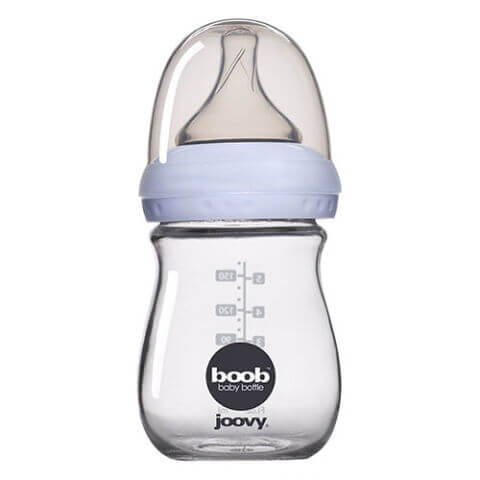 I love this bottle! While most plastic bottles are now BPA-free, some people may still prefer glass. The Joovy's Boob 5-Ounce is a lightweight bottle, that feels very comfortable in your hand and even the shape of it is more natural to the feeding experience. You will love it
10. Philips Avent Natural 9-Ounce Bottle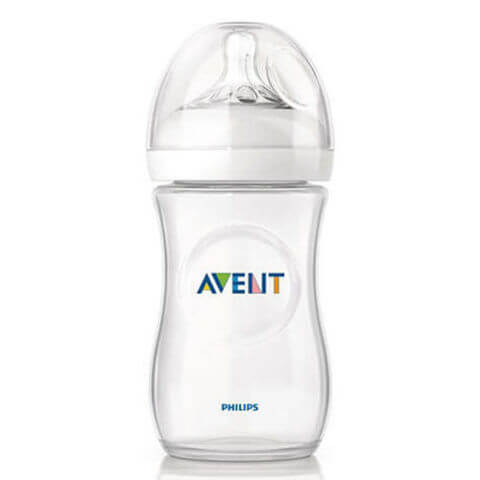 This popular brand has recently redesigned it's bottle to be even more realistic to the natural motion. the Philips Avent Natural 9-ounce baby bottle feels like breastfeeding. There are petals inside the nipple that gives it flexibility and stretch just like a real nipple behaves when nursing. The wide nipple base can help your baby get a natural latch similar to what they would have with a real nipple.
11. Tommee Tippee Closer to Nature 9-Ounce Anti-Colic Bottle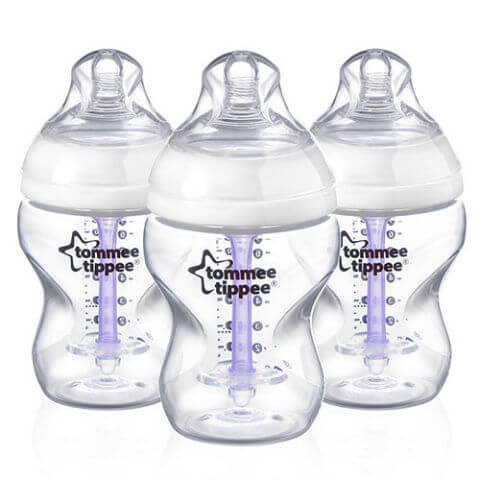 Who here likes Colic? No one right?! It's no fun for your baby and no fun for you. The Tommee Tippee Closer to Nature bottle are a god send gift to babies. The anti-colic brand has a breast like bottle shape that helps your baby be comfortable when feeding, the bottle also has a tubed valve system to direct the airflow away from the milk so the baby wont inhale air bubbles causing him to gas. Overall a great baby bottle to have.
12. Lansinoh Momma 5-Ounce Bottle With NaturalWave Nipple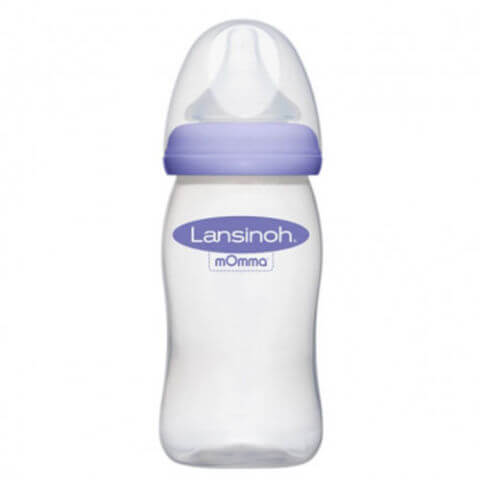 It's known  that more often than not, the reason many babies refuse to feed from a bottle is nipple confusion. well the guys at this company has come up with a great solution. The Lansinoh Momma 5-Ounce is a soft silicone nipple that gives your baby the same sucking effect as they would have with a real breast. The nipple is sloped so your baby gets the same wave like sucking feeling same as nursing, this way your baby can go from breast to bottle and back without even noticing.
13. Tommee Tippee Feeding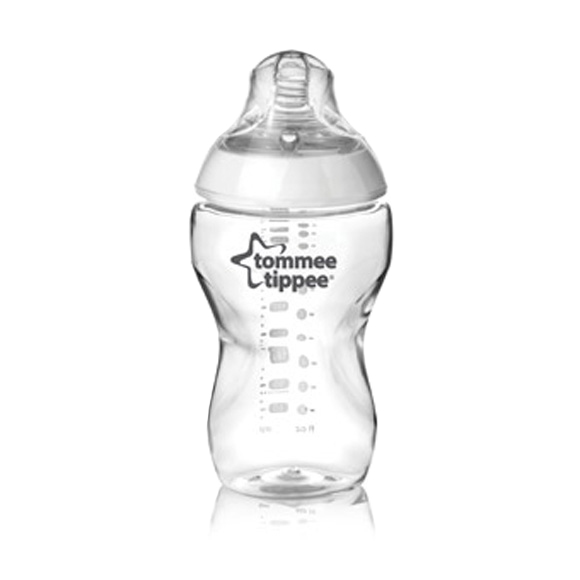 The Tommee Tippee Feeding bottle is made out of three main parts. Mostly from plastic and it's fairly easy to hold by your baby. It's very easy to put together and clean thanks to the wide mouth neck unique design. One great thing about this bottle is the volume indicator on the outside, it also comes with a vent system in the nipple and the nipple is wide enough so it's easy for your baby to suck on. This bottle was tested and found not to leak when you feed and even during transport ( not tested by us ).
Some parents don't like plastic bottles, but the upside of these models is the cost, plastic bottles tend to be much more budget friendly and in this model you also get the nice design and simple features. This can be a great bottle for those who don't trust glass bottles being used by others like during day care or outside.
14. Mixie Baby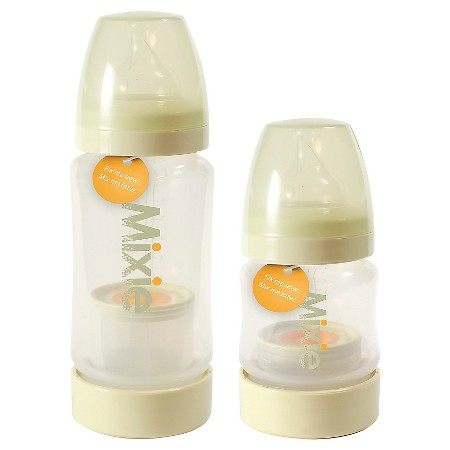 For those who want to add formula to their breastfeeding routine, the Mixie Baby bottle could be a good choice. You can mix the formula powder and water right in the bottle and this brand works great with a variety of nipples such as Avent and Dr. Brown's. This is a good bottle to use when fighting nipple confusing and it could help.
15. Dr. Brown's BPA-Free Natural Flow Wide Neck Bottle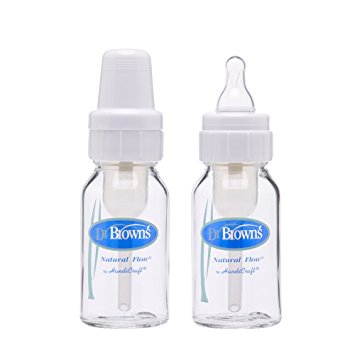 The silicone on the Dr. Brown's BPA-Free bottle has a broad base, this bottle is well liked and received by many breastfeeding mommies and the bottle design itself is fully vented, giving you a vacuum free feeding when you compare it to other breastfeeding bottles.
Comments
comments