Unique gender reveal ideas or parties have become really popular in recent years as parents want to celebrate knowing the sex of their baby with their family and friends. Some of the ideas are just crazy like throwing colored powder at the parents to be, while others offer a more mild eat and drink event.
Whether it's pink or blue, learning the gender of your baby is a very exciting thing and some couples want to share it with their families. In most gender reveal parties, the guests are not supposed to bring a gift, the whole idea is simply to have a gathering of family and close friends and celebrate together with the couple while they reveal the sex of their new baby.
If you're planning a gender reveal party soon, you can browse the list below of 37 unique and creative gender reveal ideas for your party, if you happen to have an awesome idea that is not on this list, please share with us in the comments below.
1. Smoke bombs to know the baby's gender is the first on the unique gender reveal ideas list.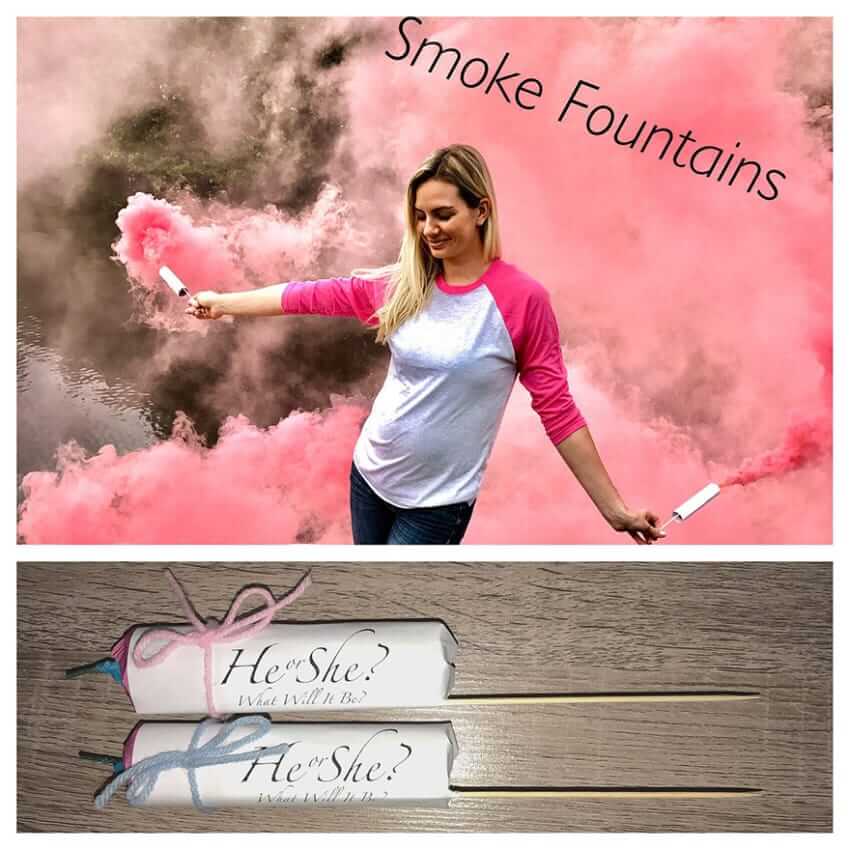 This requires little caution as you use live smoke bombs. You can either just give it to the couple to lit and see the sex of the baby or place them inside a pumpkin before letting them lose.
2. Some unique gender reveal pictures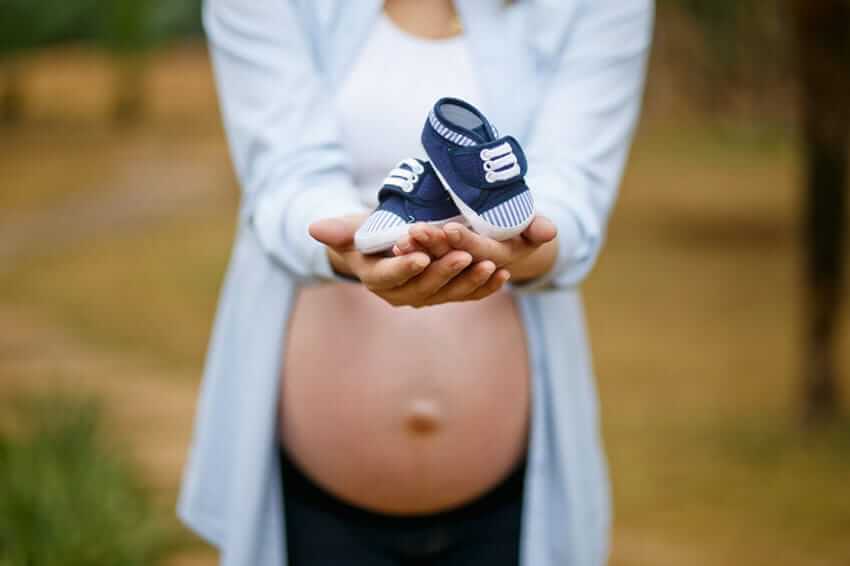 Some people don't like to throw a big party, so for them a cool photo shoot is a great idea, take some creative pictures that reveal your baby's sex and share them with family and friends
3. Create a gender reveal cupcakes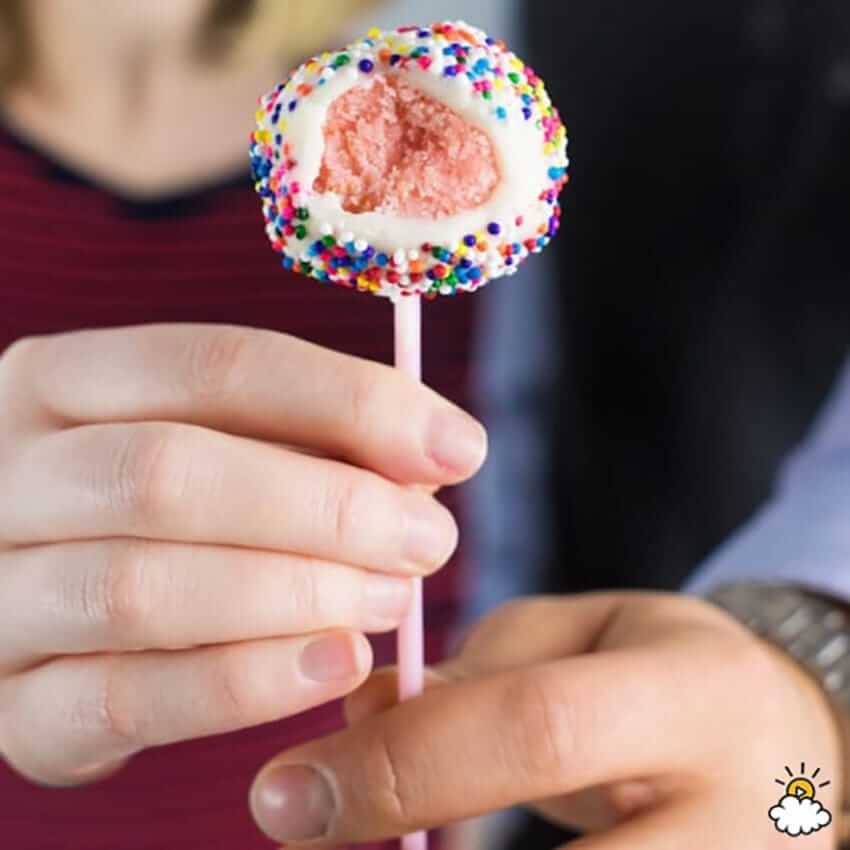 Food is always a great choice when it comes to any party type, and definitely a gender reveal party. You can make these cool yummy cake pops and inside you have either the color blue or pink to show the baby's gender. The cool thing about a cake pops and not cake is that all the guests take part of the finding out part and not just the couple.
4. do a gender reveal pinata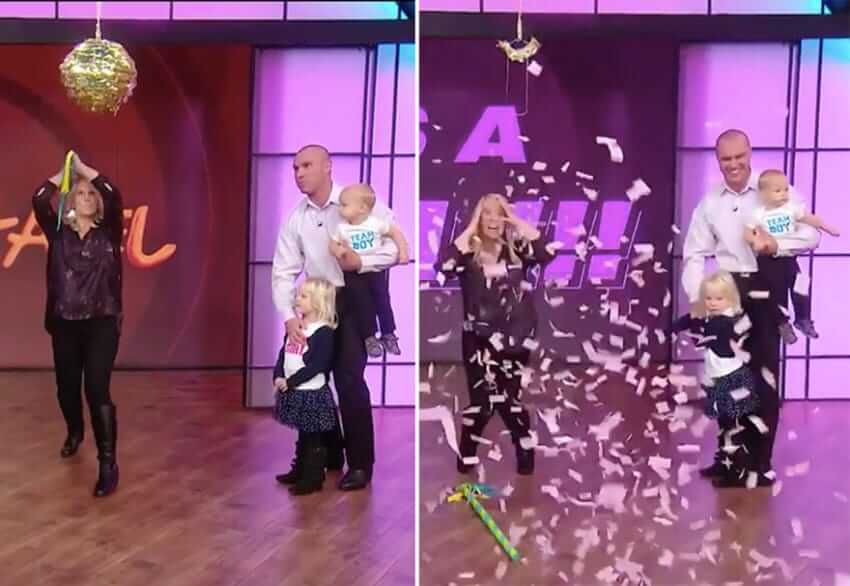 Make the reveal a cool task for the couple or mom. These pinatas can be bought in stores and you can also make it your own with a box. The inside is filled with either pink or blue confetti or candy.
5. Popping a balloon reveal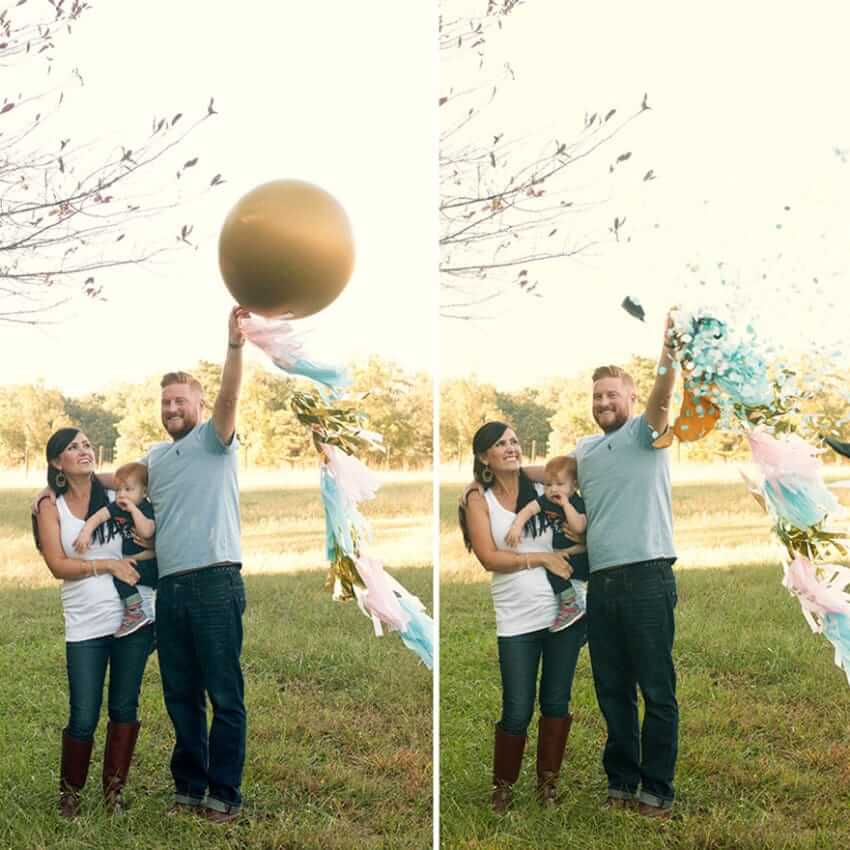 You can fill a balloon with pink or blue confetti and then pop it while doing a nice photo shoot or just throw a big party so guests can join in, your choice.
6. Cool gender confetti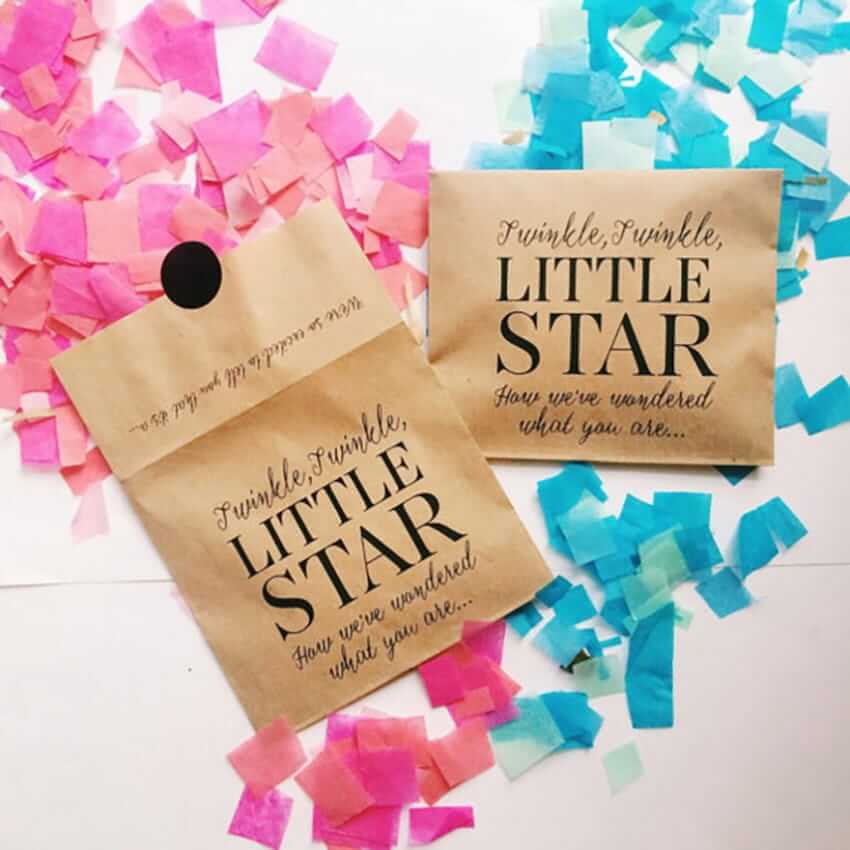 A cheap option that looks great on photos. Just create or buy blue and pink confetti and give it to your party guests, when the time is right they all throw it in the air together at the couple to tell them the gender.
7. Cool gender reveal party poppers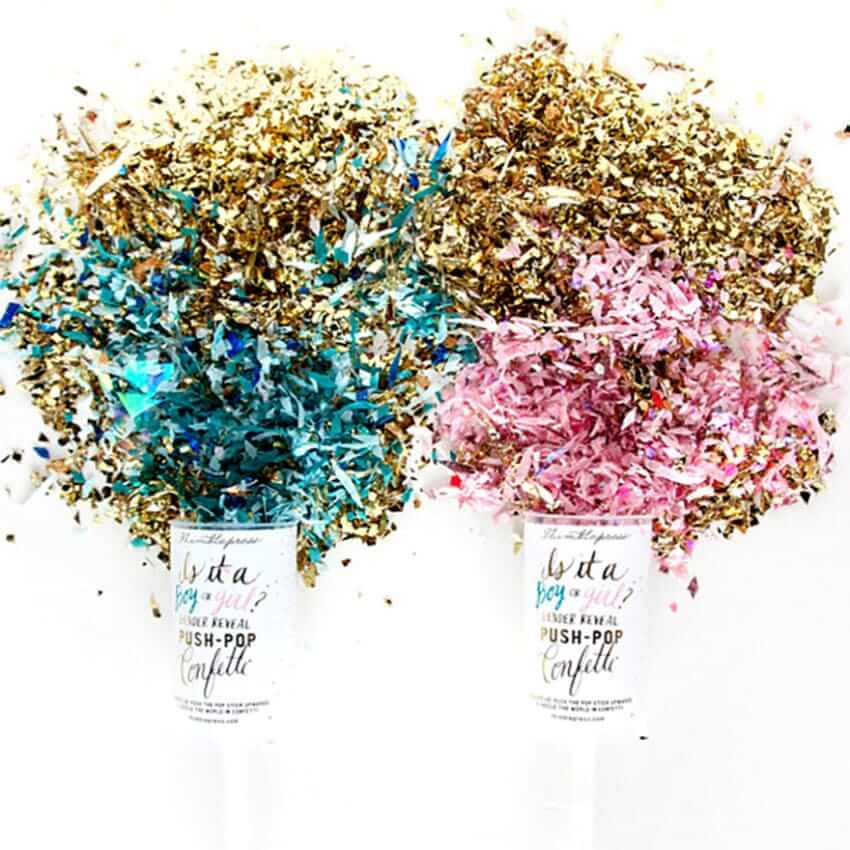 Party poppers are a similar thing to the previous item, but with a little more glamour to it. Just give your guests the poppers and they all should pop them at the same time revealing the gender of the baby.
8. Paint photo shoot to reveal the gender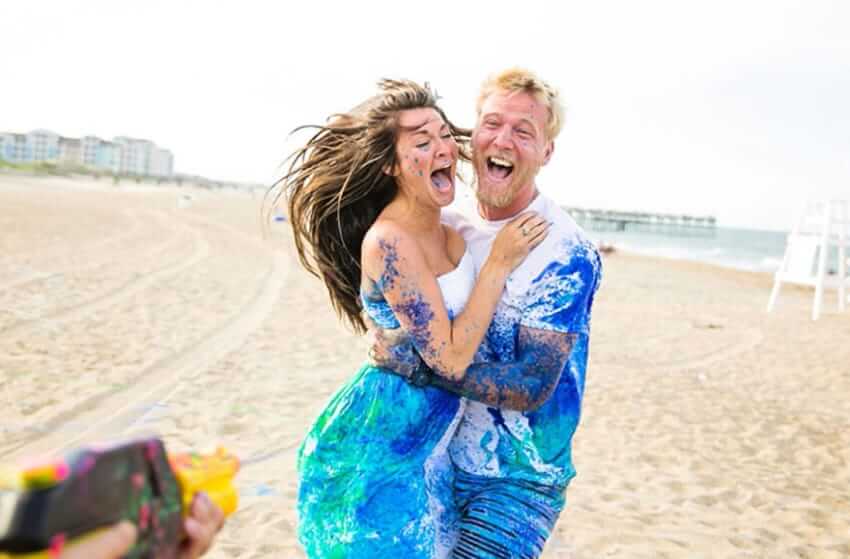 This is an awesome idea for couples who like to have dirty fun. Fill water guns with blue or pink paint and have your guests shot it on you. If you wear white clothes the color will stand out and it will photograph very well.
9. Nursery art gender reveal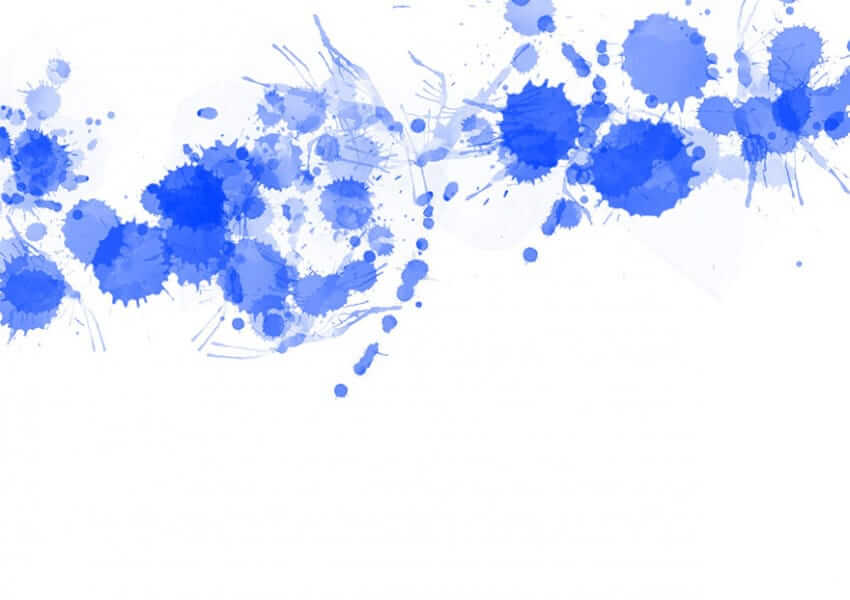 Fill paint bottles with different shades of blue or pink colors, have a big white fabric on the ground and let your guests spray the paint all over it at the same time, Once they're done you will have a cool nursery picture art as your gender reveal.
10. Do a cool bon fire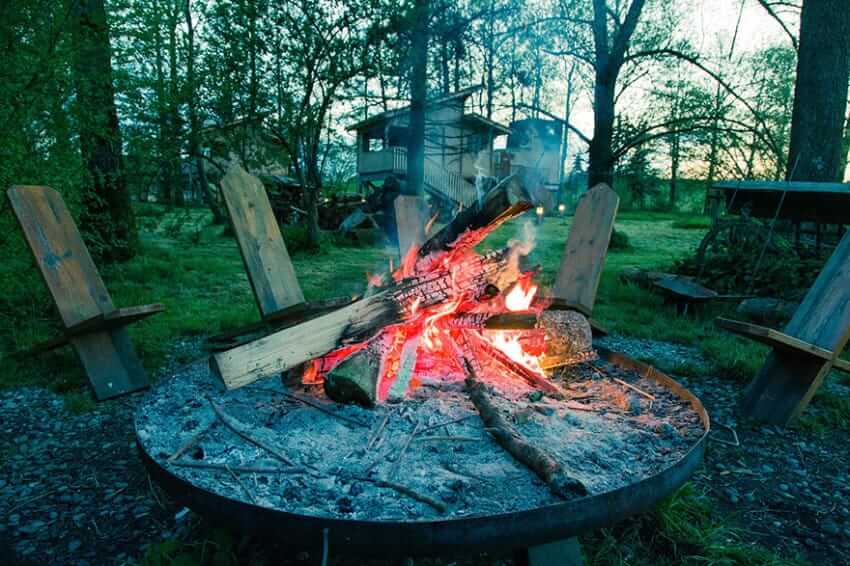 This is a great idea for a winter/fall gender reveal party. Have your guests stand next to a fire pit and have them all throw a flame color changing chemical inside. A great way to celebrate.
11.Here's a unique gender reveal idea – a gender reveal cake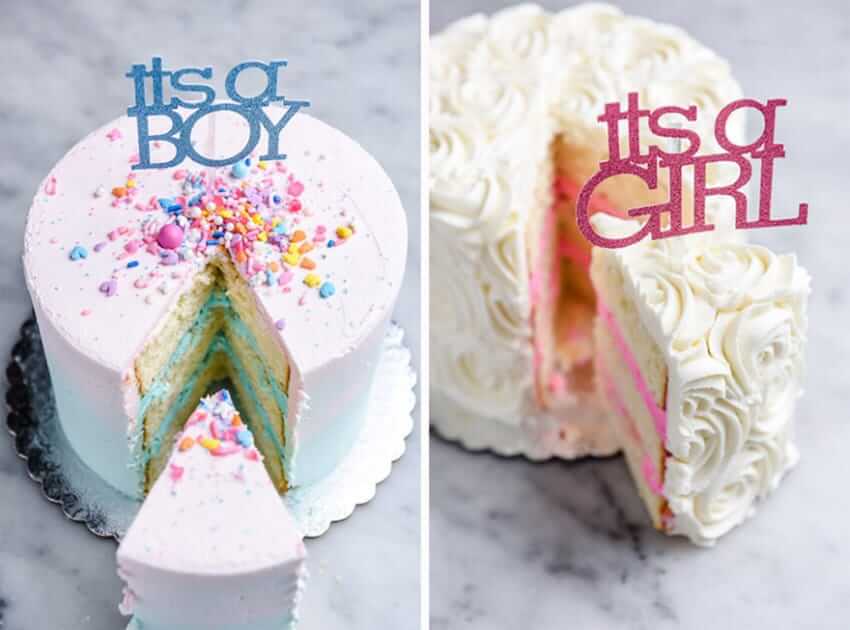 The first and maybe my favorite unique gender reveal idea is the cake. Why? Because it's a great way to both reveal the sex of your baby and feed your guests. You can make it yourself or just buy it, either way it's a great idea.
12. Awesome fireworks with pink or blue colors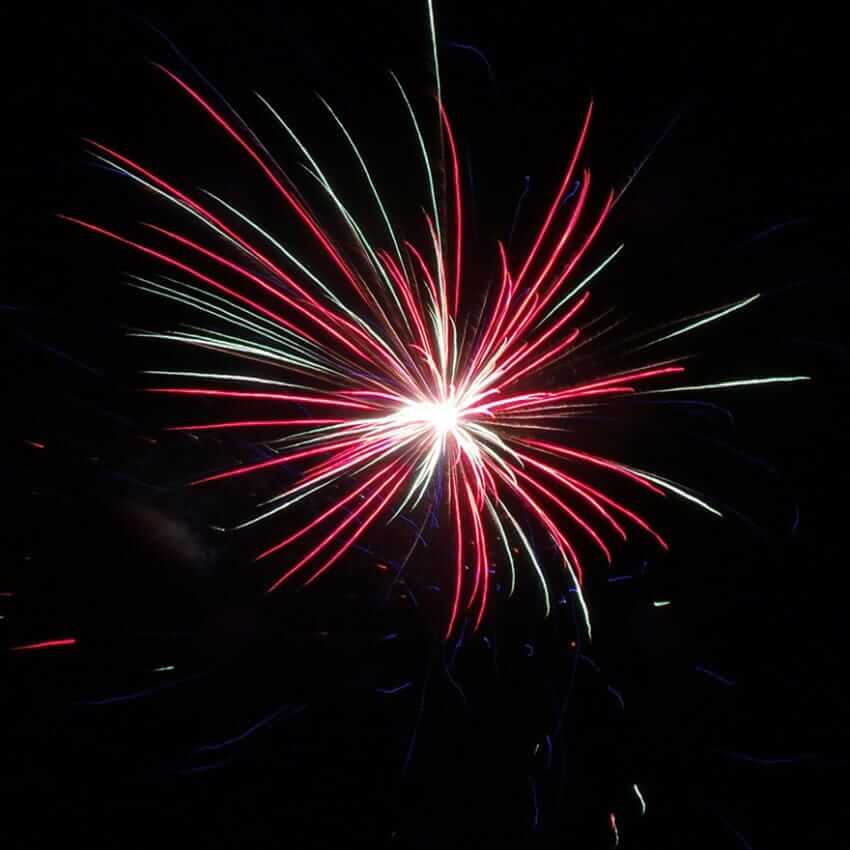 13. Silly string revealing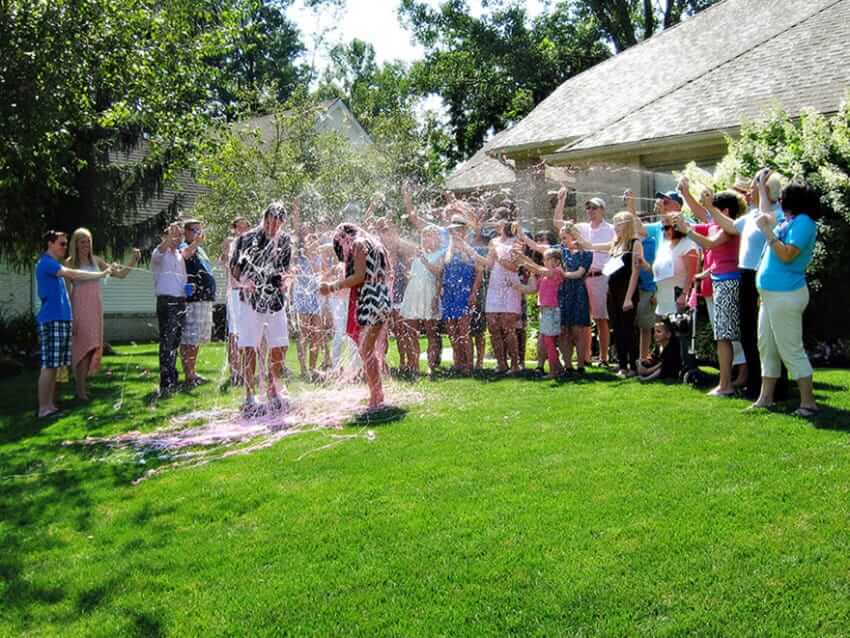 If you like to have messy fun, give your guests silly string spray cans in the color of blue or pink and let them spray you away. It will be fun for them to spray you and fun for you to look at the pictures later.
14. Shooting darts at balloons to reveal the gender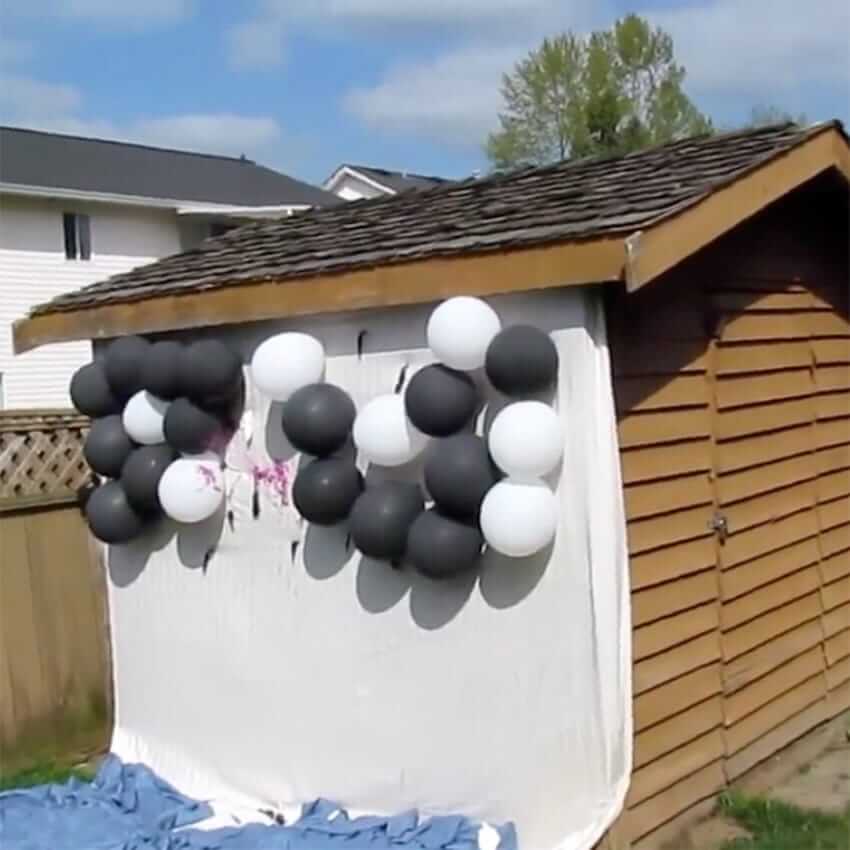 Set up balloons on a dartboard, and fill them up with blue or pink paint. When the party starts throw darts at them and see what color is popping out.
15. Riddle reveal game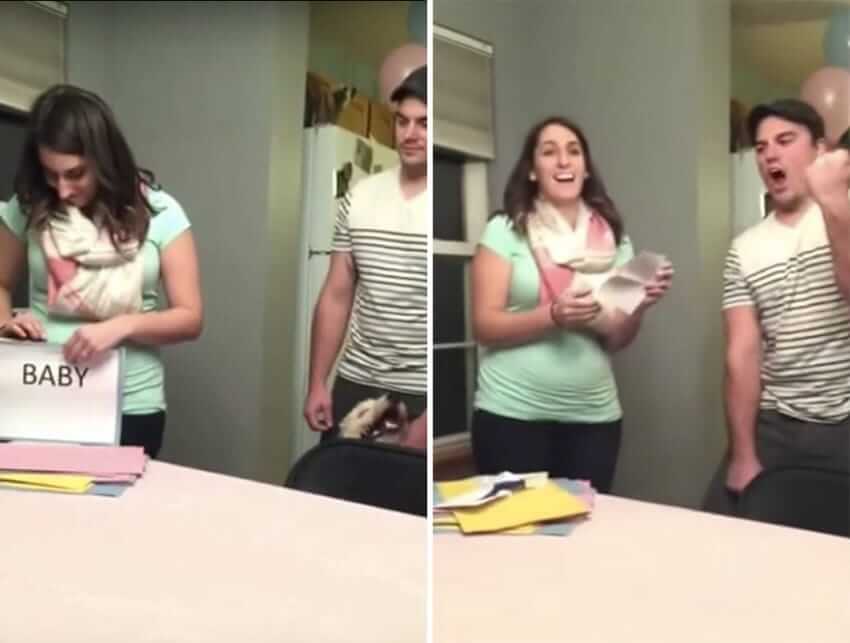 If you want to keep things more interesting and mysterious. Create a cool riddle and spread it around your house, now let your guests follow the clues where at the end they find an envelope with a big ? sign on it. Inside is the gender of your baby.
16. Hershey's bar showing the sex of the baby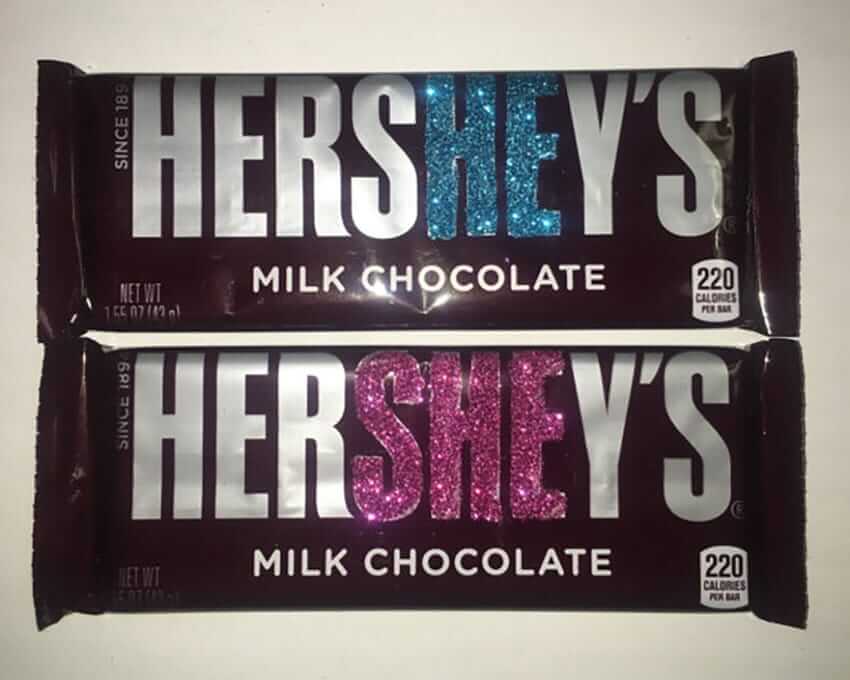 This is a nice idea. Color the word SHE or HE on Hershey's chocolate bars and wrap them in white paper. Give your guests these bars and have them unwrap the chocolate bars at the same time. Cool idea.
17. Playing cool games to know the gender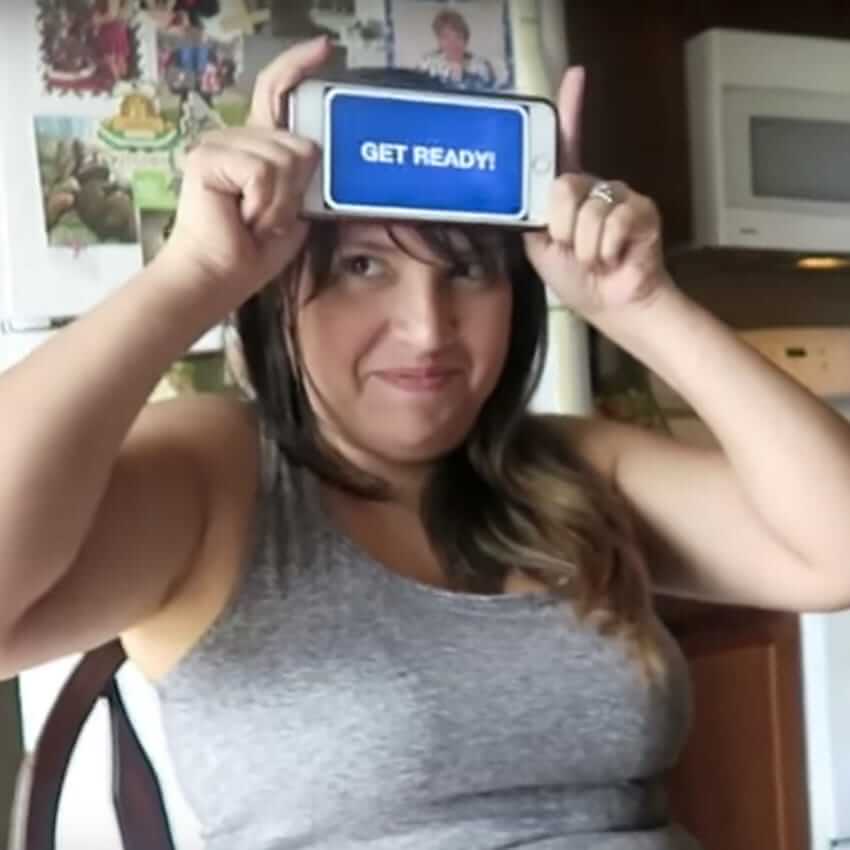 This is a little tricky. You need to create a custom deck on the Ellen DeGeneres' Heads Up! game and then have your friends and family play it out revealing the sex of your baby.
18. Making adorable eggs with the baby sex inside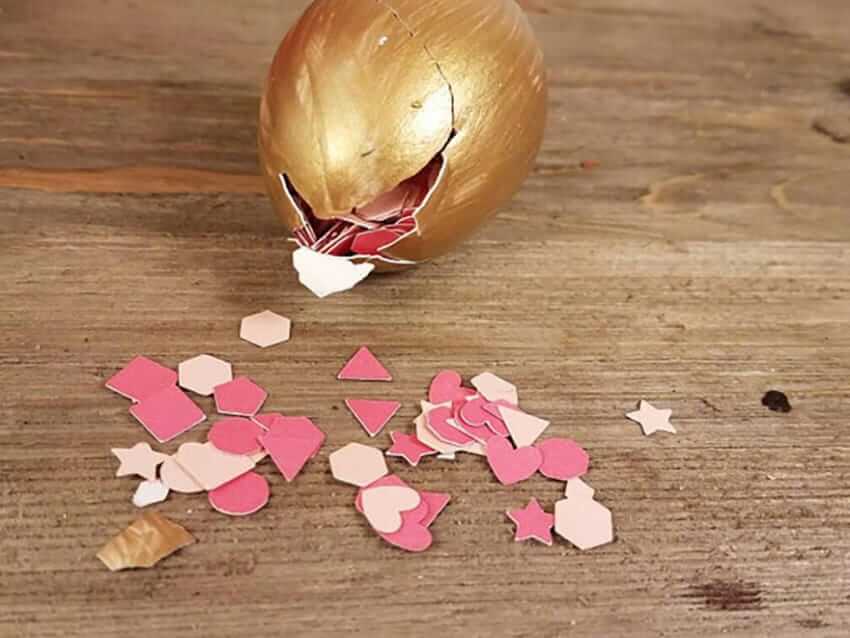 You can fill the eggs with colored confetti or just paint the inside of the eggs with pink or blue colors. Let your guests break the eggs at the same time or even mail the eggs to family members to let them see the gender.
19. Football to show the gender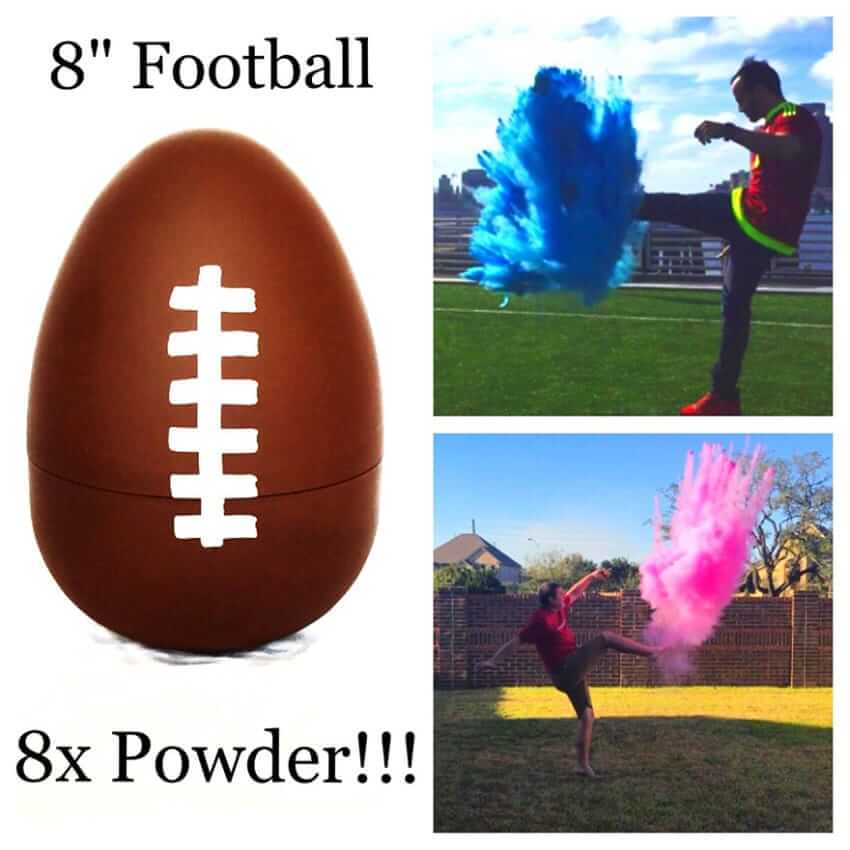 For those sports fans, get a football filled with pink or blue powder and let your partner kick it out of the park. When they kick it, it will explode releasing the powder and letting everyone know what sex your baby is.
20. Scratch it off gender reveal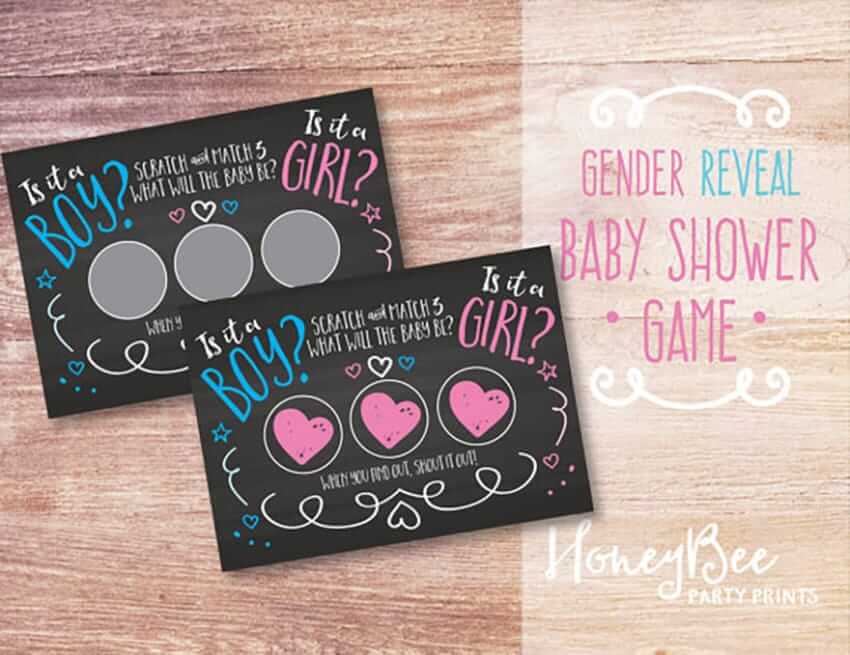 21. A bath bomb to see the gender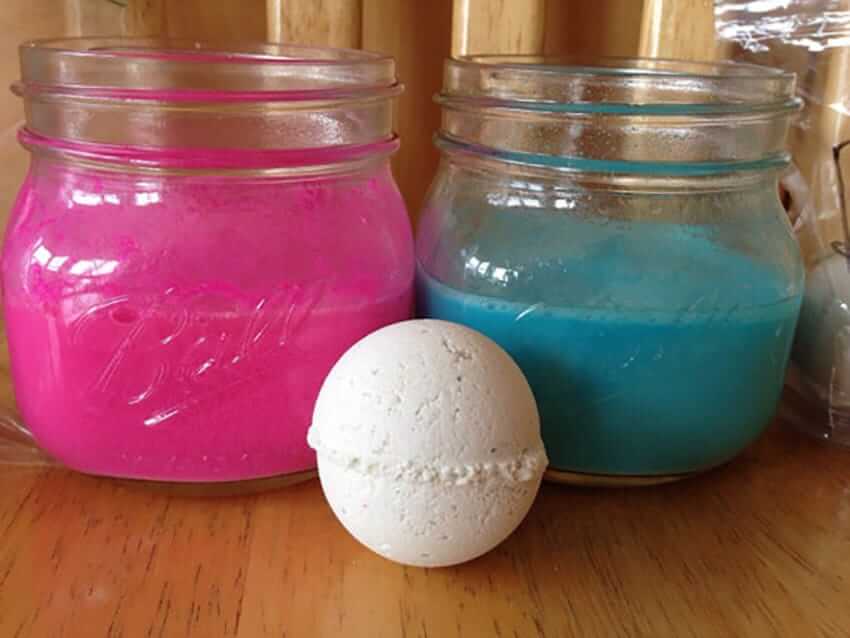 This is a unique gender reveal idea. Fill a clear plastic tub with water and add some rubber duckie on top. When you're ready, add the color changing bath bomb to the water and watch your baby's gender appear.
22. A gender reveal drink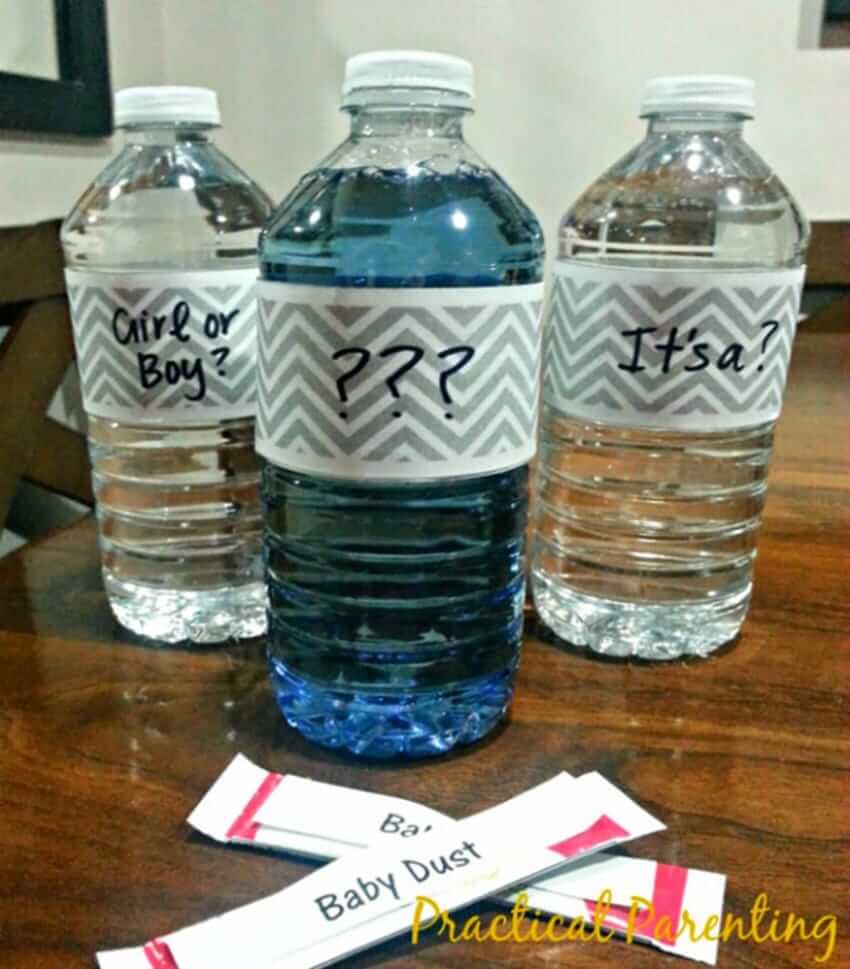 Give each of your guests a packet of colored drink mixes either in blue or pink, have them all pour it into a water bottle at the same time to show the sex of the baby.
23. Use a bow and arrow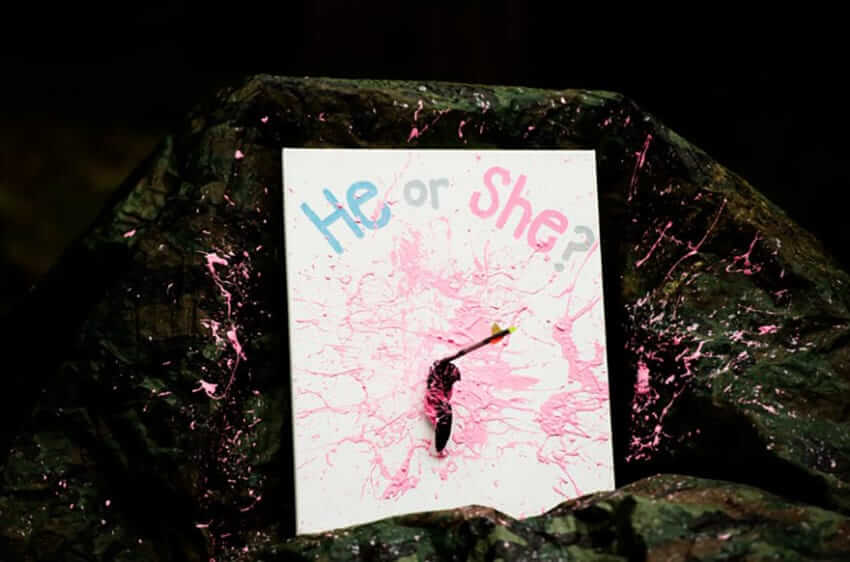 Place a balloon full of pink or blue paint on a target. Now take a bow and arrow and shot one at the balloon, when it pops, you will see the gender of your baby.
24. Cool straws that show the gender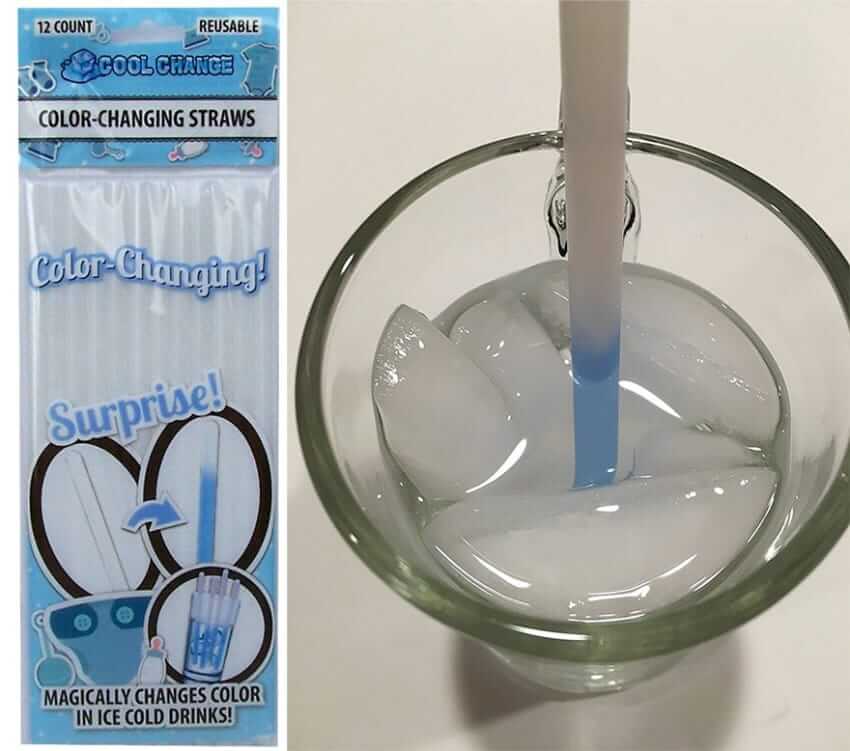 For a good last minute idea to reveal the gender of your baby, get these color changing straws and have the guests put them in the drinks at the same time to see what you have.
25. Creative cards that show the gender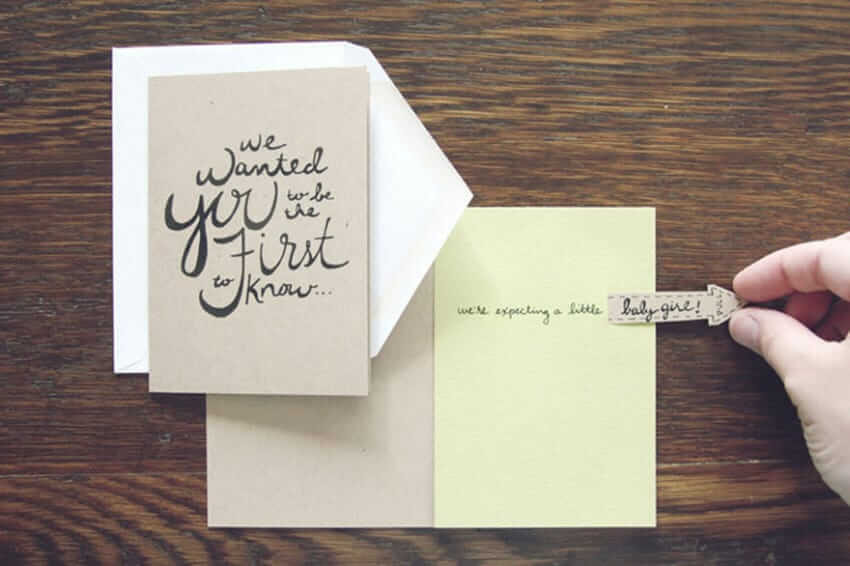 This is cool. Create a pull-tab card you can send to your family or friends. When they pull the tab it will reveal the sex of the baby. You can even use this free download template.
26. A trivia to tell the parents what to expect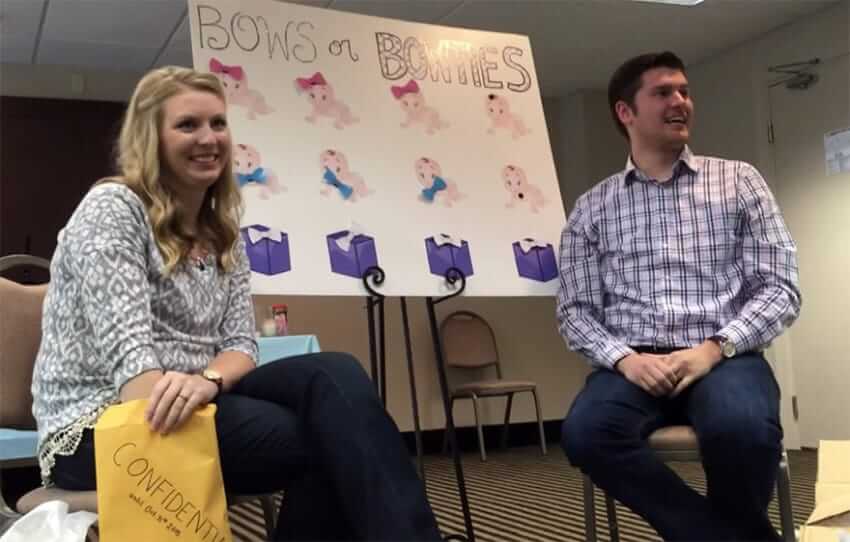 This is a fun idea. You create a little Bow or Bow Ties games where you make a board like this on the picture above. Than you ask the parents to be some trivia questions related to babies or parenting and when they get an answer right, they pull a bow from a sealed bag and put it on the board. Once the bows are over, the sex of your baby will be revealed.
27. Cookies to show the sex of the baby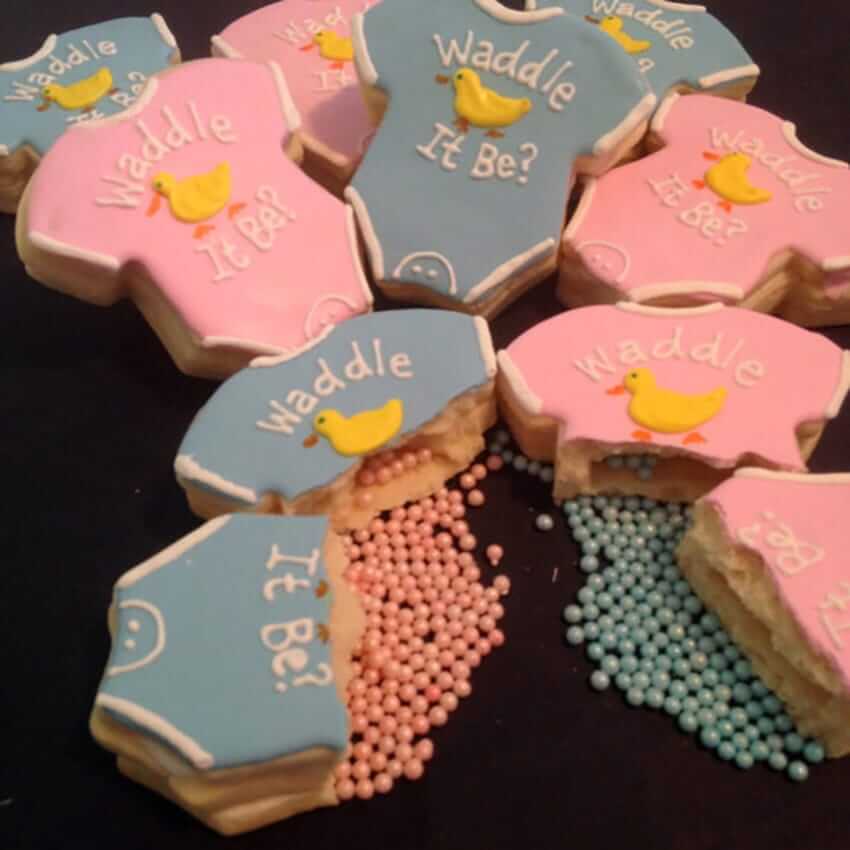 Decorate these cool fortune cookies with blue and pink colors. When you hand them out to your guests, ask them to pull the note from inside at the same time to reveal the baby's sex.
28. Hair dye that reveals the baby's sex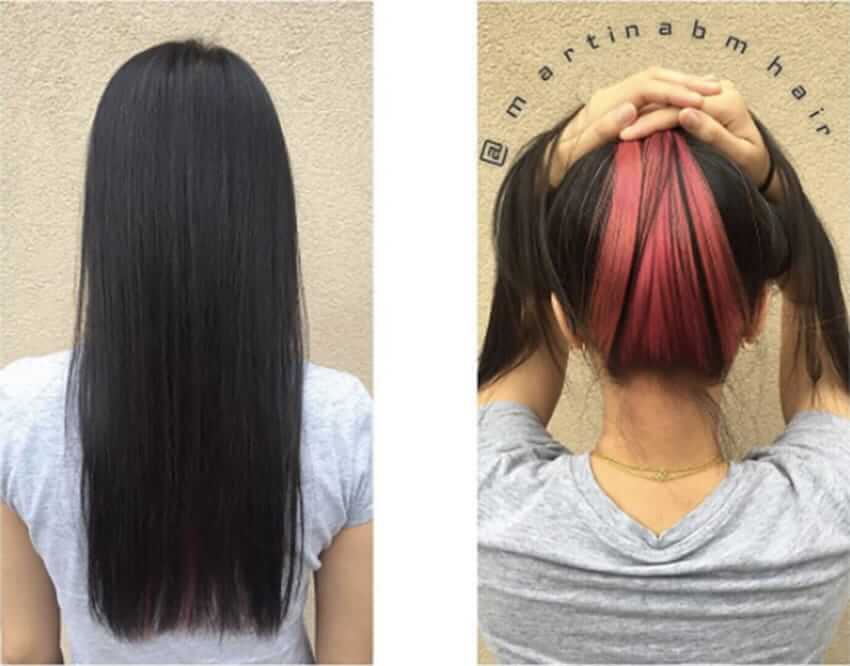 This is definitely the most creative idea on the unique gender reveal ideas list. Dye the underneath part of your hair pink or blue and when the time is right, just pick up your hair to reveal the color, or you can just pick it up at the middle of the party and see which one of your guests notices it first.
29. Scavenger hunt baby reveal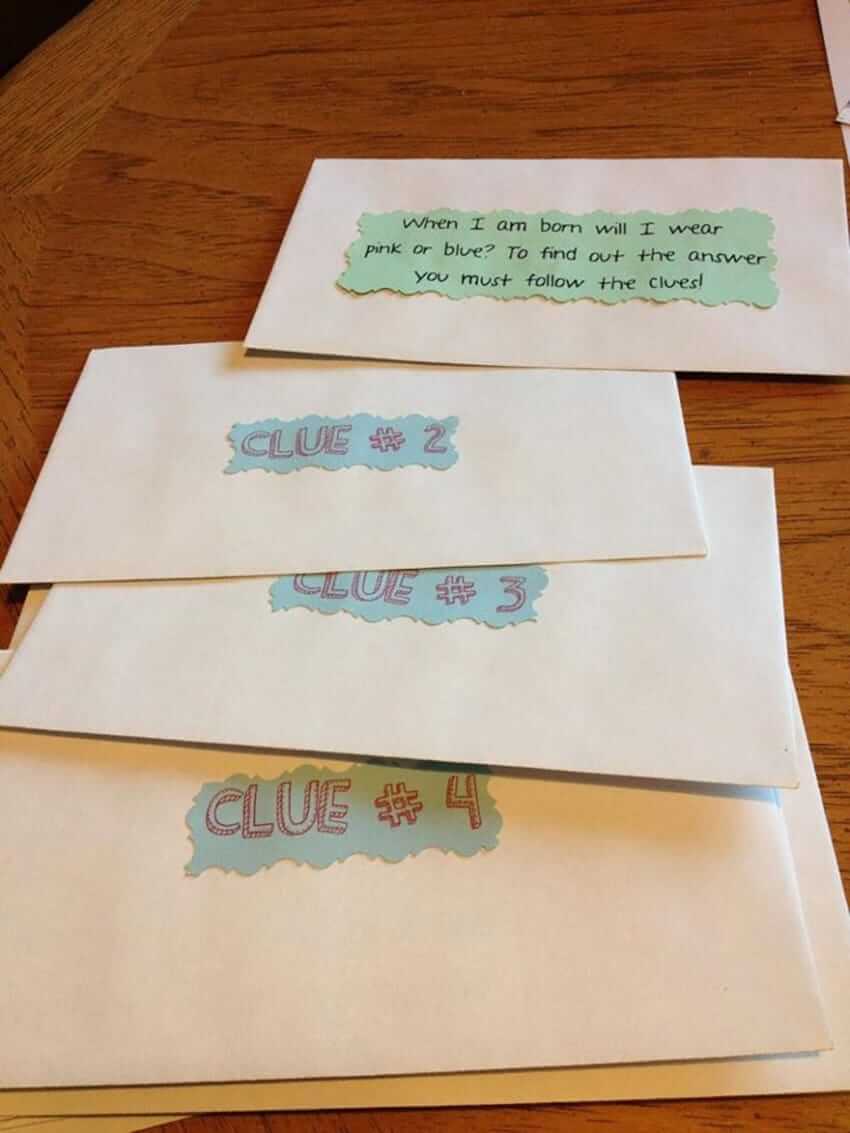 Create a cool gender reveal scavenger hunt for your friends and family, when they're done with their walk, you can end the hunt at an oven when they pull out a cake in the color of the sex of the baby.
30. Balloon drop showing the baby's sex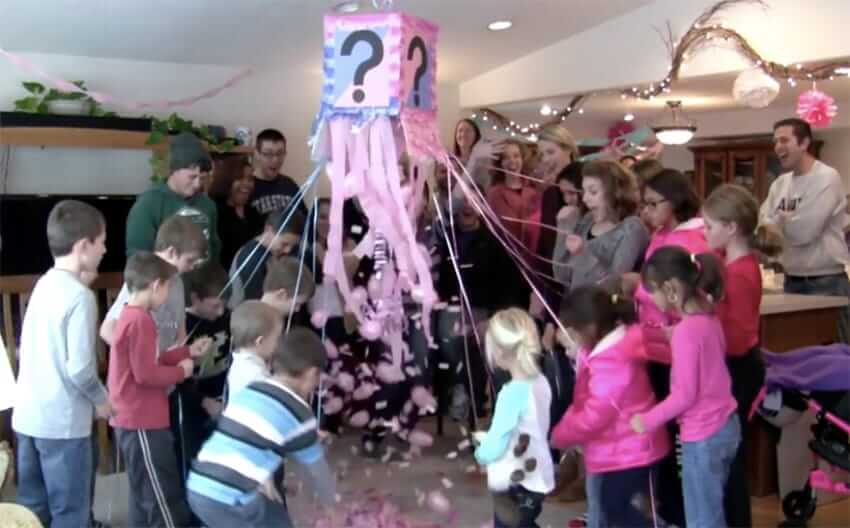 This is a nice activity for kids. Have a big box hang from the ceiling with either blue or pink balloons inside. Make sure no one sees which color the balloons are, and let each of the kids or guests hold a string attached to the box, when they all pull it together the balloons will fall and reveal the sex of your baby
31. Use the furniture colors to know the gender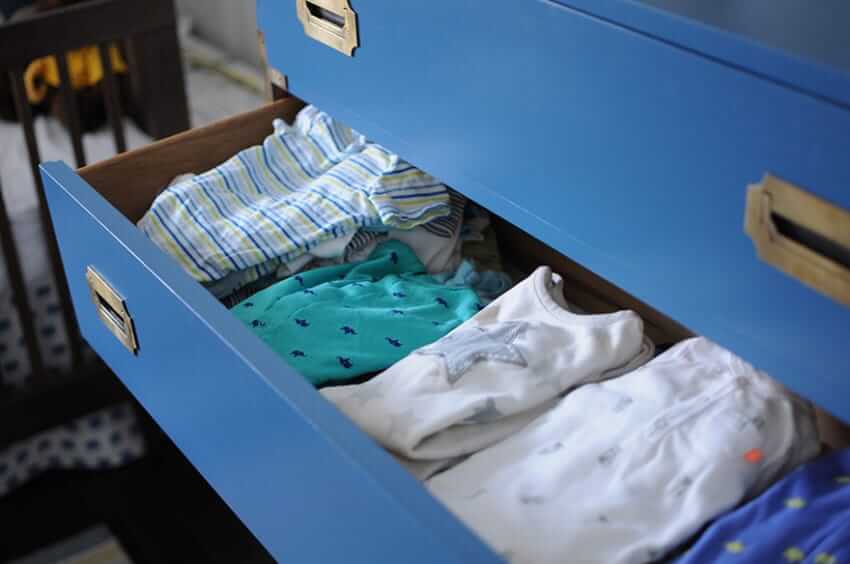 For those looking to be both practical and creative, take an old furniture you want to DIY decorate and fix and give your friends and family spray cans with either blue or pink color. Now tell them all to start spraying the furniture together to see what color comes out, when they're done you can put it in the kids room as much needed closet space.
32. How about sparkles?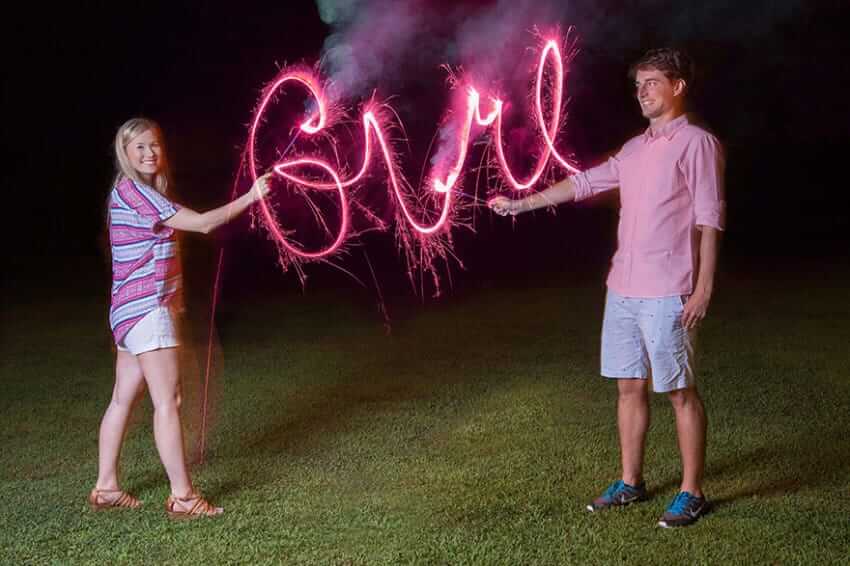 This is a nice idea, get your friends and family members blue or pink sparklers and have them all light them up at the same time to reveal the gender. If you already know the gender and just want to do a good photo up. You can have them write the gender on the air and then use photoshop later to enhance the colors.
33. Little brag book to see the baby's gender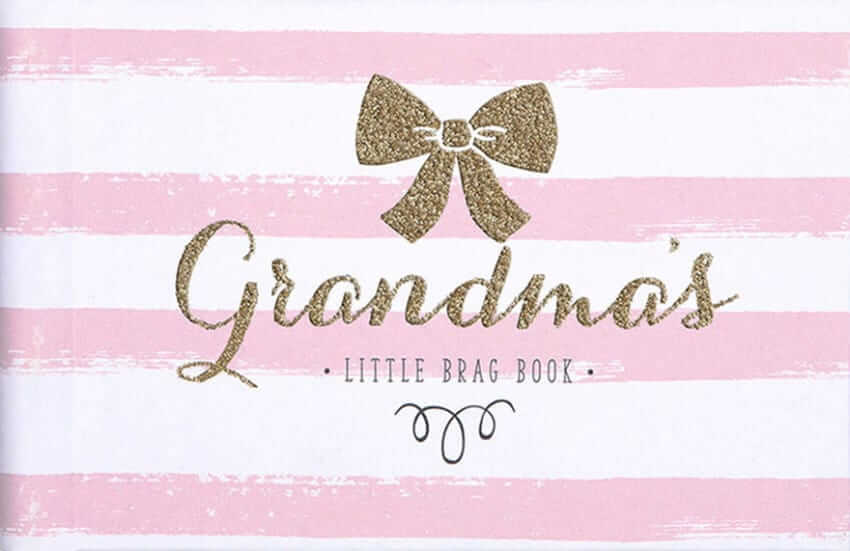 This is a great idea to give your parents as a souvenir and an awesome gender reveal present. Create a brag book photo album that is filled with your ultrasound pictures and on the last page write " it's a girl! " or " It's a boy! ". Your parents will be surprised and it will always remain as a great present for them.
34. Volcano gender reveal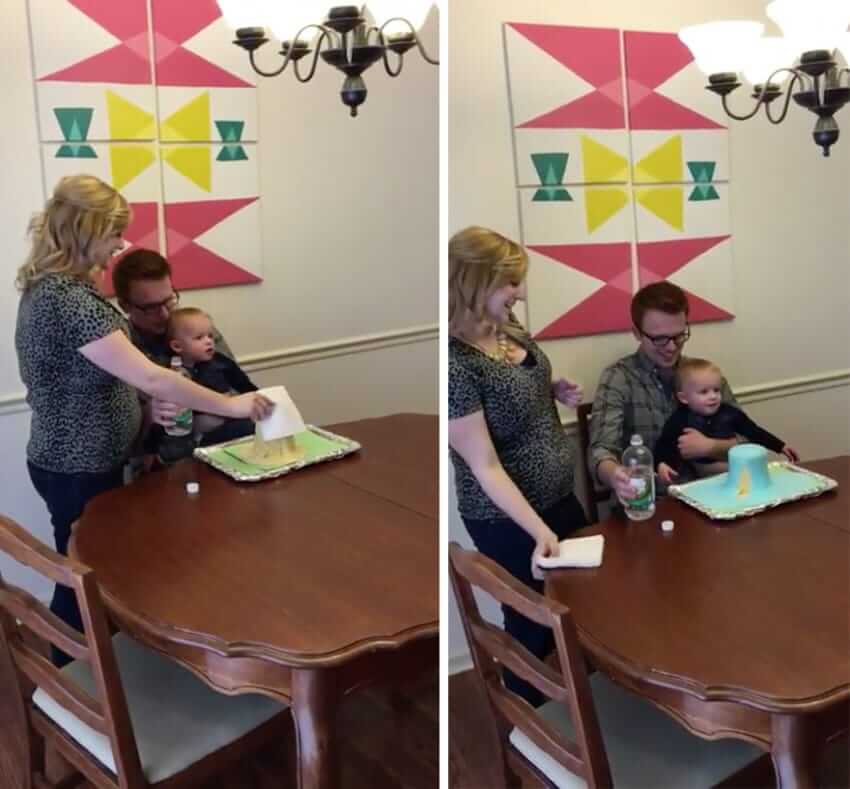 A great idea for a gender reveal with your kids. You can create this volcano from papier-mache, and fill it with water, vinegar and dish detergent. At the end pour some blue or pink food coloring. When everyone's ready let your kids pour some baking soda inside and find out together if you're having a boy or a girl.
35. Play doh to see what you have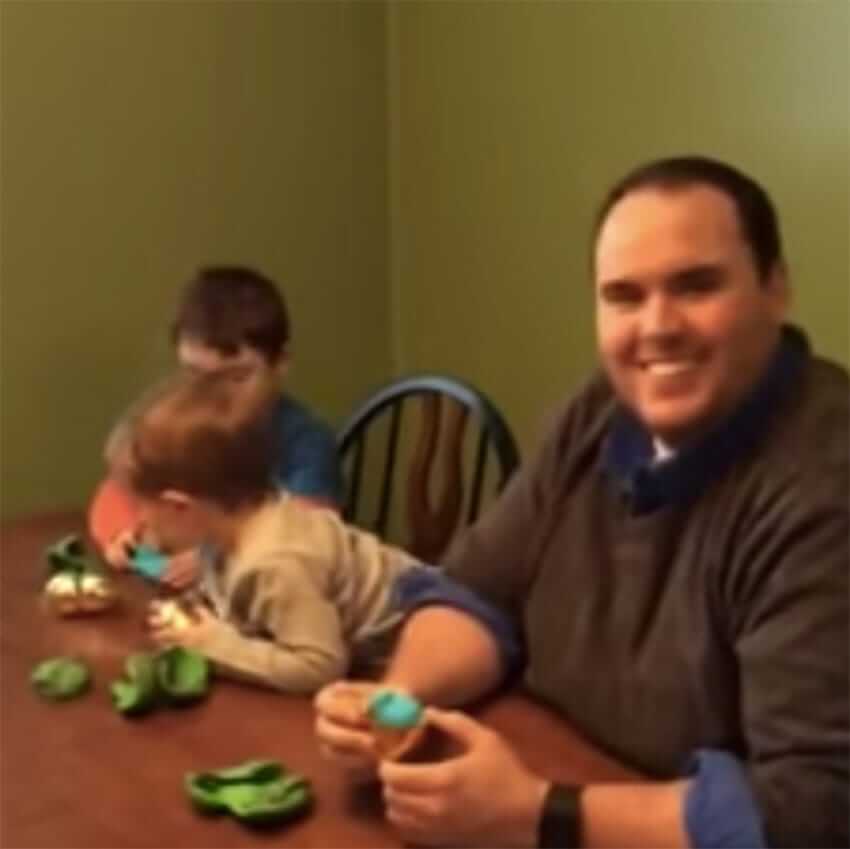 This is a great idea to share with the rest of the family. Especially little kids. You give them these play-doh eggs that are filled with either blue play-doh or pink. When the kids play with them and open them up, you all know what to expect. Nice idea
36. Baby clothes in the color of the baby's sex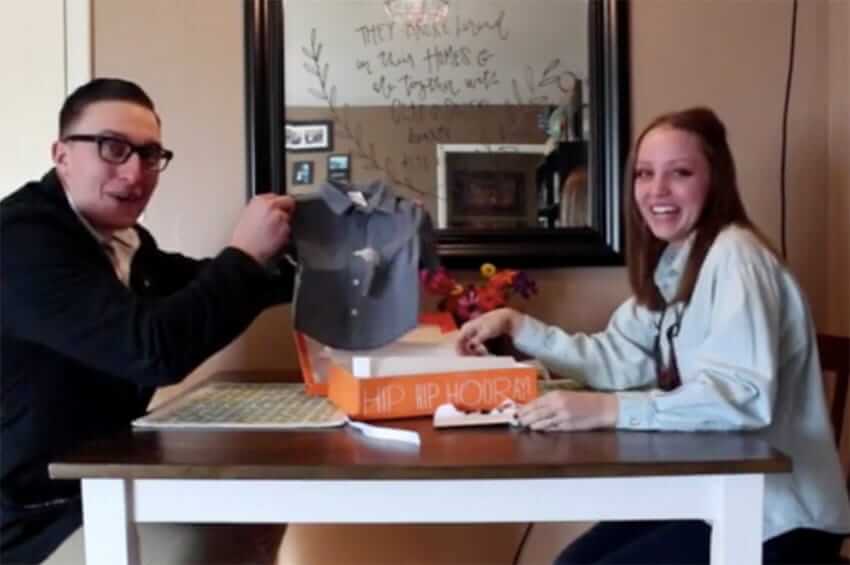 One of the most unique gender reveal ideas on this list. I love this. The couple went to a retail store with their sonogram and picked up both a boy outfit and a girl's one. When they reach the cashier they show him the sonogram and ask that he only wrap one of the outfits so they can open it later and reveal the sex of the baby. Great idea!
37. Gender reveal fortune cookie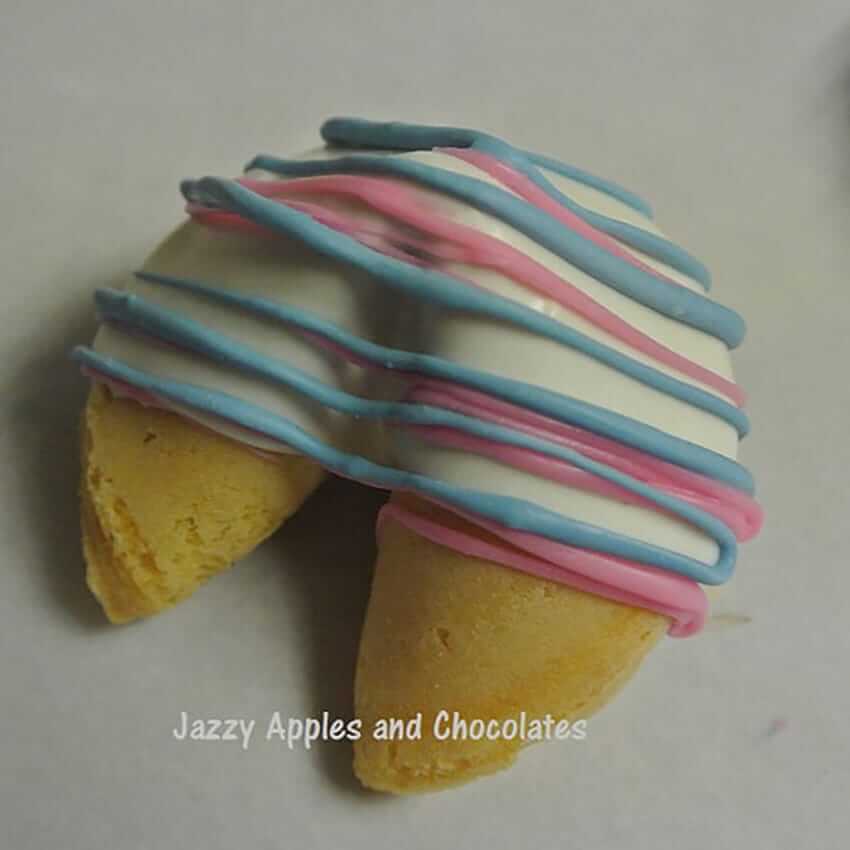 Have a big pile of fortune cookies that are decorated with blue and pink frosting. Now before hand slip inside a note that says " It's a boy!" or " It's a girl! " and have all your guests open them at the same time.
38. This is a unique gender reveal idea – a gender reveal box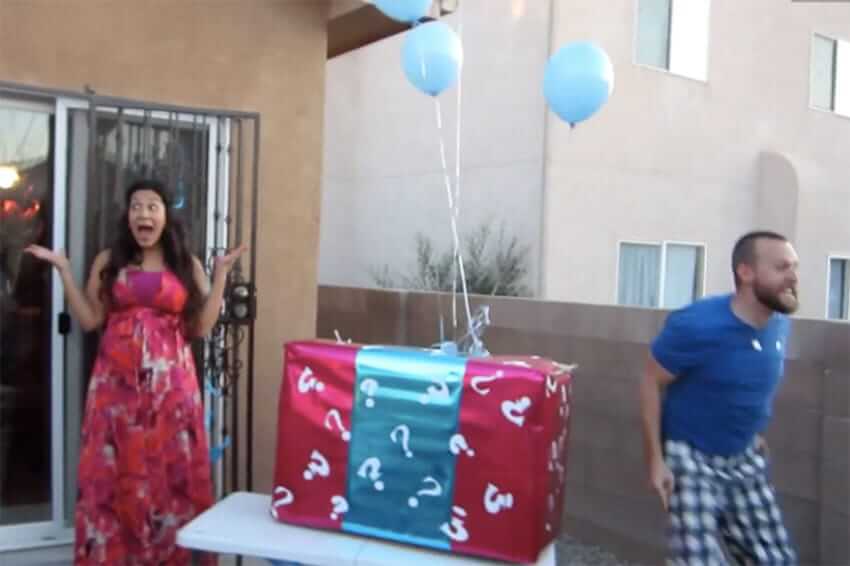 Gender reveal boxes are now one of the most popular things to do in these types of parties. You get a big box and fill it with either blue or pink balloons. when the couple opens the box, the balloons will fly up and tell you the sex of your baby.