Assembling your baby's crib is a thing every dad remembers forever, it's one of those special memories you will always have even when your kids are older and out of the house, your baby will spend a lot of his time in that crib, so it's your job to choose the best baby cribs you can for him.
So what are the top baby cribs?
Most parents chose a crib based on the colors,style and brand, but the one thing that should be the most important is the safety feature. A safe nursery crib for your child is a must and you should take the time to research the brands and models out there before you buy. Below you can find the 10 best baby cribs we came up with, check out the pros and cons of each one and only than make a wise decision.
What are the different types of baby cribs
The standard crib
Like the name suggests, the standard crib is just a place where your baby can sleep. It has no special design, no drawers and it doesn't fold or anything. This will be perfect for parents who just want a basic crib to place their baby in.
Bassinet
Bassinets are a little bit more compact than basic cribs, sometimes they are portable and they are less expensive than cribs. The bassinet will provide your baby with a safe sleeping environment and you can most of the time fold it when it's not in use or just move it around the house as needed.
Convertible
These cribs are like transformers, they can convert into a daybed and even into a headboard. Babies usually sleep in cribs for up to 24 months, so getting a convertable crib is a great way to save on beds in the future.
Portable
Not to be confused with a travel crib, these usually are made from hard materials like wood, and they are great for folding up and moving them around the house as needed or storing them when you don't need it anymore.
Travel
These will be perfect for parents who are always on the go and need a crib that can be easily folded and carried around. They are usually made out of mesh and foam and you can collapse them with ease.
Multifunctional
These are all in one solutions, multifunctional cribs usually have drawers and even a changing table. These babies ( pun intended ) will serve you in more ways than one.
Specialty
These cribs will be any item with a special design, like a circle or made from eco-friendly materials oe something that you won't find in regular cribs we mentioned above.
Safety tips for baby cribs
Your baby will sleep in the crib you buy from the time he is born up until two years old. There are a few things you need to know about crib safety while they sleep in one:
1. No heavy blankets or pillows
Don't put heavy blankets or sheets in your baby's crib. Little babies don't have any muscle control, so if they roll over on their stomach and sleep on a heavy blanket they could suffocate, if you want to make sure they're not cold just get them good warm pajamas, that way you keep them warm but also safe and healthy.
2. The baby crib should be certified
The CPSC is there for a reason, babies can get caught and seriously injure themselves in poorly built cribs. So don't think you're so smart by buying an off the rack crib to save a few bucks. The Consumer Product Safety Commision ( CPSC ) has built a lot of safety measures to make sure what you buy is safe. So if you don't see a CPSC certification on a crib, just don't buy it.
3. Don't over use
Don't use baby cribs that are older than 10 years or damaged. Modern cribs have newer safety features that the old ones do not. So never use old or damaged cribs
4. You need to adjust the mattress height
Once you see your baby is able to sit up or even stand, you should adjust the height of the mattress so he wont be able to climb over the edge and hurt himself.
5. No drop-side cribs please
No more cribs with drop sides, the CPSC does not support these types of cribs anymore because of an increasing number of deaths related to these types of cribs, and while it may seem comfortable to just lower one side of the crib to take care of your baby, it's no longer safe.
6. Follow instructions
Don't half ass it, just follow the directions on how to assemble the crib as they are, even if you think you know better, if you miss a step or worse skipped it, it could hurt your baby.
7. Mind the gap
When you get the mattress inside the crib, make sure to check and see if there's a gap between it and the crib bars. If the gap is larger than two fingers it's not good, large gaps are dangerous because your baby can get stuck and injure himself.
8. Don't get cute and add extras
Babies need to sleep of a thick mattress, sleeping on a thick mattress decreases the chances of crib deaths. You should use the mattress that came with the crib and don't add anything to it you think will make it more cushy or nice for your child. A thick mattress will prevent suffocation and that's how it should be.
9. Put the crib together in the open
Keep the baby's crib in the open room, not near curtains or blinds or anything else that could get tangled and become a strangulation risk. It's best to move to the center of a room
10. Check everything twice
Even if the product is brand new, you should always double check everything after you put it together, check the edges, make sure everything is connected like it should, better play it safe and avoid a tragedy
Quick guide table of the best baby cribs 2017
Model name
Price
Pros
Cons
Great price.

Portable crib

Compact

Short life span

Not amazing design

 
Nice hard design

Durable

Convertible into a toddler bed

heavy

rigged for those who like gentle design

 
 Made from non toxic materials

Easy to assemble

Low overall height

Simple design

Only 4 heights for the mattress

 
Unique design

Converts into a toddler bed

Easy to move around

Round shape might not be for everyone
 
 Soft materials

Portable

Mesh siding

Not cheap

Only for infants

 
Multifunctional

Very affordable

Looks great

Comes with no mattress

no full bed kit

 
 Affordable

Adjust easily

Wheels for easy movement

No mattress
 
Compact

Cheap price

Very portable

Only holds up to 15 pounds
 
Foldable

Has wheels

comes in various colors

Not cheap
 
Convertible

Stylish

Lasts for long time

Adjustable

Expensive

Full size bed not included
*Please take the information you see in the table above and the items below as a recommendation only, we did our best to supply correct information but the information on this post is no guarantee and you should conduct your own research before buying.
1. BabyHome Dream Bassinet – best baby cribs 
The BabyHome Dream Bassinet is a great choice for new parents and is the first item on our list of the best baby cribs. The best thing about it is the fact that it is portable so you can move it around the house as you need. It comes with a foam mattress and adjustable legs for comfort. The brand is well known so it's a crib you can trust to be safe, and the bottom line for the price here is that it's very affordable compared to other cribs on this list. This is the first, but should definitely worth checking out.
✔ Pros
Very affordable – you will not spend a lot of money on this product
Portable – the frame is easy to move around and operate, but stable so don't worry about safety
Travel friendly – the legs fold up, and you can actually fit this whole bassinet into a travel bag ( included )
✕ Cons
Simple design – if you're looking to make a statement, this isn't right for you
Short life span – You can't lower the mattress, so once the baby stands up you need a new crib 
2. Summer Infant Landon Crib

If you want to bring some style into your toddler's room, this crib is a good choice. The Summer Infant Landon Convertible Crib is a 4 in 1 product that can be turned into a baby bed with ease. It has a patent pending adjust technology that is simple as it gets when you want to adjust the height of the mattress, you can choose between 4 height positions to turn this baby crib into a toddler bed and even a full size daybed. The finishes of this crib are non toxic and without led. It meets all the ASTM and CPSC Standards and it's even JPMA Certified. If you need rails when you use the full size bed you can get it seperately, same goes for the mattress and assembly is required, you will get all the instructions and tools with the package.
✔ Pros
Convertible – It's a 4 in 1 crib that turns into a full size bed
Non toxic – the frame is made out of non toxic led and safe for babies
Simple height adjust – Patent pending adjustable height technology 
✕ Cons
Full size bed missing parts – The rails for the full size bed needs to be bought separately. 
Mattress not included – Mattress needs to be bought separately 
3. OEUF RHEA CRIB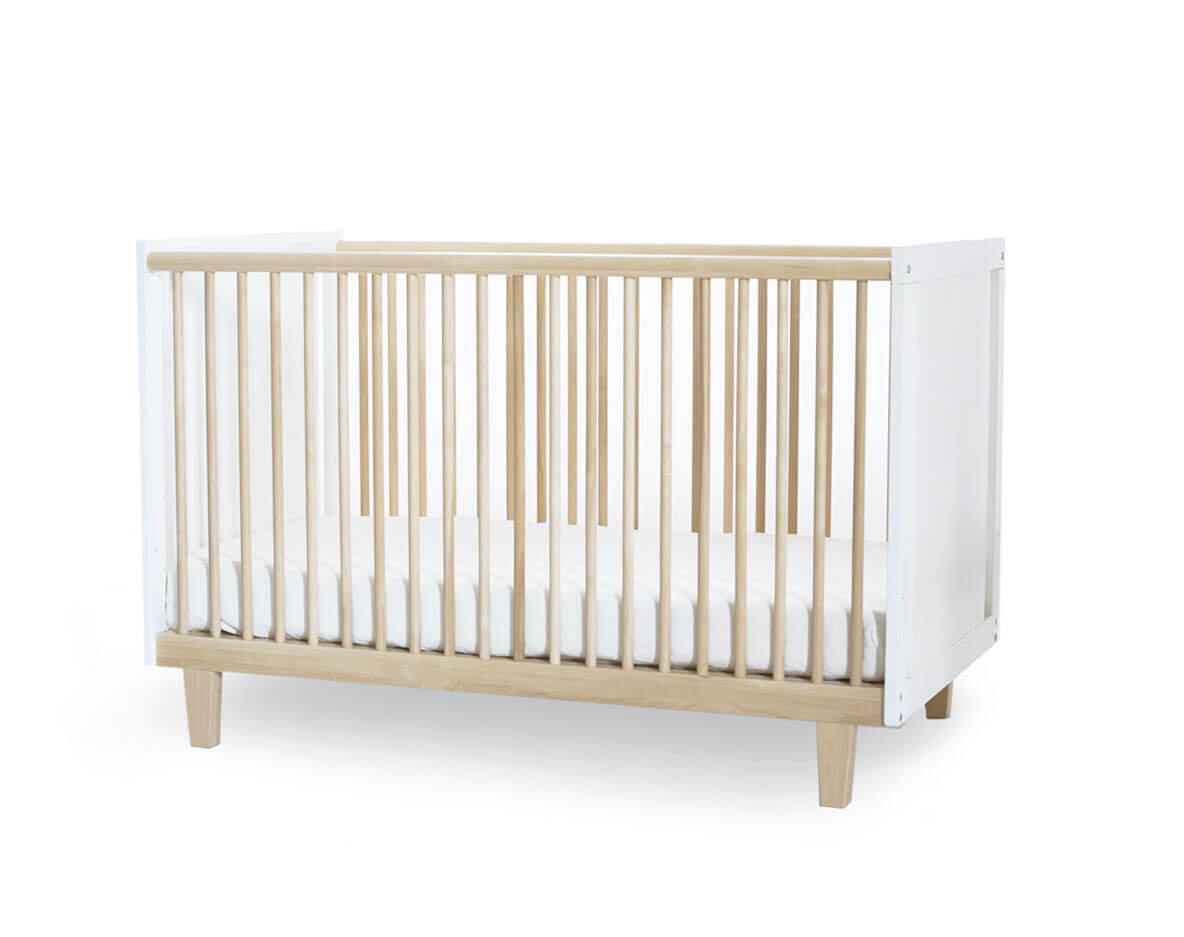 This cool crib from OEUF Rhea has a modern look and style and quality materials and construction. We love the white and natural wood mix that can actually fit any home decor. The wood is sustainable and finished with non toxic, water born type with a nice layer of coat and paint. You can get a conversion kit ( sold separately ) and turn this crib into a daybed style toddler bed. Great product and choice on this list of the top baby cribs.
✔ Pros
Stylish – This crib has a great look and can fit any home decor
Non toxic wood– The wood of this crib is non toxic
✕ Cons
Conversion kit not included – You need to buy this separately if you want to turn this into a full day bed
4. STOKKE SLEEPI CRIB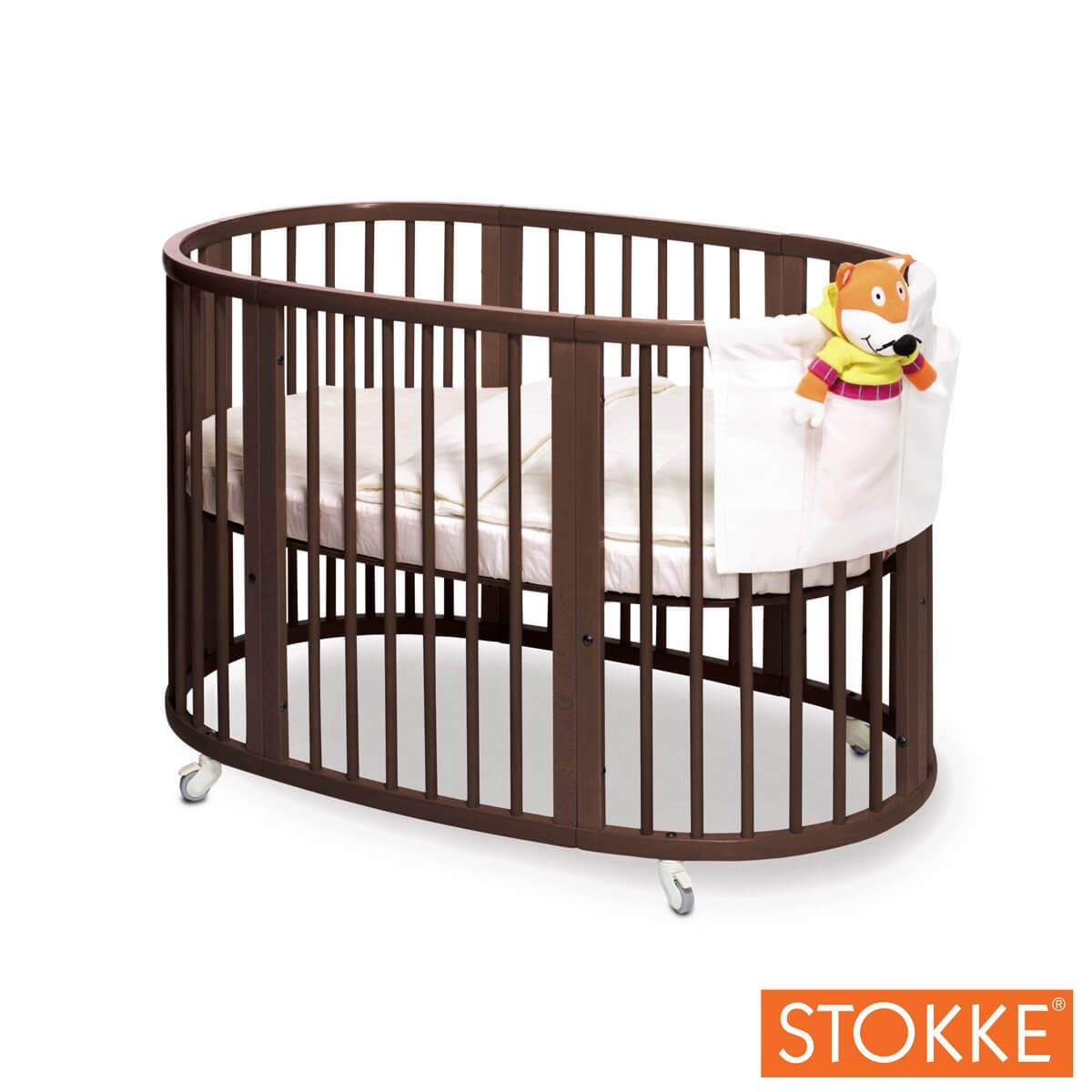 This is one of the coolest baby cribs on this list and in general. The Stokke Sleepi crib is actually a convertible crib that will grow with your child. From the age of 0 to roughly 3 years old and if you get the additional Junior Extension Kit you can use this crib up until 10 years old. This product is really customizable and can change with your child's needs. Once your baby reaches that cute age where he starts to climb, you can remove one side of the bed for easy access. This is a great product and well worth a look.
✔ Pros
Amazing look – This crib looks amazing with it's cool oval design 
Long term use – You can use this crib from age 0 to age 10
✕ Cons
Mattress not included – You need to buy a mattress separately. 
High price – Not so cheap
5. BabyBjörn Cradle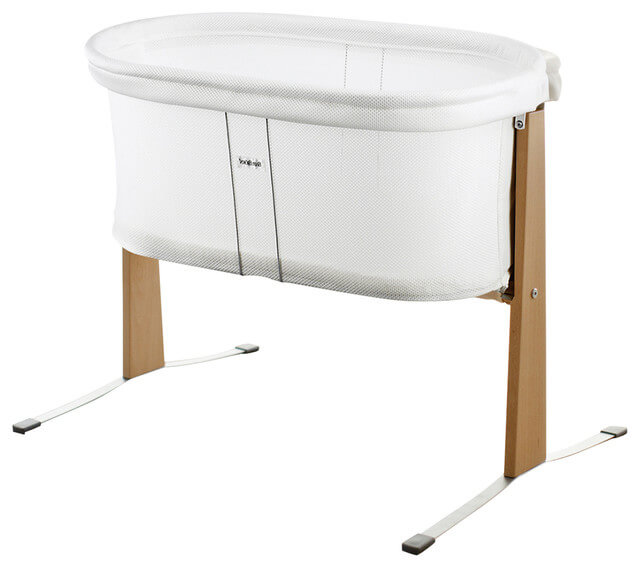 this crib or bassinet is great for parents who want to move around the house a lot. The portable BabyBjorn Cradle is very light to move around your rooms and small enough to easily place it in a closet once you don't need it anymore. The sides of the cradle are mesh for breathability and it helps to keep your baby sleeping safely inside. Another cool thing is that the legs are flexible so you can lightly bounce the whole thing to sooth your baby to sleep. Overall it's a great choice
✔ Pros
Light weight – You can easily move this bassinet around your house.
Small – Easily store this crib in a closet once you're done with it.
Flexible – Flexible legs let you bounce the crib slightly to sooth your baby
✕ Cons
Not long term – This crib won't fit for babies over 18 pounds, so roughly at six month old this won't fit.
Not to be sit in – Once your baby can sit, this will not be safe for him.
Pricy – The fact you can only use this for roughly six months make this crib expensive
6. Sorelle Presley 4-in-1 Convertible Crib & Changer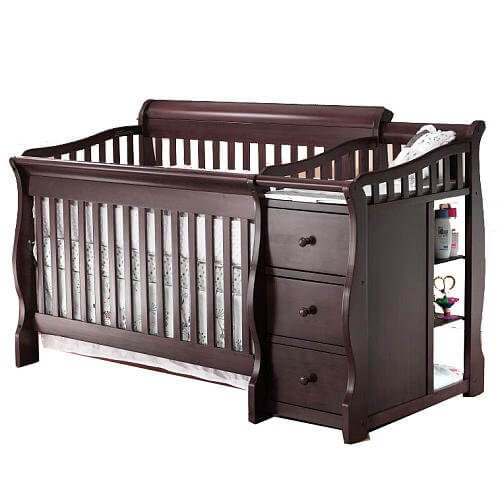 This only looks huge, but in fact it's perfect for small nurseries. The Sorelle Presley 4-in-1 Convertible Crib and Changer has many functions in a small package. You get a crib with three mattresses heights, you get a changing table and some drawer space to store your baby's clothes and what not. This crib will grow with your child as you can transform it into a toddler bed, a daybed  and a full size bed when he or she is old enough. ( You will need to purchase the full bed kit separately )
✔ Pros
More than just a bed – With the changing table and drawers, this is a multifunctional product.
Convertible – Changes into a daybed, toddler bed and full size bed.
Cost effective – Considering you get three types of bed here, and a changing table and drawers, this product comes in very competitive price.
✕ Cons
Full size bed kit not included – You will need to buy the full size bed kit separately 
Mattress not included – You need to buy this separately 
7. DaVinci Jenny Lind 3-in-1 Convertible Crib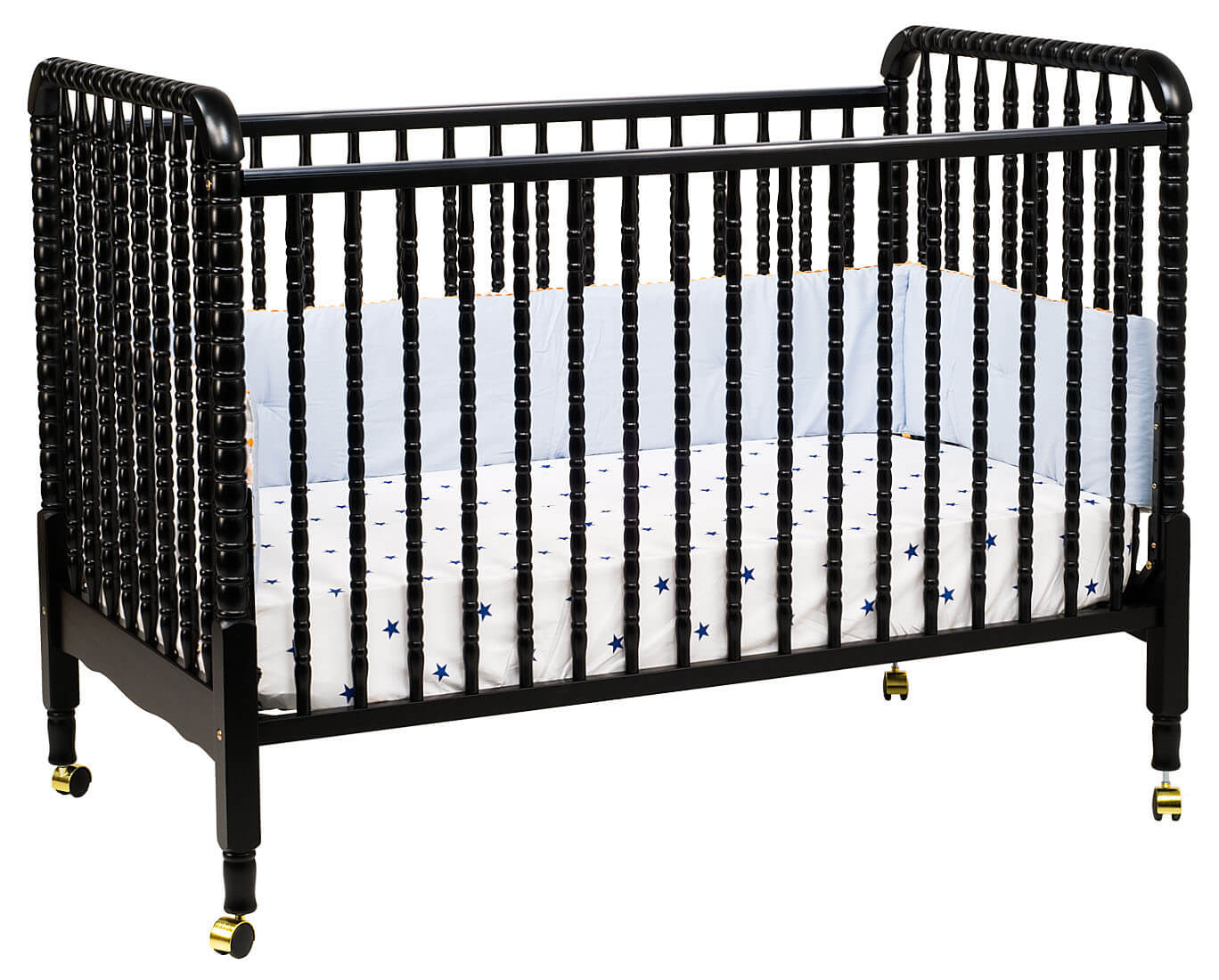 The DaVinci Lind 3-in-1 Convertible Crib is a charming little crib that will make your baby very comfortable. The crib has great reviews on popular shopping sites and many have stated they love its cool look and functionality. When your baby is a newborn, use the highest level for the mattress, when he is a little big bigger, change it to a toddler bed and eventually use the daybed, when you think about the low price it's a really great deal for this piece of furniture.
✔ Pros
Very affordable – For the low price tag, this crib is extremely affordable. 
Vintage design – This crib has a cool vintage design with all the latest features, great for parents who want a retro look for their baby room
Convertible – Like many on this list, this crib also turns into a toddler bed,day bed and full size bed.
Wheels – this crib comes with wheels that makes it easy to move around the house
✕ Cons
Mattress not included – You need to buy this separately 
8. Graco Pack'N Play Travel Lite Playard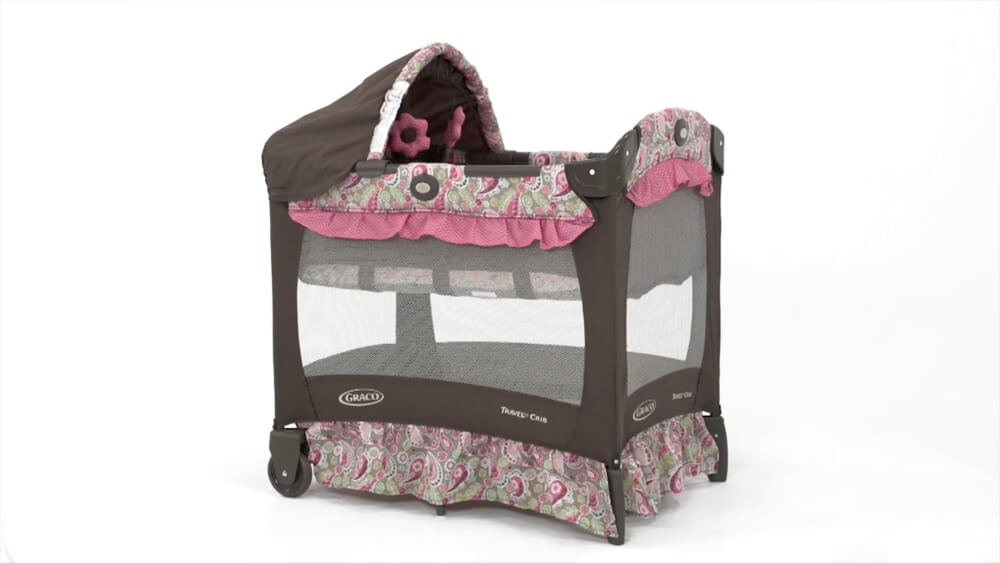 The Graco Pack'N Play Travel Lite Playard is the perfect crib for traveling and mobility. Visiting family? Not a problem, use this crib with ease, or just take it around the house when you want your baby close by. This crib is meant to fold so you can stuff it in your closet or in the car when you need to or when it's not in use. It's light design and mesh fabric make it perfect for on the go parents and it's worth checking out.
✔ Pros
Dirt Cheap – I think this is the cheapest crib on this list. 
Portable – With one push of a button you can fold this baby crib and store it
Compact – Very small in size even when folded
✕ Cons
Only for newborns – Meant to be used only with babies under 15 pounds who can't sit up
9. Bloom Alma Mini Urban Crib Frame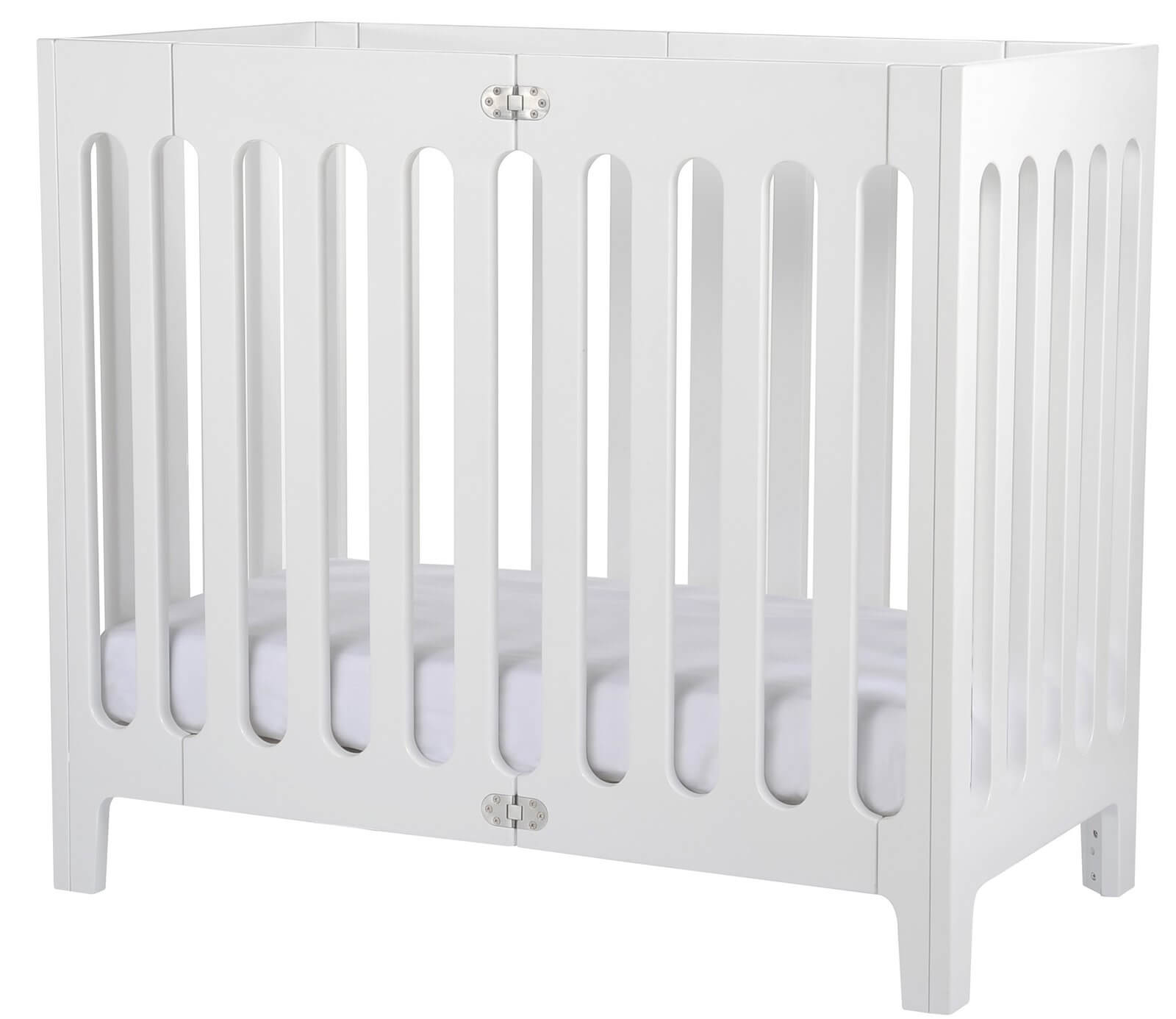 If you're looking for a tiny and cute baby crib that's also reliable, safe and doesn't take up all of the room, the Bloom Alma Mini Urban Crib is the one for you. This crib is perfect for people who live in small apartments or people who don't have much space. This crib has a tiny footprint of 19.2 x 37 x 33, this means you can stick it in a corner and fold it up when you don't use it. The crib has lockable casters on its feet to make it easy to roll around the house. Check it out.
✔ Pros
Multiple colors – You can chose from different colors: Grey, Cappuccino or white. 
Foldable – Fold this crib with ease when you don't use it
Compact – Very small in size so it fits even in the most tiny apartments
Wheels – easily move this crib from room to room
✕ Cons
Expensive – This crib will be used until your baby's first birthday, after that you need to get a new one, so considering this fact, it's an expensive product.
10. Million Dollar Baby Classic Sullivan 4-in-1 Convertible Crib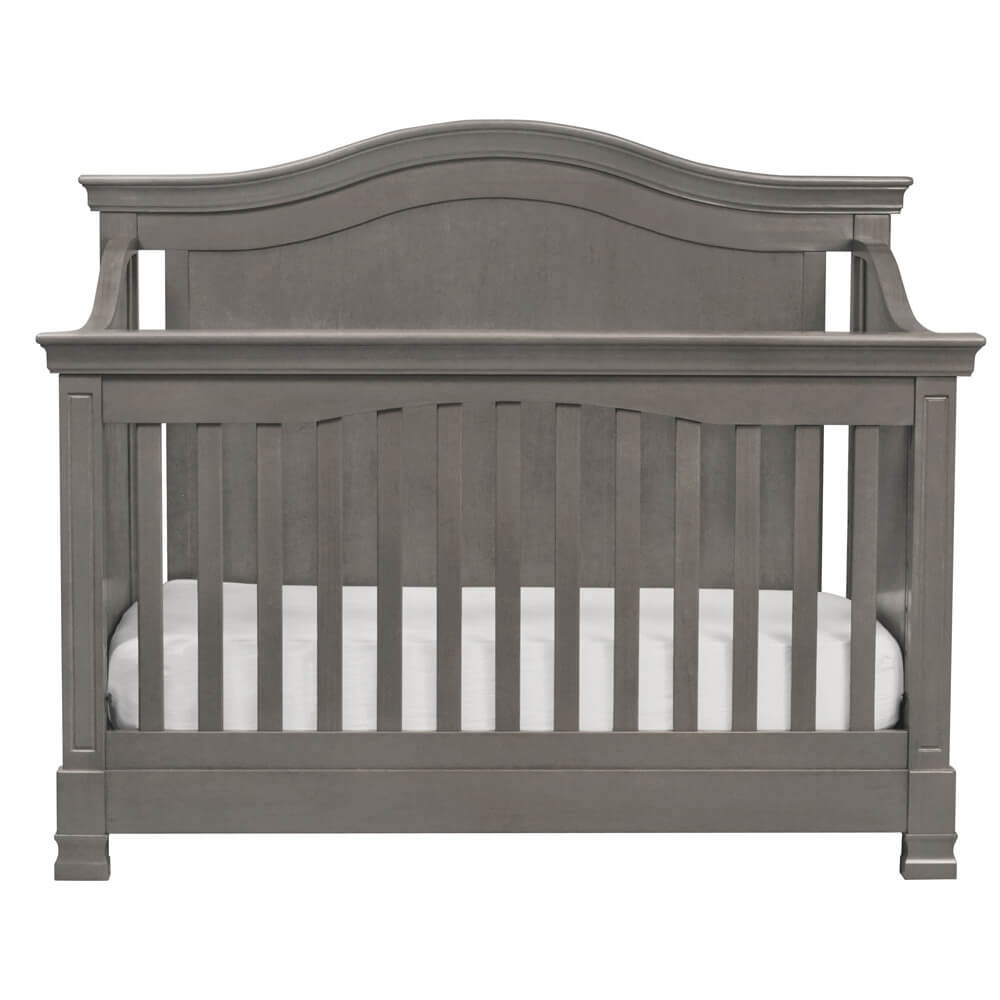 Since 1990 when the company was founded, the Million Dollar Baby crib has been manufacturing high quality cribs, bassinets and bedrooms furniture. Safety and style has been the motto of this company right from the start and this crib will give you four beds in one: a crib, daybed, toddler bed and a full size bed ( you need to purchase rails separately ) You can buy this crib solo or as part of a whole room set furniture. The design of this Classic Sullivan 4-in-1 crib is awesome and timeless.
✔ Pros
Convertible – You can change this bed into a: daybed, toddler bed and full size bed
Adjustable – Change between four mattresses heights 
Long term use – You can use it for many years because it is adjustable 
Good reviews – Many users liked this crib and left positive reviews online
✕ Cons
Expensive – Not the cheapest crib on this list.
Full bed kit not included – You need to buy the full bed kit separately 
We hope you found the crib you need on this list of the best baby cribs. We will try and show you more great products in the future.