Nursing bras are an important item to have after you give birth, you should consider getting a few good nursing bras before you give birth because in the first year of your child's life, you will use them a lot. Another item that many women use is the nursing tank top, luckily for you, we got you covered with a cool article we published about the best nursing tank tops on the market today so you could easily choose the one that fits you best.
When searching for the best nursing bras, consider the bra fit
When searching for a nursing bra, consider the fit. The fit of your nursing bra is very important, it will probably change a few times in your first year or two but choosing a poorly fitted nursing bra will put pressure on your milk ducts and nipples and might cause inflammation and plugged ducts. So avoid this by choosing a good fit for your bra.
While you're pregnant, the rib cage of your body expands up to 1-2 sizes to make room for the baby to come out. Breast size is at its peak a few days after you give birth because that's when the milk start flowing. It's no surprise that a lot of women feel like a porn star after the birth because suddenly even the most flat chested girls have breasts that won't shame the biggest porn star.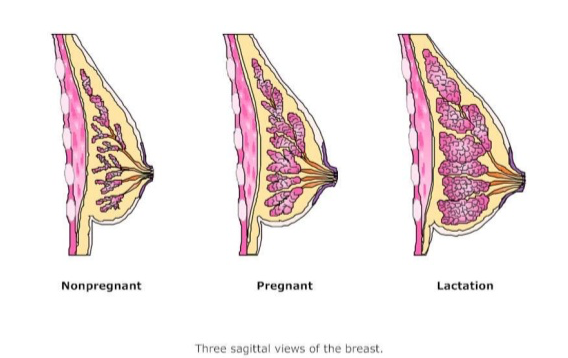 Another thing to consider after giving birth is the milk dribbling. No body wants their breast leaking on their shirt, so when shopping for a nursing bra, make sure you have room for nursing pads. Check out the list below of the best nursing bras and chose the one that's best for you.
1. Vemure Cotton Nursing Bra – First in the list of the best nursing bras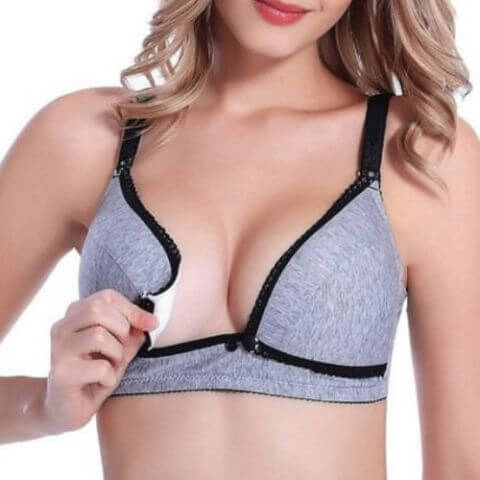 This nursing bra is so soft and breathable you could end up sleeping in it and wearing it even when you don't need to breastfeed. Looking at the picture you could also say it's kind of sexy right? Don't worry women say it is very comfortable and easy to use.
2. Cakye Women's Wirefree Maternity Nursing Bra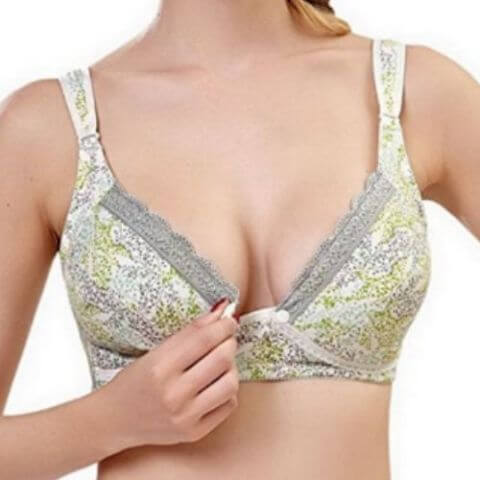 For new moms that want to feel feminine while breastfeeding and not lose their sexiness. This nursing bra comes with a cool lingerie look that is both elegant and delicate. Put this on to feel like yourself again and don't be surprised if your husband suddenly gets turned on.
3. Zumiy Women's Underwire Maternity Nursing Bra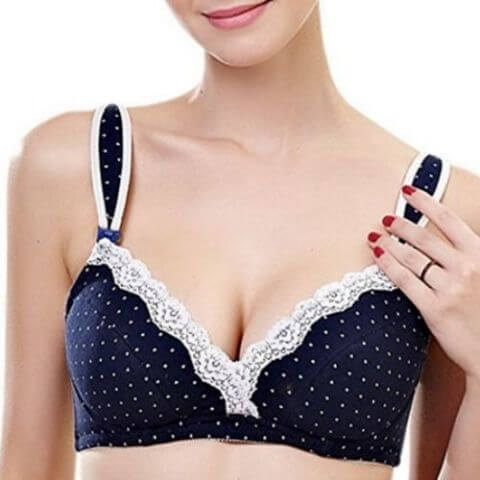 This bra for nursing by Zumiy! is pretty close to perfect, why? Because it's stylish with the polka dots and it has underwires that provides plenty of support when you need it. It also has extra hooks to make it even easier to adjust it according to your body.
4. Bravado Body Silk Seamless Nursing Bra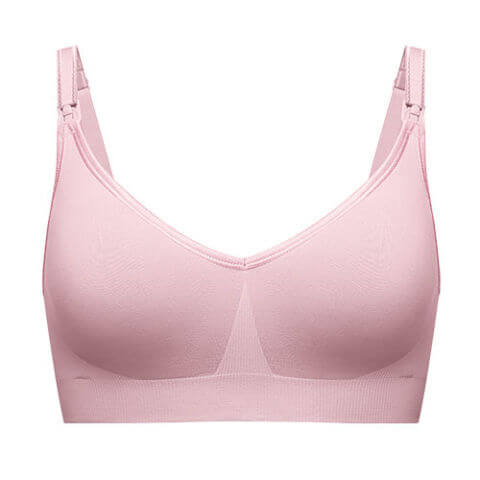 This is a popular bra for nursing moms, it's made from a really soft fabric that might feel like silk, but it's not really silk ok? The important thing is that it won't itch your nipples, other than that, who cares which fabric right? It has no wires so you can adjust it very easily to fit your breasts like a glove. This is a very popular brand and lots of moms love it.
5. Bella Materna Sexy T-Shirt Nursing Bra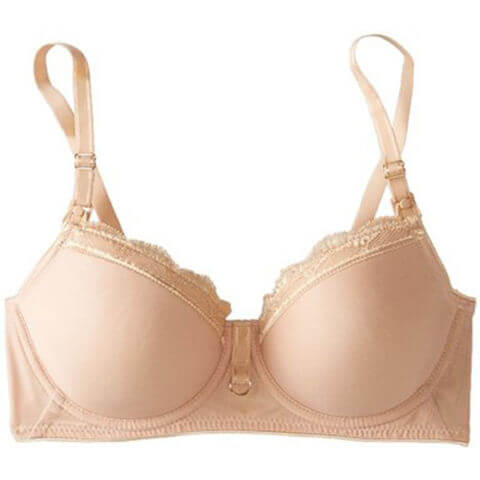 If you used to wear T shirts before your pregnancy then you gonna love this nursing bra. It's perfect to wear under T shirts so you can keep putting your favorite clothes even after your give birth, it has comfortable cups that can fit your body pretty well and it has been said the underwire is very supportive. It's worth checking out when looking for the best nursing bras.
6. Le Mystere Sexy Mama Nursing Bra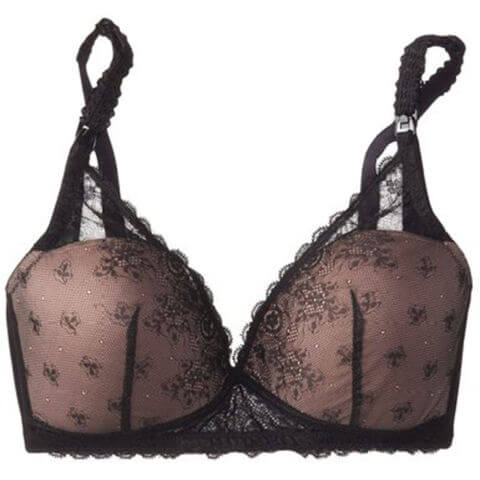 This is a cool and sexy nursing bra that not only looks great, but is sexy as well. You gave birth to a child, that was epic right? But why should you give up your sexuality? No way! This bra is both practical and sexy. The lace also looks great and feels good on your body, the cups when folded down for feeding rest in an angle so that it won't bother you while you feed your baby. Try this bra if you want to look sexy while giving milk.
7. Anita Paisley Underwire Nursing Bra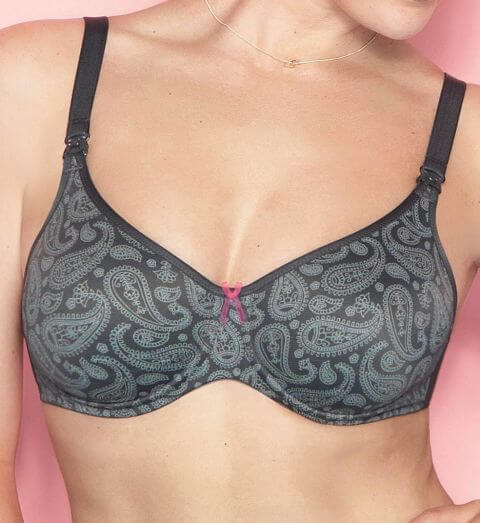 You probably notice that while pregnant, you went up one size in your bra size right? Maybe even more! Don't think this is it after you give birth, while nursing it is common to gain another size or more in your bra size, that's why you need a bra like the Anita flattering nursing bra that is available in sizes up to 44 band size and cup size of I. Last thing is the cool print that makes it look like a stylish fashion item.
8. Simple Wishes Hands Free Breast Pump Bra
This is a cool gadget, Use this bra to breast pump your milk hands free while doing other stuff you normally do. Just wrap the thick velcro band across your chest and insert the pump's flanges into the flaps to give it a leak free seal. Isn't great that now you can pump milk while doing other things like writing that post you always wanted? Give this a try.
9. Lamaze Two-Pack Sleep Nursing Bras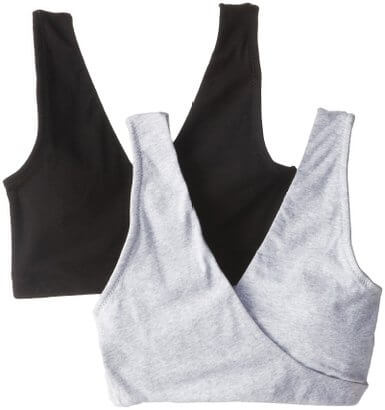 After your baby comes to the world, you will not sleep much, you know this right? But you still need to be comfortable when you lay down or between breastfeeding. This cool nursing bra is made from cotton, and instead of the unclipping cups you normally have to nurse, you can just pull down the cup of this bra, turning your middle of the night feeding sessions into something simple and quick.
10. H&M MAMA Nursing Bra
Women already know this clothing brand, so it makes sense that you also get this brand's nursing bra, It's fashionable and looks like just your regular bras so no one will even know you're nursing. It has adjustable straps and a little bit of lace, the kicker? The soft padded cups have room for nursing pads. Worth checking out this brand.
11. Cake Maternity Orange Zest Nursing Sports Bra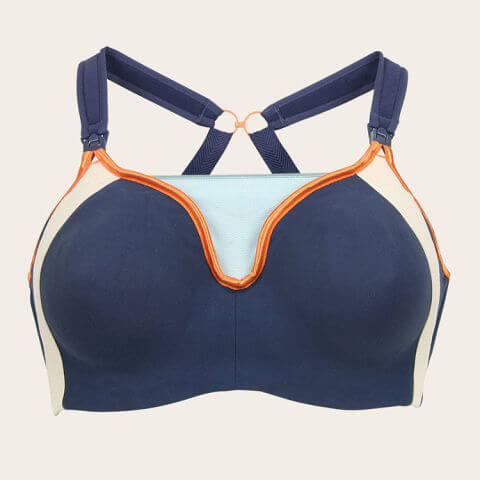 This nursing bra is meant for the women who want to get back in shape in no time. Cake Maternity sports bra gives you all the support you need. It's built to reduce bounce and friction, it is also very flexible and provide comfortable support, after you finish your workout, fold down the cups and start nursing with ease.
12. Bravado Body Silk Seamless Yoga Nursing Bra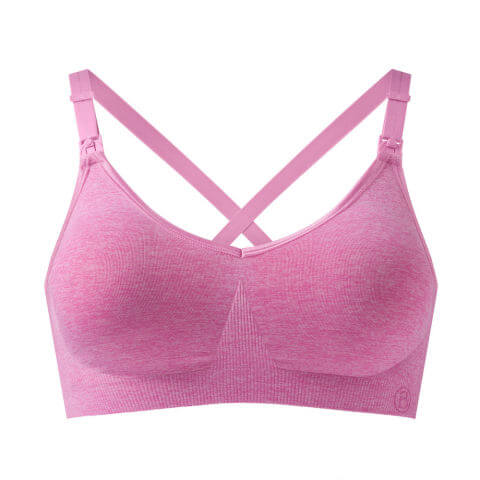 For moms who like to keep in shape even after giving birth and nursing, comes this flexible yoga nursing bra that is perfect for just that or any other activity that requires flexibility and comfort. Yoga bras are now everywhere, if you havn't seen one yet you probably will soon, wear this to your next yoga class or pilates, or just when you want some extra support in the form of a soft and flexible bra.
13. Gilligan & O'Malley Nursing Cami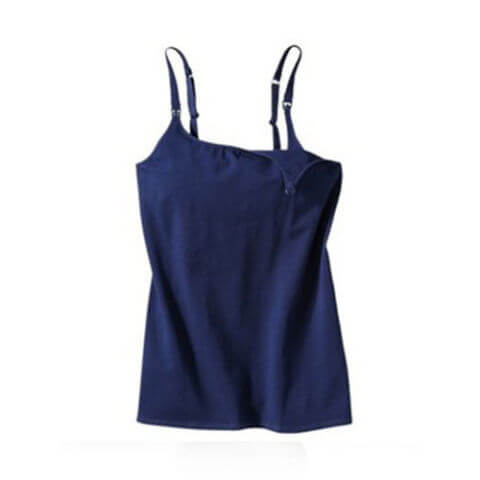 This is a little bit different, but still cool. If you want more coverage than what a bra can offer, this nursing cami is perfect for you. It can be worn alone or under a tee, the front easily folds for easy access and the best part is that because it's long, you can keep that pregnancy belly under wraps. This is not a nursing bra per say, but it's still worth checking out.