If you just had twins you already know you must have a good twins diaper bag, think about it, when you take your babies out you will need to carry with you double of everything. That's a lot. So this list of the best twins diaper bag items was created to help you out and make a solid choice.
Things to know when searching for a good twins diaper bag
Obviously the most important thing you need is plenty of room. You have twins, that's two babies if you haven't noticed, two times of anything! Diapers, wipes EVERYTHING! So make sure you have plenty of room in your bag. Like any other diaper bag you will also want many pockets and ideally some kind of a divider so you can divide each baby with his stuff.
1. Skip Hop DUO Double – best twins diaper bag
The Skip Hop Duo Double twins bag is designed to be used with a double stroller, however, you can also use this bag with a regular stroller if you want. The bag comes in 3 color and pattern designs and can also be worn as a tote bag with long strap for maximum comfort. If you've seen this bag before it's no surprise because the company makes great products and this twins diaper bag is no exception. This is a great choice to parents of twins to start our list off.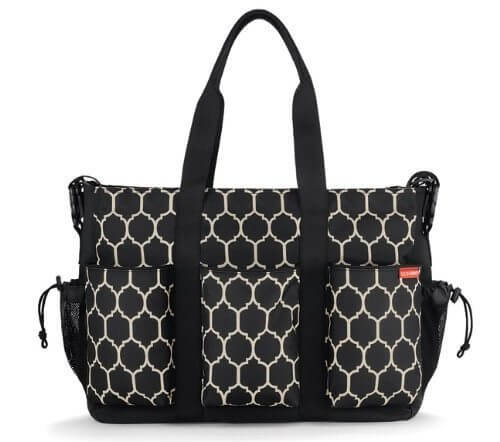 2. Ju-Ju-Be Be Prepared twins carry bag
The Ju-Ju-Be bag comes with a very roomy space inside, this brand is not just regular popular, it is actually one of the most popular brands on the market right now and one of our top choices when building this list of the best bags for twins. Beside all that space, it's also pretty fashionable and comes in many different designs.
The bag comes with a changing pad which is not that big but still handy for those days when you need to change them outside. Another cool feature of this bag is the tiny feet that gives you the well needed option to place the bag on the ground. This twins diaper bag is pretty much a solid choice.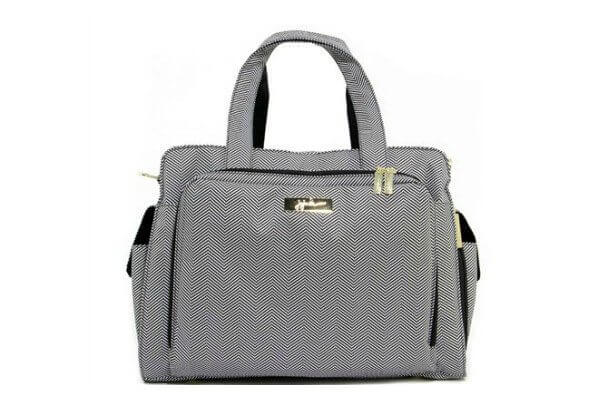 3. TWELVElittle Carry Love Tote
I will start with the tiny thing that i think makes this bag really cool and useful. It has a hidden zipper on the bottom that keeps your items separate and clean when you need to. Other than that it has a lot of room to carry all those twin toys, diapers and everything else you need. don't forget, everything is double with twins. You can wear this bag as a tote one or wear it across your shoulder or front. The bag is lightweight and simple to operate and it looks pretty good. Overall a good choice on the best twins diaper bag list.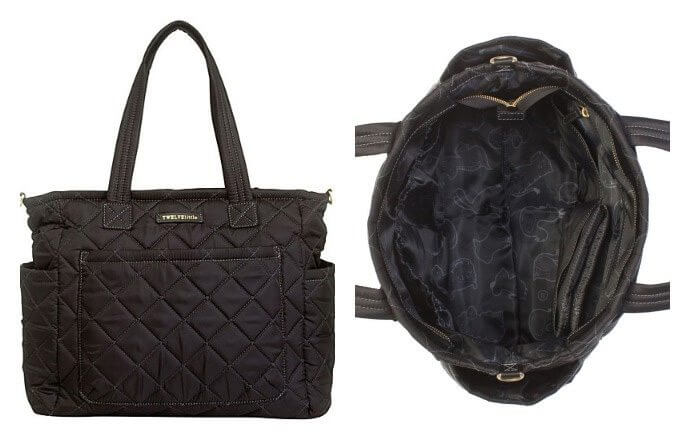 4. Baby Cargo Georgi
This twin bag only looks small, in fact it comes with much room that you can store pretty much everything you need for your twin babies. It comes with a detachable strap so you could carry it like a tote bag on your shoulder if you like. With 13 pockets total which include the big one inside that's more then enough room for clothes, diapers, lotions and everything else you want to carry. You can get this bag in 4 different colors but the best one is the Blue. Just kidding, choose what ever color you like.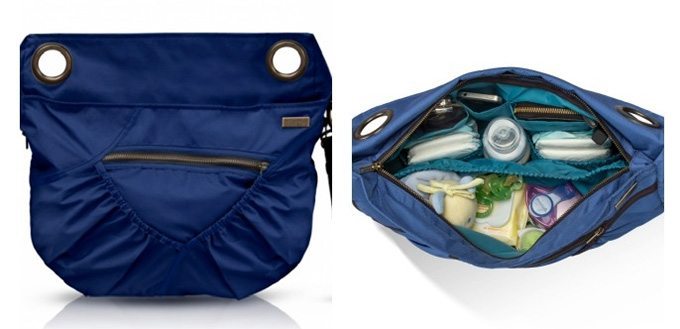 5. timi & leslie Charlie
The timi & leslie brand is really popular with celebrities, you wanna know why? Because they are expert at making diaper bags look like regular fashion bags. This item is actually a 7 piece set which includes a bottle tote to keep them cold as ice if you need to. Also comes with a shoulder strap to easily carry it around and you can get it in 9 different colors. One of the most unique bags on this list for sure, but we had to include it. The only thing " wrong " with this bag is that it's too feminine, no way your husband will carry this around.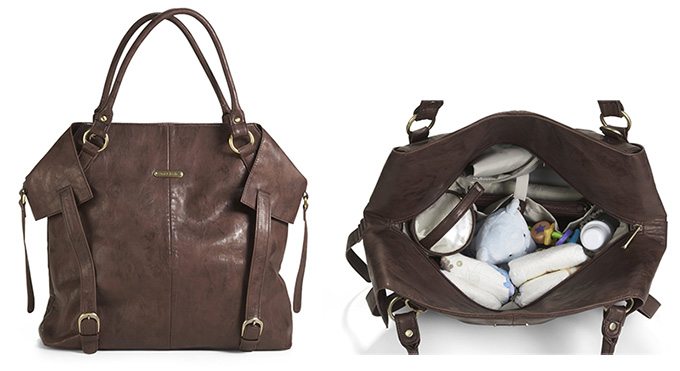 6. Bula Baby Diaper Tote Bag
This item is for those on a budget, for this price tag, you get all you need people trust us. The bag from Bula Baby is really compact and easy to carry and will easily fit anywhere you like to put it.
The twin bag comes with 12 pockets which is enough for everything, it even has one for your stuff so you don't need to carry a purse with you. Need to do some work and carry your laptop? No problem! This bag is durable enough for your electronics and what not. Love the fact that it comes with several inner zippers to store more important things like cash or credit card.
One last thing about this bag is that you can carry 20 ounces bottles inside so no need to carry extra bottles with you ( YAY ). Carry it in your hand or over the shoulder, your choice, obviously you can also attach it to the stroller for some hands free time.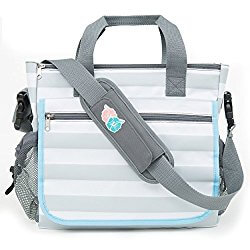 7. The Twinneroo
The one thing that puts this twin diaper bag way above the others is the fact that this one was designed by an actual mother of twins. Yes, this makes it all the more sure that she knew what you need right? The bag contains two separate compartments so you can divide everything in two easily. The size of the bag is 17.5″L x 14.5″H x 8″W. Another cool feature is that the bag design can stay open while you search for stuff inside, how comfy is that right? Makes sense. Love this bag!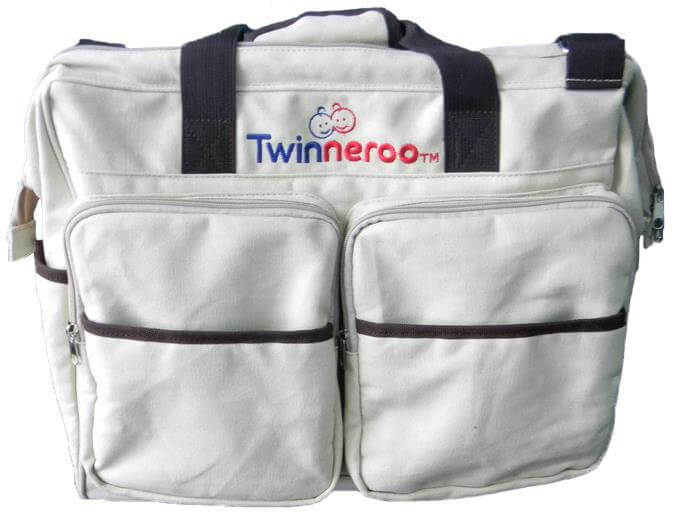 8. Deluxe Duffle Style Diaper Bag by Trend Lab
The Deluxe Duffle Style Diaper bag by Trend Lab is one of the best ones on this list, it's so because it offers both style and fashion with functionally and great price. You can't beat that right? Another thing that's good about this bag is that it is LARGE, you can put it over your shoulder or carry it like any other diaper bag, up to you. It comes with many pocket + the desirable bottle pockets every mom needs to be honest, Like most bags on this list of the best twins diaper bag models, it also comes with a changing pad.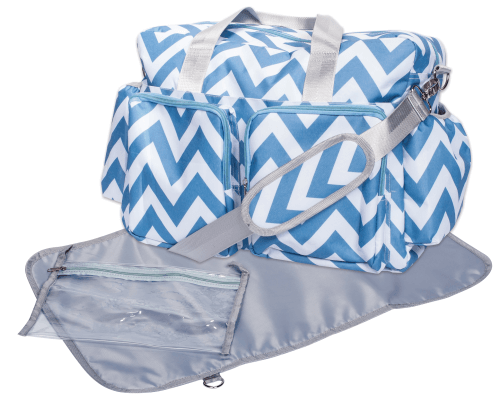 9. Exclusive Twins Tattoo Flash Print Diaper Bag
When you're having twins, everything becomes double the fun, but also double the cost. This hip diaper bag is perfect for cool parents who still want to look sharp while carrying around two kids. The cool design was actually created by the site founder Kellie Asaro. This is hand drawn print people, not just photoshop or computer generated graphics. The art on the bag if you look closely features all those good items babies need but this time for twins! Get this bag only if you plan on being the coolest mom or dad in the neighborhood.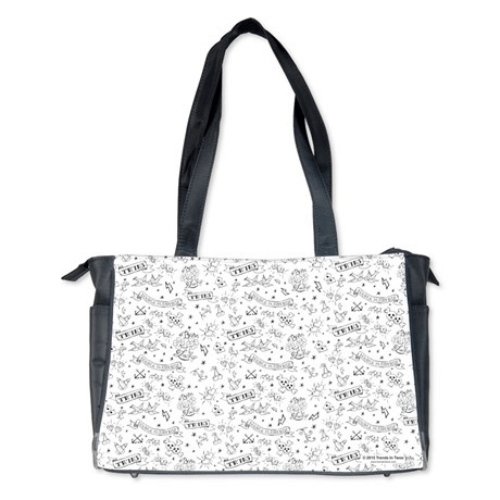 10. Skip Hop Dash
This might just be the perfect twins diaper bag. The Skip Hop Dash bag comes in a perfect fit for double trouble ( LOL ) and it can fit on a wide stroller. The handles to attach this bag to the stroller are strong enough so you can be hands free but quick on the lookout when needed. The twin diaper bag comes with 16 pockets which is more than enough room to carry what ever you need.
Another cool feature of this bad is that it can turn into a tote bag with a side strap, the magnetic closure makes it easy enough to operate with one hand and this product also comes with a changing pad. The last thing that separates this bag from the pack is that it's strong enough to carry your laptop too so you can take the twins out for some fun time and work while you do it. This was the last item on our list of the best twins diaper bag brands and we hope we helped you out.