Accurately applied makeup need no longer be a rare feat. Add one of these modern best lighted makeup mirrors to your beauty repertoire, and flaunt flawless makeup every day. Check our top picks of lighted makeup mirrors that you need to add to your repertoire today. Featuring perfect lighting, convenient magnification and intuitive design features, these will turn you into a makeup artist in no time!
1. Krasr Touch Screen LED Lighted Makeup Mirror – first on the best lighted makeup mirrors list
Pander to your beauty conscious and tech savvy sides, with the Krasr LED lighted makeup mirror. Sleek, sophisticated and smart, this battery operated mirror is equipped with 180 degree rotation to always guarantee you the perfect angle for makeup application. We found its simultaneous full-face and spot-magnified views extremely convenient, and loved how the LED lights intuitively responded to touch. To sweeten the deal further, batteries are included with your purchase
2. Ovente 8.5 Inch Smart Touch LED Lighted Mirror
Ovente's charming table-top mirror has the looks to blend with the most elegant of settings, along with proportions ideal for compact spaces and small countertops. What totally got our attention, though, were the natural reflections that this mirror's daylight spectrum LED lighting ensured.
–ad–
Scoring high on functionality, this double sided mirror offers both full face and magnified views, lit by low watt LED fixtures.
3. Zadro 10x/1x Cordless LED Lighted Mirror
This Zadro LED lighted mirror is the complete package of good looks, versatility and functionality. We're usually skeptical about wall-mounted makeup mirrors, but this thoughtfully designed product put our apprehensions to rest. Cordless and battery operated, it can be quickly dismounted and installed in just about any room. A suave oiled-silver finish doesn't hurt either.
4. Conair Oval Double Sided Lighted Mirror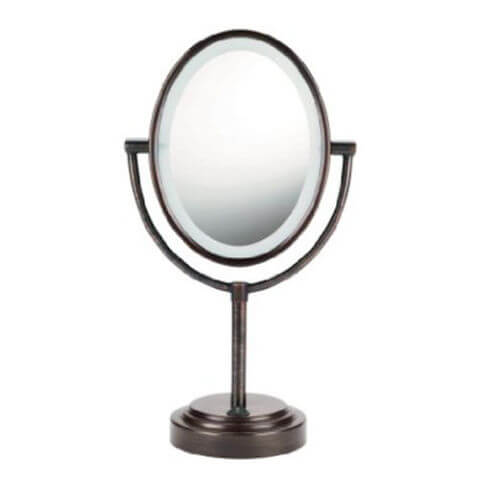 Accurate makeup application now gets affordable, courtesy Conair's double sided lighted mirror. This freestanding, adjustable mirror offers both full face and 7x magnified views. It also gets full marks from us for its halo lighting that always ensures perfect, uniformly lit reflections. A classy oiled-bronze finish complements the elegant proportions of the mirror.
5. Sanheshun 7X Magnifying Lighted Travel Makeup Mirror – good lighted makeup mirrors continues below…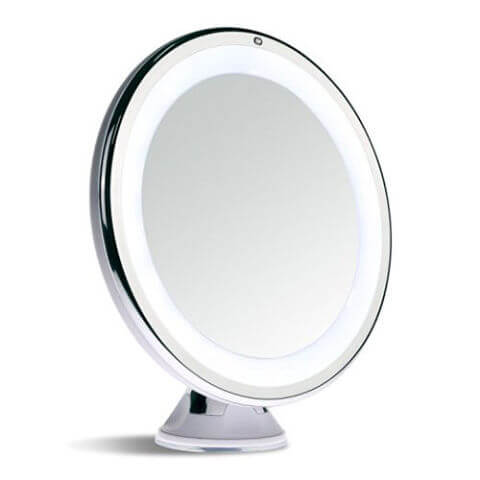 Our next pick is an ultra-portable, ultra-efficient travel mirror from Sanheshun. Its petite 6-inch frame packs a host of features, including an array of 16 LED lights with 10,000 hours of life in them, and 7x magnification to make even last minute touch-ups nothing short of perfect. The ideal addition to your travel vanity kit, especially if you're a stickler for perfection.
6. Simplehuman Wall Mount Sensor Activated Lighted Makeup Mirror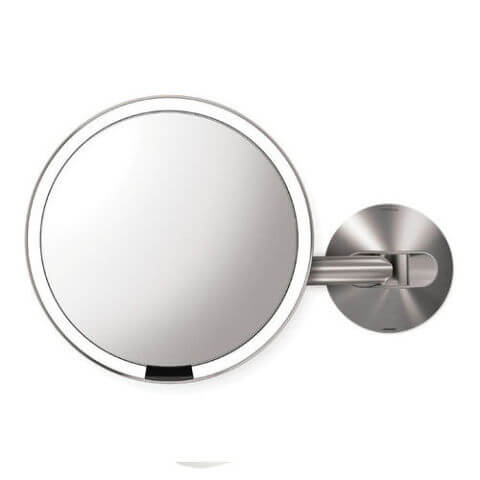 How about a makeup mirror that responds to your requirements? This Simplehuman product is one of the most user-friendly makeup mirrors we've come across so far. It comes with built-in sensors that automatically power on its LED lights as your face approaches. Plus, the mirror beautifully simulates natural lighting, ensuring that you never miss out on a minute makeup detail again.
7. Conair Illumina Lighted Makeup Mirror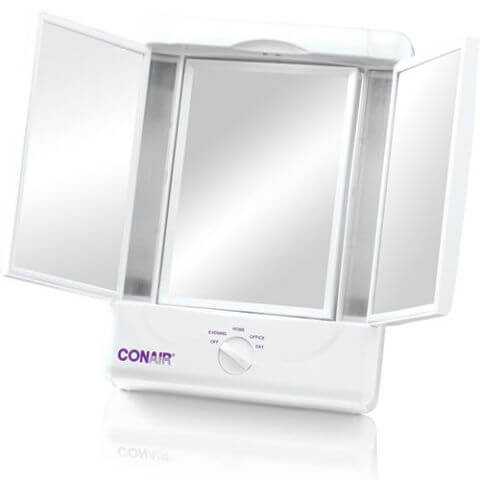 Less isn't always more. Sometimes, you just want that extra bit of viewing room while you apply your makeup. We recommend the Conair Illumina for its classic 3-panel mirror, as well as for its multiple light settings that make sure you can always create those winged liners and subtle highlights, regardless of the time of day, or the lighting conditions you're in.
8. Vanity Girl Hollywood Starlet Lighted Tabletop Vanity Mirror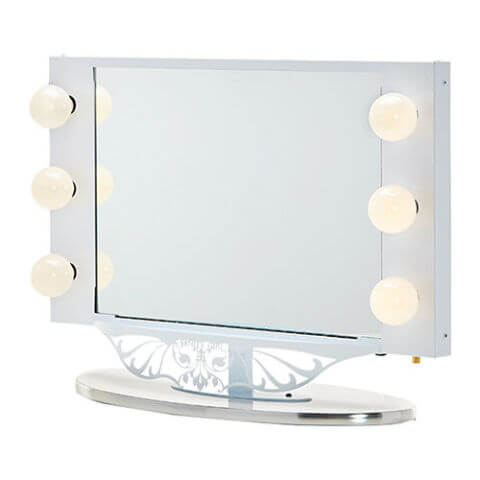 Get the glam going, Hollywood style. The Vanity Girl Hollywood Starlet tabletop mirror turns your dressing area into a celebrity makeup station. It comes with six globe bulbs for perfect natural illumination, and perfect focus on every detail of your hair and makeup. More importantly, though, it makes you feel like a diva every day, and we can't really put a price on that!
9. Jerdon Portable LED Lighted Tabletop Makeup Mirror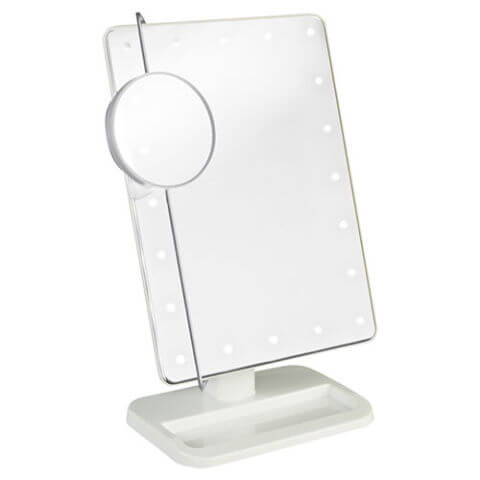 Always on the move? Look gorgeous wherever you go, with the Jerdon portable LED lighted makeup mirror. A convenient freestanding mirror, this lets you instantly convert any available surface into a makeup station. We found a number of intelligent details incorporated into the subtle design of the product, ranging from wire-free battery operation, to an adjustable tilt stand, to both full-face and 10x magnified views.
10. Zadro Next Generation LED Lighted Travel Mirror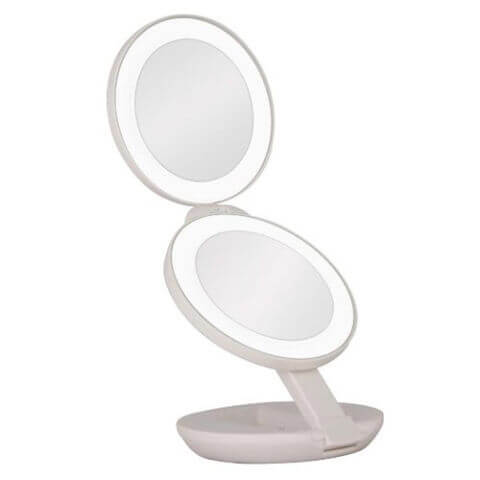 We're always on the lookout for travel-friendly makeup gear, and the Zadro Next Generation lighted travel mirror checked all our boxes. This smartly designed product opens up into a set of 2 mirrors, offering full-face and magnified views, along with a stable base that keeps your hands free. Battery operated LED lights surround the mirrors, helping you fight low-light conditions with finesse. Thumbs up for its lightweight, compact build and its pocket-friendly price.
Here's hoping that we've made your hunt for the best lighted makeup mirrors a tad easier!