Putting a blanket on an infant is a nono, we all know this, trying to wrap your toddler with a blanket is also not recommended because they will just kick it off after a few seconds and then start to cry that they're cold. So what to do? Well this is where the long sleeve wearable blanket comes into play and honestly, it's a perfect solution.
Some of the huge benefits of using a wearable blanket is the fact that it's safer, yup, when you just cover your baby with a blanket there is always the chance that she or he will get tangled up with the blanket and god forbid choke to death or in less of a disaster just kick the blanket off and be cold all night while you sleep and won't even notice.
Benefits of using a long sleeve wearable blanket
It gives you a better transition from swaddling to using a regular blanket as the kid gets older
It's perfect for traveling as you don't need to carry an extra blanket with you
Allows parents to sleep longer by providing the baby warmth all night
Reduces the risk of SIDS ( Sudden Infant Death Syndrome )
Reduces the chance of overheating over the night
It can grow with your kids
When you start to look for a baby sleeping bag please notice two important things. The zipper and the thickness of the wearable blanket. Make sure to choose a product that comes with a zipper that goes all the way so that the baby can't reach it and free himself while you sleep. Also make sure that the thickness of the sleep bag is suitable for the season. Below is a good list of long sleeve wearable blankets to choose from.
1. 
Carter's Baby Girls' Floral Gown – long sleeve wearable blanket
The Carters baby floral gown is a great choice for those nights when you want to place your baby to sleep but don't want to put many layers of clothes on. The design of this long sleeve wearable blanket is simple and easy to use, you can get it in different patterns and colors, so be sure to check it out and you won't be sorry.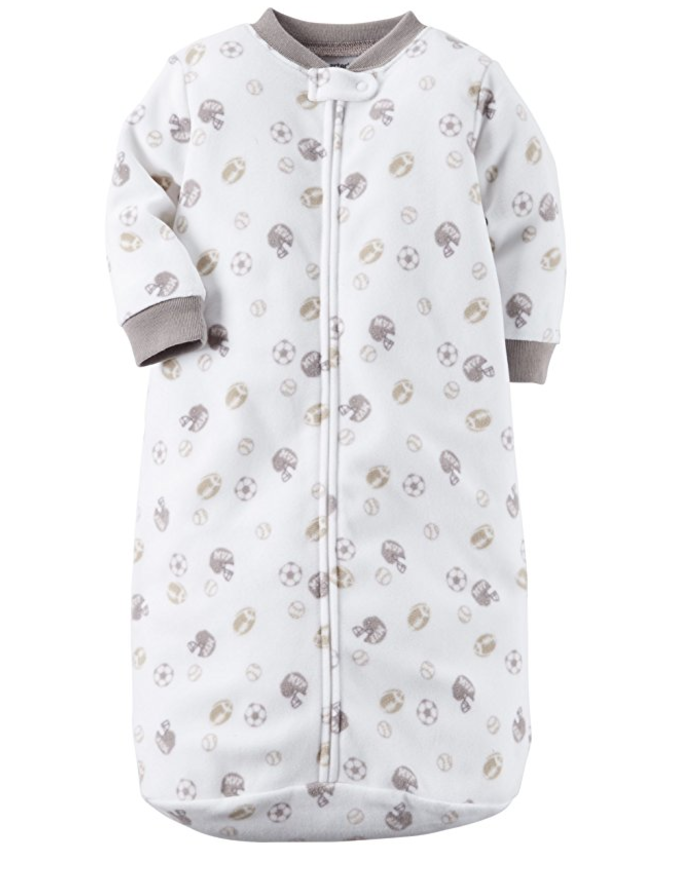 2. Baby Toddler Boys Soft Thickness 100% Cotton Split Wearable Blanket
This wearable blanket comes with a nice zipper to easily open and close when your kid needs to pee or poop, you do not need to take the whole thing off so it's very convenient. The fabric of the Baby Toddler Blanket is very soft and just right for for your baby's skin and the thick style is perfect for cold winter nights or even days you just leave the AC on all day.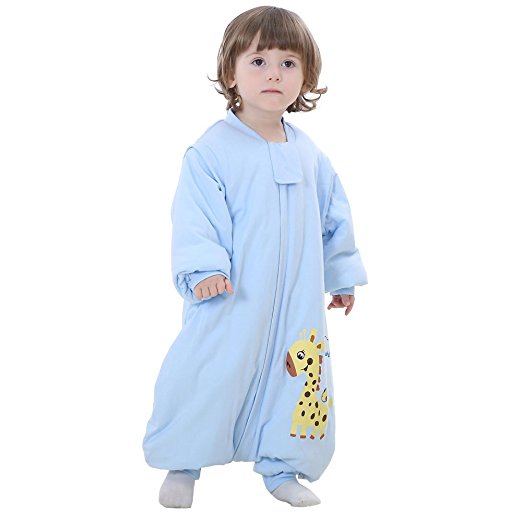 3. LETTAS Unisex Baby Cotton Removable Long Sleeve Zip up Sleeping Bag Thicken 3.5 TOG
This awesome long sleeve wearable blanket or sleeping bag is a great addition to your kid's napping wordrow. The LETTAS Unisex Baby item comes with a side zipper and detachable sleeves for extra comfort, the cocoon shape is designed for maximum comfort and the materials are organic giving this product a luxurious look and feel. Choosing this will be a good choice.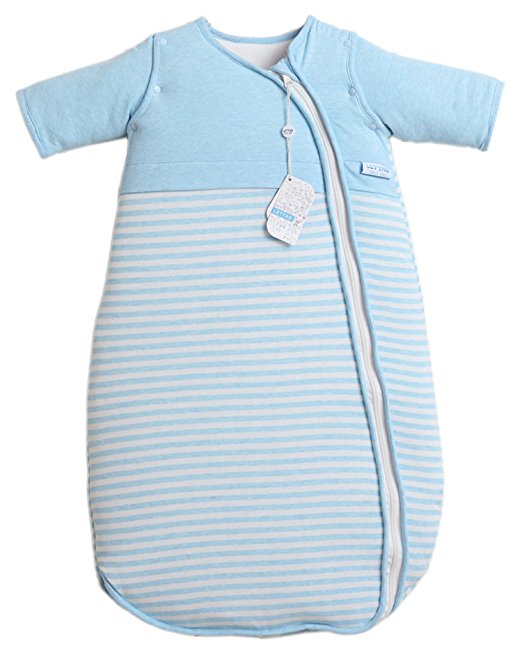 4. LETTAS Baby Boys and Girls 100% Cotton Stripe Removable Sleeve Sleeping Bag 0.5 Tog
This LETTAS Baby Boys product comes with detachable sleeves which is great for both winter and summer, if your baby feels warm, just take them off and this whole thing turns into a summer clothing item. The side zipper is long enough and flexible enough so it's really easy to place your baby inside or outside when needed, this brand sells this item in many other cool designs too so you can choose from a lot of cool patterns and designs.
5. Slumbersafe Winter Sleeping Bag Long Sleeves 2.5 Tog
Another item from the Slumbersafe brand, this company makes good clothes for babies so we featured them more than once here on the list of long sleeve wearable blanket products for your child. You can see this item comes with long sleeves that are tight at the end, this helps keeping the hands of your baby from slipping inside all the time and making him feel less comfortable. The item comes in six sizes that can fit babies or kids from age 0 to age 10. Is it worth checking out? You bet your sweet baby's tuchy it is.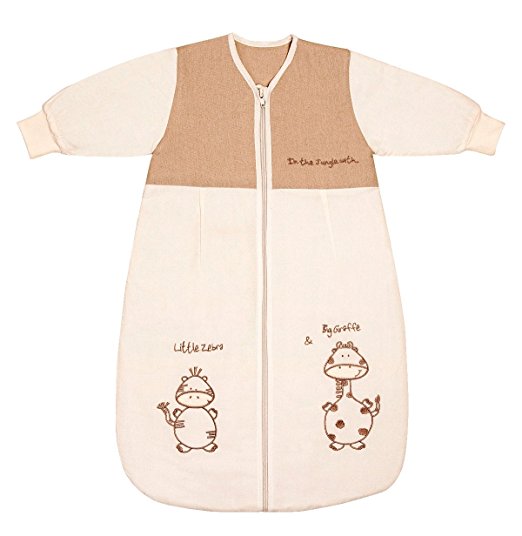 6. 
Rene Rofe Baby Baby One Piece Sleeping Bag
Another good choice for those who want to provide their kids with comfort and warmth without having to rely on thick blankets and duvets. Note that this item the Rene Rofe Sleeping Bag does not have a zipper in the front, instead it comes with buttons that clip on, some hate them, some love them, it's up to you to decide if this is a plus or not. The design is simple and nice giving you more room to move around while you wear these so this is a good thing. Worth checking out for sure.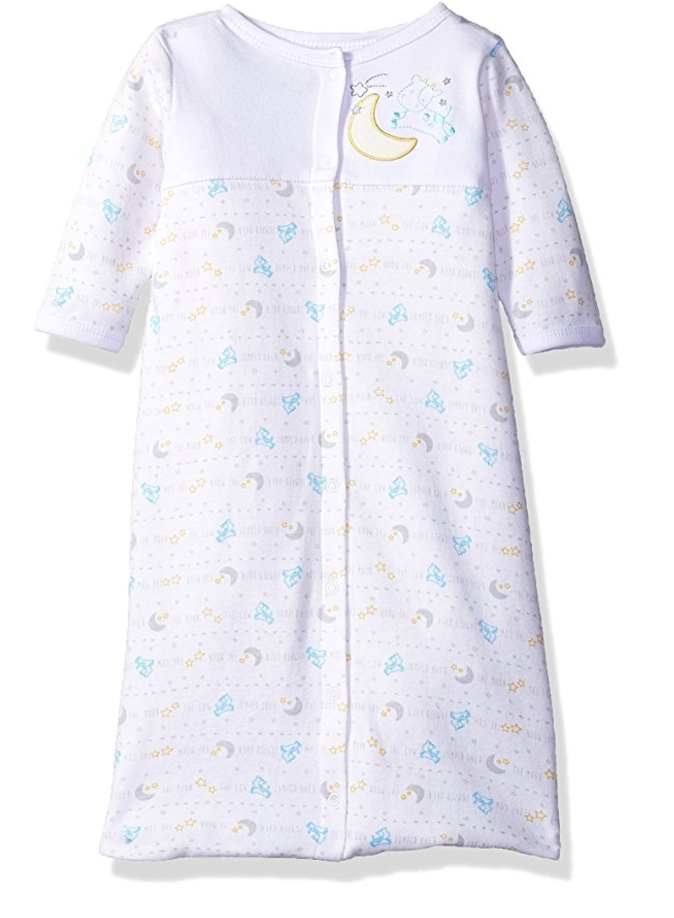 7. Babyfriend 100% Cotton New Cute Design Baby Girl's Pink Sleeping Bag Long Sleeve Wearable Blanket
The Babyfriend is an ideal choice for more features if you want a top sleeping bag but with more options. For example the front zipper and open pants design allow for easy peeing or pooping without taking the whole thing off, which is a huge plus trust me! The material is super soft and fit for baby skin and the thick design will keep your baby warm and comfortable all night long.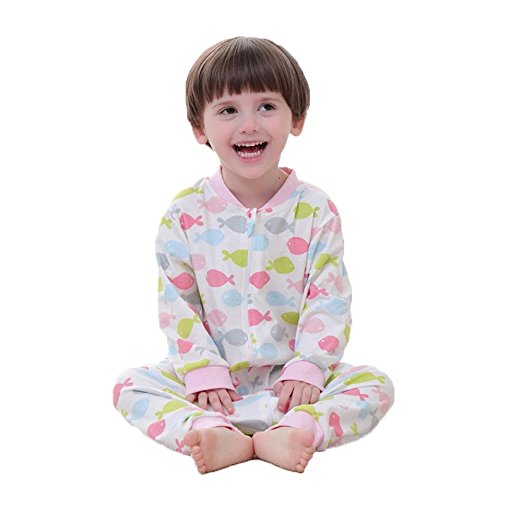 8. Schlummersack Winter Baby Sleep Sack Wearable Blanket Long Sleeves 3.5 Tog
When you travel or have a sleepover at friends or family, your baby or child will naturally feel less comfortable when you're at home. This is where a long sleeve wearable blanket from Schlummersack comes in and can make all the difference. It makes your child feel nice and warm without the hassle of carrying a blanket with you all the time. The SlumberSafe sleeping bag is an ideal choice because of the simple but practical design with the front zipper that makes it really easy to take off or on.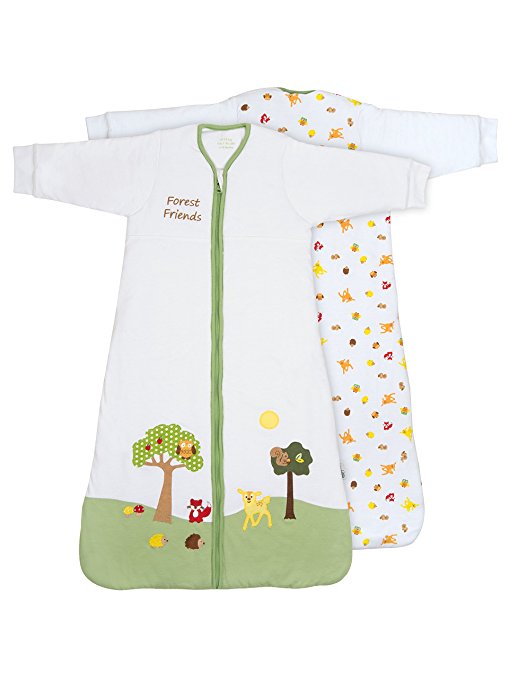 9. 
Fairy Baby Spring Fall Organic Cotton Long Sleeves Sleeper Wearable Sleeping Bag
The nice zipper and neckline tab gives you optimal control for easy on and off transitions. The Fairy Baby sleep bag for your baby comes in an adorable design that is practical too. When you put your baby inside this product you don't need to place a blanket over it too, this item will replace blankets and duvets and will keep your child in the temperature he needs all night. When is a good time to use such products? Well, the best time to you wearable blankets is when you're traveling or sleepovers to make your kids feel more comfortable and make you life easy to by not having to carry blankets with you all the time.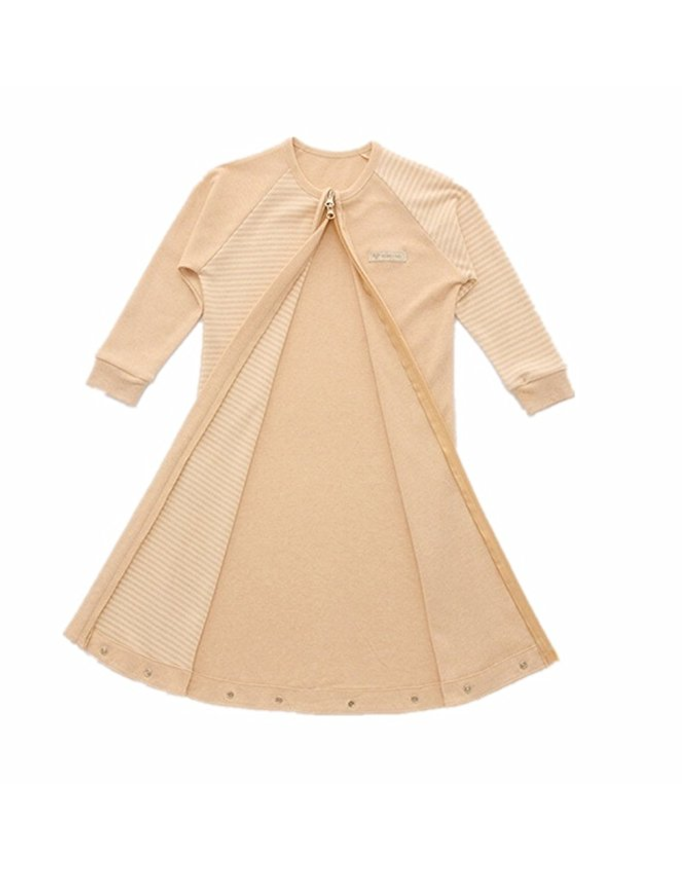 10. ergopouch 3.5 Tog Sleep Suit Bag, Navy Cross
This cool sleep suit converts to a sleeping bag with ease. The Ergopouch item will help you transform from crib to stroller in no time and your baby will love the process. The fashionable design also helps by giving your baby a chance to look stylish and cool. From all the long sleeve wearable blanket items on this list, this might be the best one. Check it out.