The Lole Lily Tote bag is for the everyday woman, for those who need to carry with them more than just a few items and don't want to carry a full backpack. If your lifestyle demands you to always be ready than the Lole Lily Tote bag is just what you need.
The bag offers everything you need throughout your day, it can easily convert into a backpack if you need it to, and it has more than enough room to carry your stuff all day. A lot of people praise this bag because it has a dedicated place for your yoga mat, so you can easily carry it with you to work and just drop by straight after.
You also have places for your makeup to freshen up after workout and before that cute date arrives and you even have a padded pocket sleeve to store your laptop with you without worrying, it seems that the company has thought of everything when designing this bag, let's take a closer look at it shall we.
Main features of the Lole Lily Tote bag:
The Tote can convert into a full backpack
It can hold a 13 inch laptop with ease
It has a special place for your yoga mat
It has a detachable and transparent makeup case
A shoe bag, yup! A shoe bag!
Smartphone pocket ( this is basic right? )
Cool keychain
The measurements of the bag are:
16 inches high ( or 40 cm )
13 inches width ( or 32.5 cm )
7 inches depth ( or 17.5 cm )
Here is a closer look at the front side of the Lole bags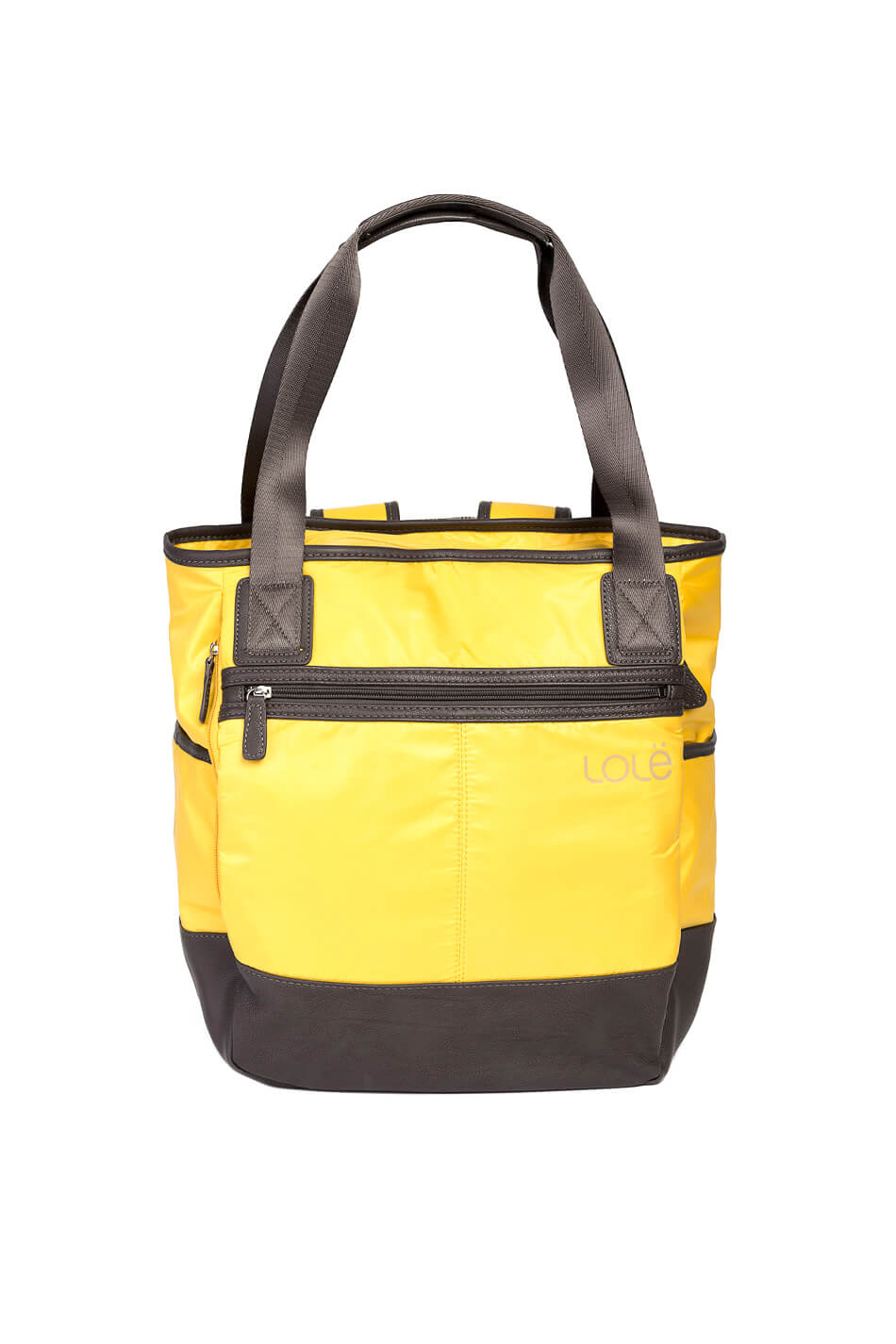 Notice that the nylon material makes it look fresh and shiny, with the upper straps having a nice stitch that is both sporty and stylish making it easy to carry it around with you by hand or hanging from your shoulder. Beside the main pocket, the front pocket is probably the second best thing this bag has to offer.
The back side of the Totem Lole Bag
As you can see, the back side of this cool bag has two straps that basically turns this bag into a backpack if you want it to so you can carry it on your back freeing your hands to do whatever.
The bag also features a transparent makeup case and a shoe bag to store your shoes separate from the rest of your stuff
you know, because sometimes feet and shoes smell, not saying your feet smell….Just saying in general. These two pockets are maybe the most practical i have ever saw in bags, you always get stuck with your shoes and it's annoying to shove them down your main pocket with the rest of your work and clothes. The transparent makeup case is more than a fashion statement than anything else. Why not flash your makeup around and show the world how cute you are. Or it could be easier the find that lipstick too with the case being transparent though…either way, it's cool.
The bag has a clean look
You can see the back straps can be hidden away inside the little zippers at the bottom. This gives you the more clean look when you don't need to carry something heavy with you, I love this feature, because sometimes you want to carry it like a bag and sometimes you need to put it on your back.
Here is a side view of the bag, thin and beautiful

A side look of the lole bag, as you can see, it is very thin, so while carrying everything you need it also doesn't take much room when you commute and need to place it in tight places. This is maybe the biggest upside of this bag in my opinion.
The bottom side

The bottom part of the bag is a nice layer like leather that keeps it strong even when placing it on the ground. Don't worry, it will stay strong and wont tear. Nice touch indeed
A look inside the bag 
Finally here's a look inside the main pocket of the bag. There's a nice fabric inside with the logo of the company Lole and one more pocket for your smartphone or car keys.
What people say about the Lole Lily Tote bag
The general opinion of people who purchased this bag say it is very good, it holds everything they need and more. Most of the people reviewing the lily bag like it and have positive things to say. Also though please note that a few people mentioned that the back straps can tear or lose some stitches after only a short period of time, this didn't happened with everyone, but we did see a few people mention it so it's worth writing.
Pros: Stylish, can carry a lot of things plus the yoga mat which is a great idea
Cons: Some people reported that the backstrap tears after only a short period of use. A little bit on the pricy side.
Conclusion
The Lole Lily Tote bag is a good choice for women who are on the go and live a busy lifestyle. If you're the kind of person who likes to accomplish more during your day before heading home, this bag will be a good choice for you. You can take your work with you, your gym clothes and even your yoga mat. Like we mentioned before this bag is not that cheap, but it's pretty worth your money.