When we searched for the best baby food storage containers, it was harder than we thought. So many choices and brands it's easy to get confused and get something you didn't really want. Here at The Mommy Daily we try to keep things simple and bring you best of lists of products for everyday use especially for moms everywhere. We hope you enjoy.
Why do we need a baby food storage container anyway?
Seriously? This can't be a serious question, but for the sake of the article, let us explain. The best thing you can feed your baby ( after he's done with breastmilk/formula ) is home made healthy food. Moms do their best to cook for their babies and a lot of times there are left overs because babies eat very little and you obviously make more than just a handful of food. Enter the baby food storage containers. With these little gadgets you can easily store the leftover food for future use, some toddler food containers are perfect for freezing while others are just for the fridge, you choose what you want and need.
Everyone knows that homemade food for babies is a lot healthier and natural than the food you can buy in the stores. It is very important to properly seal and store all of the homemade baby food, so that your baby can eat and stay healthy. We bring you 12 of the best baby food storage containers
1. Béaba Multiportion Baby Food Freezer Tray – The first item on the best baby food storage containers list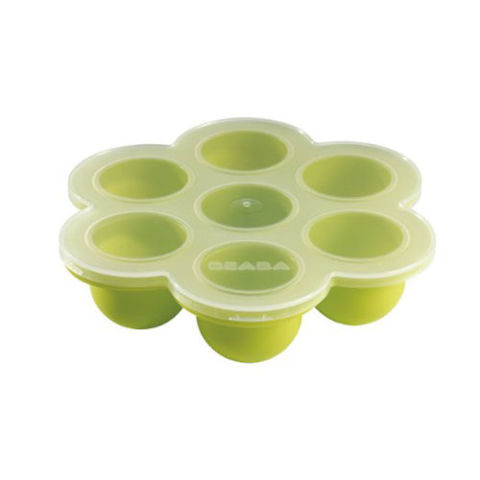 This awesome tray is made out of high quality silicone, it is easy to use and has perfect serving size of 1/4 cup each. A great pick for storing your baby food without any worry at all. We like that you have 7 holes to use so that you can put several different types of food in the same tray. Great idea.
–ad–
2. Wean Green Garden Pack Wean Cubes – awesome food containers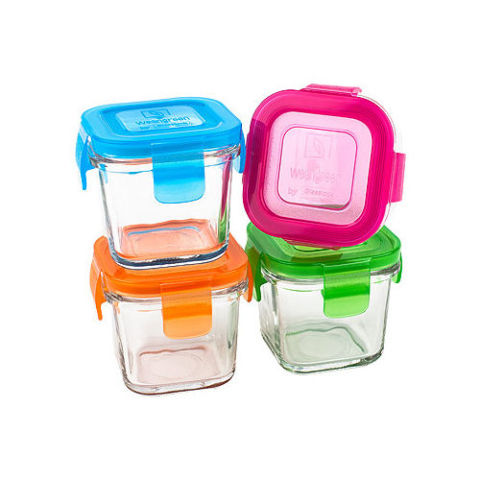 In case you prefer glass over silicone, check out these unbreakable 4 ounce cubes. Perfect for storing baby foods and a lot more. On the best baby food storage containers list, this is a strong contender, made from glass and big enough to use with your own food too. When going traveling and needing to store some food, this is a perfect choice.
3. OXO Tot Baby Food Freezer Trays – best freezer baby food container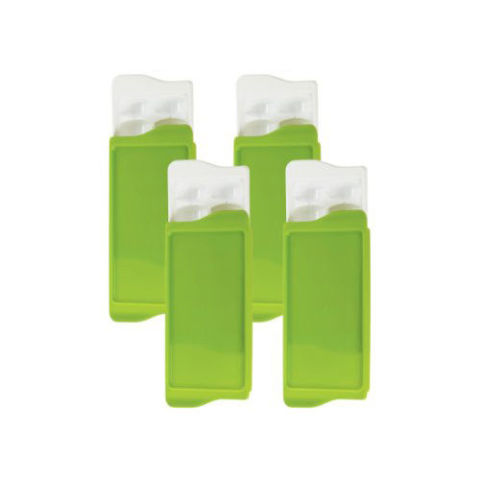 Ready to whip up a huge batch of baby food? These great baby food freezer trays are a real life saver, the 28 3/4 ounces means you will have enough food stored to feed your baby without any issues at all. If you're looking for a food container in the freezing department, this is a great choice for sure.
4. Mastrad Large Babypods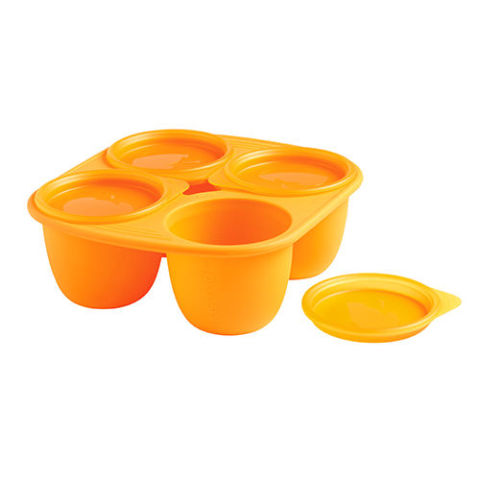 A little bit older babies require a bit more food so here are these large babypods. Each cup holds up to 8 ounces of food and will keep the food ready anytime. The thing that makes this different from other items like it is the size and quantity. You can really store a lot of baby food in here and that's the whole point right?
5. OXO Tot Baby Blocks Freezer Storage Containers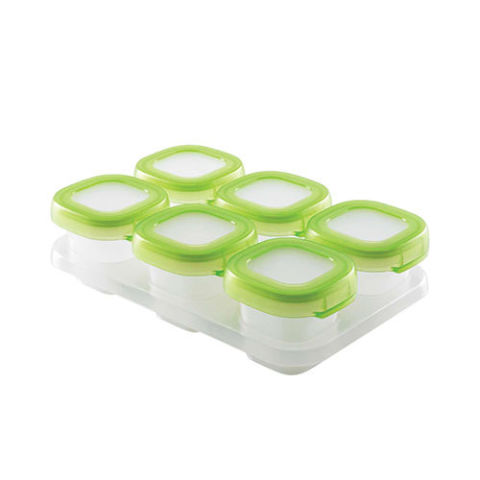 Organizing your freezer with these sturdy baby blocks will actually make it a lot easier than before. Each block holds up to 2 ounces of food, and they are easily stacked up to save up some space. Another great choice in the freezing part of the list, only 2 ounces but with six different holes, this makes a great choice for your home.
6. Mumi&Bubi Solids Starter Kit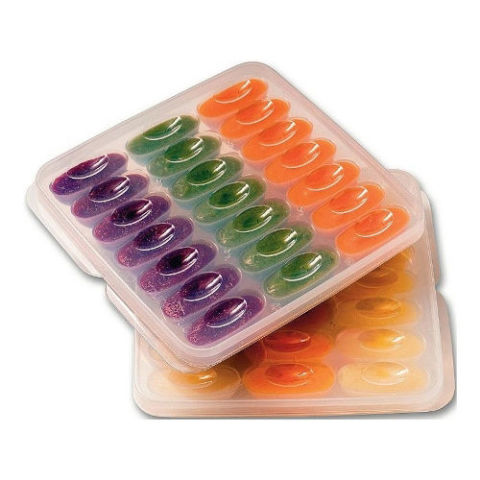 These 1 ounce portions are a great choice for those who are still not sure what kind of food baby likes the most. After 15 tries (servings), you might get to know! Like you see in the picture, this is mainly for babies who are just starting out, you don't want to waste too much food so the small portions make a great choice to see what your baby likes.
7. Sage Spoonfuls Glass Baby Food Jars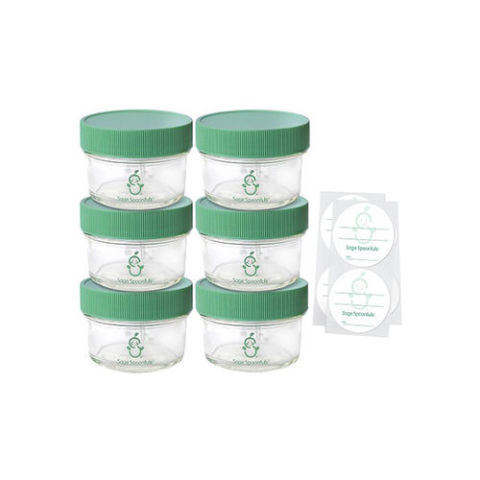 Another great glass baby food storage container option right here, these 4 ounce jars not only cool in their look, they will always keep the baby food ready and waiting. We like the simple design and easy to use caps. No fuss and overdoing it, just a simple container that get's the job done.
8. iPlay Green Sprouts Silicone Freezer Tray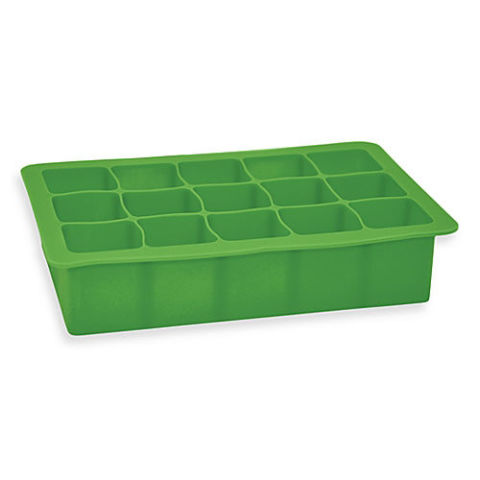 Just like most blogger mothers do, storing the food in ice cube trays and having it ready to eat whenever – you can do this, but just a lot better with this silicone freezing tray. We like that it's a little bit deeper than your average ice tray, so it can actually hold some food and not just a drizzle of water. Worth a try in our honest opinion.
9. Baby Bullet Baby Food Storage System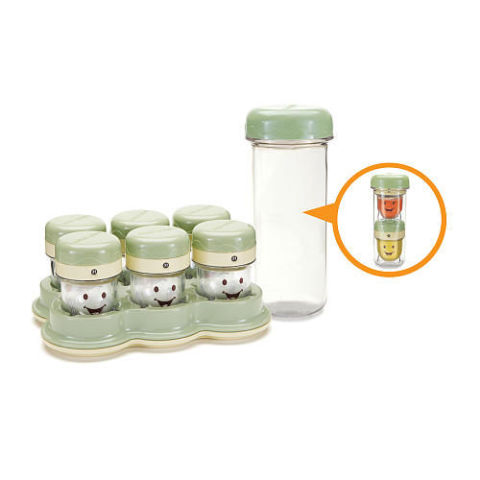 These refrigerator-only cups are designed to keep the food fresh for a lot longer. The date-dial on lids will help you out to know when the food was prepared. Awesome product, really, the design looks great and the date on the caps makes all the difference.
10. Vital Baby Press 'n' Pop Mini Freezer Pots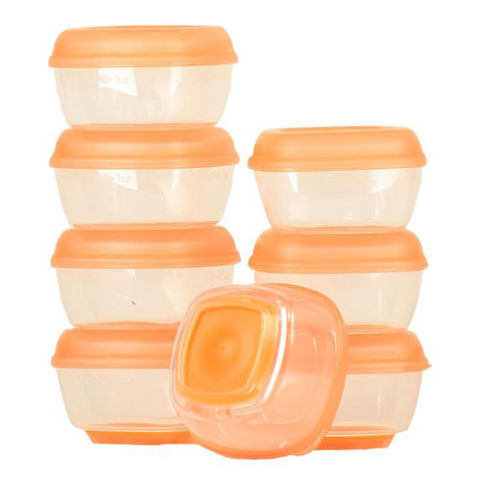 Press the soft base and pop 1 ounce cube out, great for snacks, baby food and salads. Don't be fooled by this simple and even vintage design and look, these work, sometimes the simplest things work the best and this is definitely one of these times. Worth a try.
11. Petite Creations Baby Cubes Freezer Tray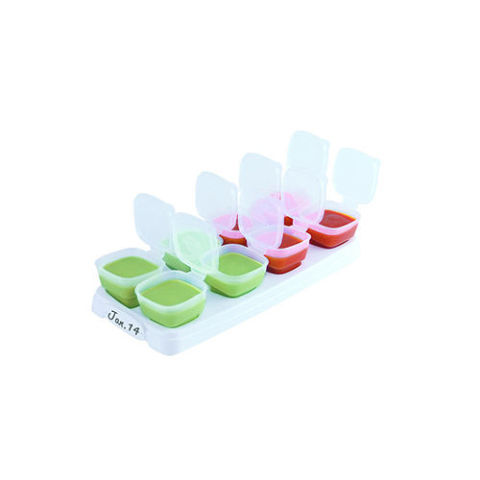 A great freezer tray that allows you to take one cube and serve it, but keep the rest frozen and ready for the next defrost. We love the idea of placing each cube separately but still inside the same tray, making this little gadget a great choice for every new mom.
12. Fresh n Freeze baby food container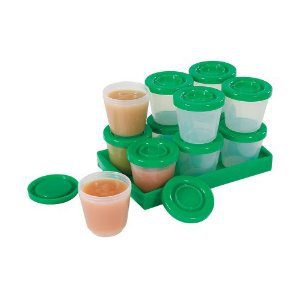 Last but not least is this good baby food storage container in the freezing niche again. Notice you have many cups with lids and you can also store all of them together inside a tray that fits perfectly. This is great for babies with a healthy appetite because of the sheer volume you can store with this product. This is the last item on the best baby food storage containers list, but don't make the mistake of thinking it's not good.
That's it, we hope you found what you were looking for and please let us know which of these best baby food storage containers do you like the most? Do you own any and what do you think of their functionality?