Mickey Mouse just might be the most popular animated character of all time, so it won't come as a shock to you that we say that shoes and other clothing items with his print on them are very popular. This why this list of the best Mickey Mouse Crocs for toddlers is going to be popular too.
If you're looking for shoes to get to your little ones and you know they love Disney and Mickey Mouse especially, these would be a great choice.
1. Crocs Kids Light Up Mickey Mouse – Awesome Mickey Mouse Crocs for toddlers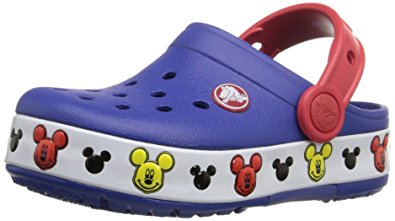 These Mickey Mouse Crocs shoes come in various colors but we will focus on the purple one now. It has a red heel strap that can pivot if you want to wear them as a sandal or move it back to be worn like flip flops, your choice. The sides have cool red,yellow and black icons of Mickey Mouse and other than that it's your regular Crocs shoes we all know.
2. Mickey Cayman Sandal – Crocs with Mickey Mouse theme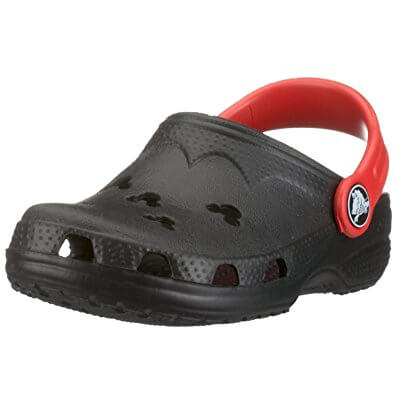 This design is much more classic and subtle, it comes in full black color, only with the heel strap to break routine and show off some red color. The great thing about this design is the little Mickey Mouse holes you can notice on the upper side of the sandal, these make for a great choice for Disney fans who still like to keep it on the down low.
Because let's be honest, you can't show up to kindergarten with purple sandals right?
3. 
Color Block Mickey Mouse Clog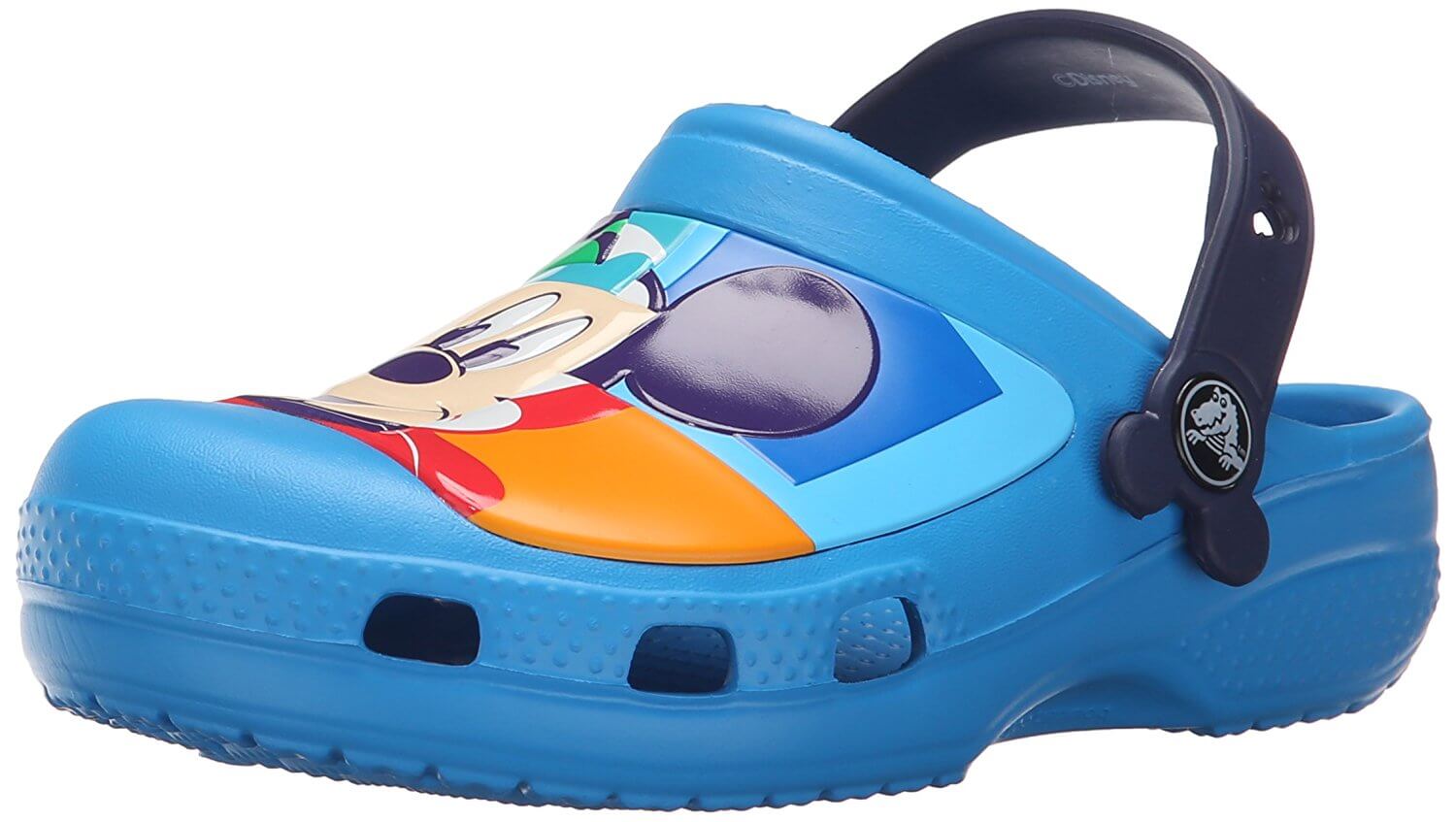 We just love this design, it has a bright blue color with a big and very clear Mickey Mouse print on the top, kids and toddlers will love this pair only for this fact, but it's a good thing to know it also comes with a heel strap making it easier for you to keep it on your baby's feet and not sleeping away every second. You can also notice the nice touch in the heel strap connector that has the shape of the ears of the popular character.
4. 
FunLab Mickey Mouse Clog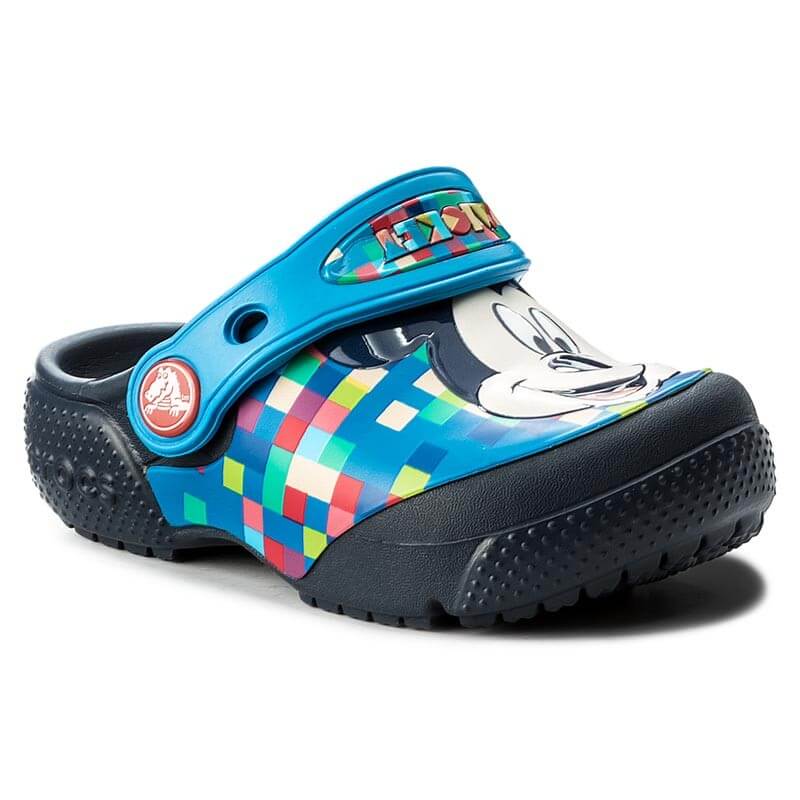 Similar to the previous item, this is for all out fans who want everyone to know: My kid is wearing Mickey Mouse and is a huge Disney fan! Just look at it, again, huge print of the Mouse on the front, this time the heel strap is painted blue with a nice colorful pattern that can be repeated on the sides. It also has a different design on the sole, many dots, probably to make it less slippery we guess.
5. 
CROCBAND II MICKEY K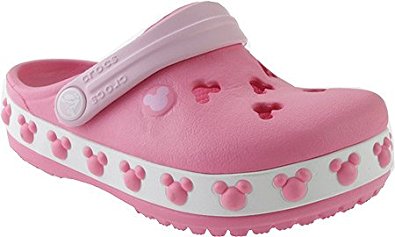 We know this is the list of the best Mickey Mouse Crocs for toddlers, but this one is purely for the little angels, the girls. Coming in all pink colors, this is making a stand, saying, I'm a girly girl and I like it! It has the cool Mickey Mouse ear holes in the front, also with the pink icons covering the sides all around and even the heel strap is pink! What girl can say no to this?
6. Classic Crocs Mickey Mouse shoes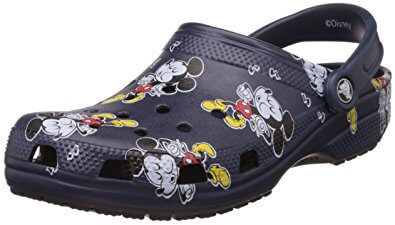 From one end to another, this all black, clearly aimed at the boys, the young rascals, it has nice patterns of Mickey Mouse all over it, the heel strap is all black, nothing extreme about this pair, it can fit any style almost, obviously anything that a Disney fan would wear. Nothing else to say really about this, just worth checking out.
7. Crocs Funclub Minnie Mouse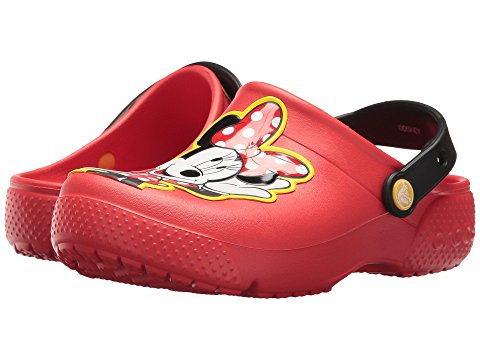 OK, we had enough of Mickey Mouse Crocs for toddlers today right? What about his loveable sidekick Minnie? These come in all red, with a black heel strap that matches perfectly in the color department, and let's not forget the huge Minnie Mouse print on the front side, so no one will ever forget she is pretty cool too.
8. Fun Lab Mickey Mouse clog sandals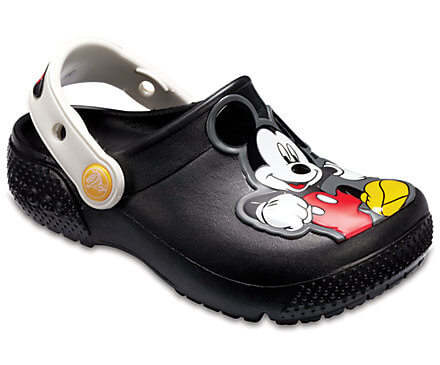 This is another classic design, all black color with a big Mickey Mouse print on the front side. The heel strap is white with a little patch of black in the back side. No holes on the upper part of this design, so maybe not a great choice if you plan to go hiking in water. But other than that, it looks great, and has the Crocs feel to it.