Every parent has a good activity table, so parents to be know they need one for sure. This is why we created this list to help you find the best baby activity table for your kid. Some tables come in various shapes and sizes, some can be built easily while others come with separate legs so you could put the top on the floor.
With so many choices and features, how will you choose? Every parent want different things for his child, so browse through the list and pick the table that best suits you and your character. Good luck.
The benefits of an activity table for babies
We all know that we need to keep our baby's mind engaged with positive things and toys to help him develop properly, babies need both mental and physical stimulation to grow and develop their personalities and physical capabilities. So we buy them toys that help with that, one of these toys is an activity table. Baby activity tables are a great toy to help your baby stand up, work his brain with the various challenges each table offer and even just give you the parent a few minutes of quit time LOL.
1. ALEX Junior My Busy Town Wooden Activity Cube – First item on the best baby activity table models list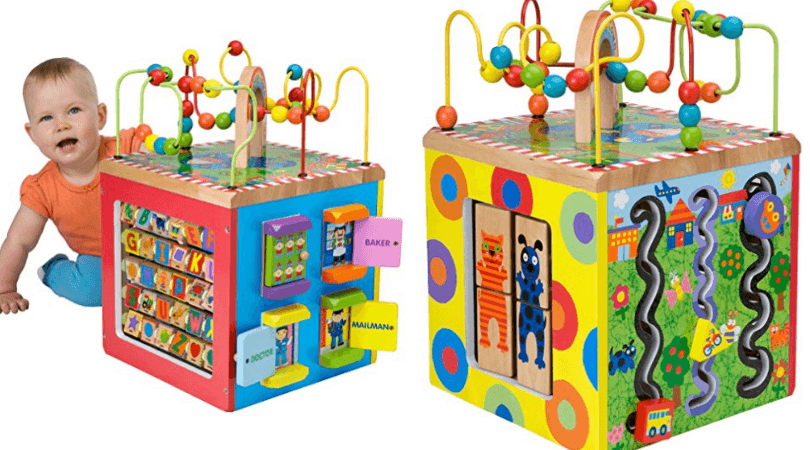 This is a great activity toy that comes in a slightly different shape from the familiar table. It's a cube, a big one, filled with many neat activities for your child, you can take this with you when you leave the house, just place it on the ground when you want to entertain your baby and watch as he's imagination run wild. The cube has 5 different surfaces filled with fun, from curvey bead mazes to peek a boo open and close doors. Animal matching and even a racing car to name a few. It has it all!
The base of the cube is stable enough to take a hit and not tip over when your kid is leaning on it.
Some notable features we love about this model: 
The cube shape sets it apart from the rest of the toys in the category
Five different surfaces with playing activities
Can be carried with you on the go
2. B Kids 3-in-1 Twinkling Table Trolley – awesome activity table for babies.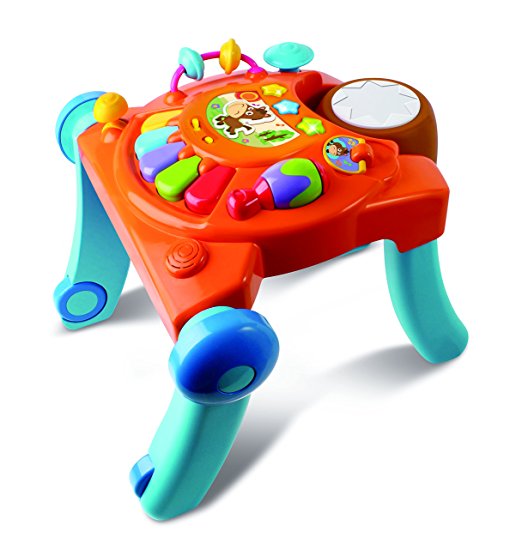 This table comes with unique horse and drum sound effects, the buttons on the upper surface are perfectly positioned to help and improve hand and eye coordination of the baby. The legs can be folded so you can carry this item with you or just for easy storage. Overall, people have said this item is great, but it's a little on the light side so if your baby is not standing up still, he might lean on it and it could move, so take this into consideration before deciding on it.
Some notable features we love about this model: 
The legs fold for easy storage
The button placements encourage the baby hand eye coordination
3. ALEX Junior Sounds and Play Baby Activity Center – Table toys for kids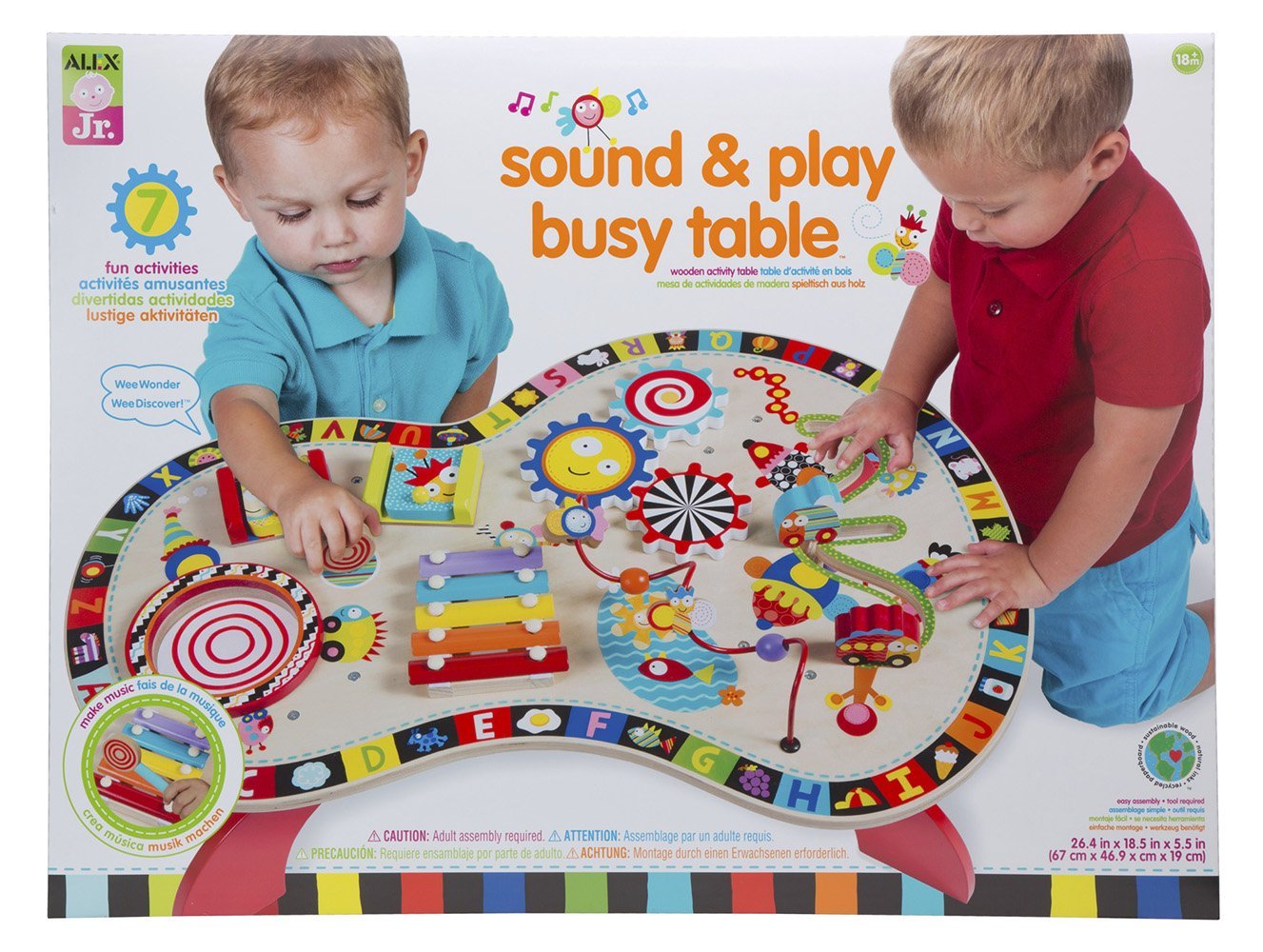 This is a unique baby activity table because its shape is a little bit different, but this is actually a good thing if you think about it. The table was once featured on ABC and Woman's day magazine for its advantages for kids. The table has everything a developing baby needs, your kids will spend hours playing on this table and all it's cool features. They can pound, slide, squeeze and even play music on the xylophone. We love the 2 peek a boo toy that a lot of other tables have, but this one as well.
Some notable features we love about this model: 
Easy to assemble for the adults.
Unique design, lots of playing features, kids can stay engaged for hours.
4. Manhattan Toy Tree Top Adventure Table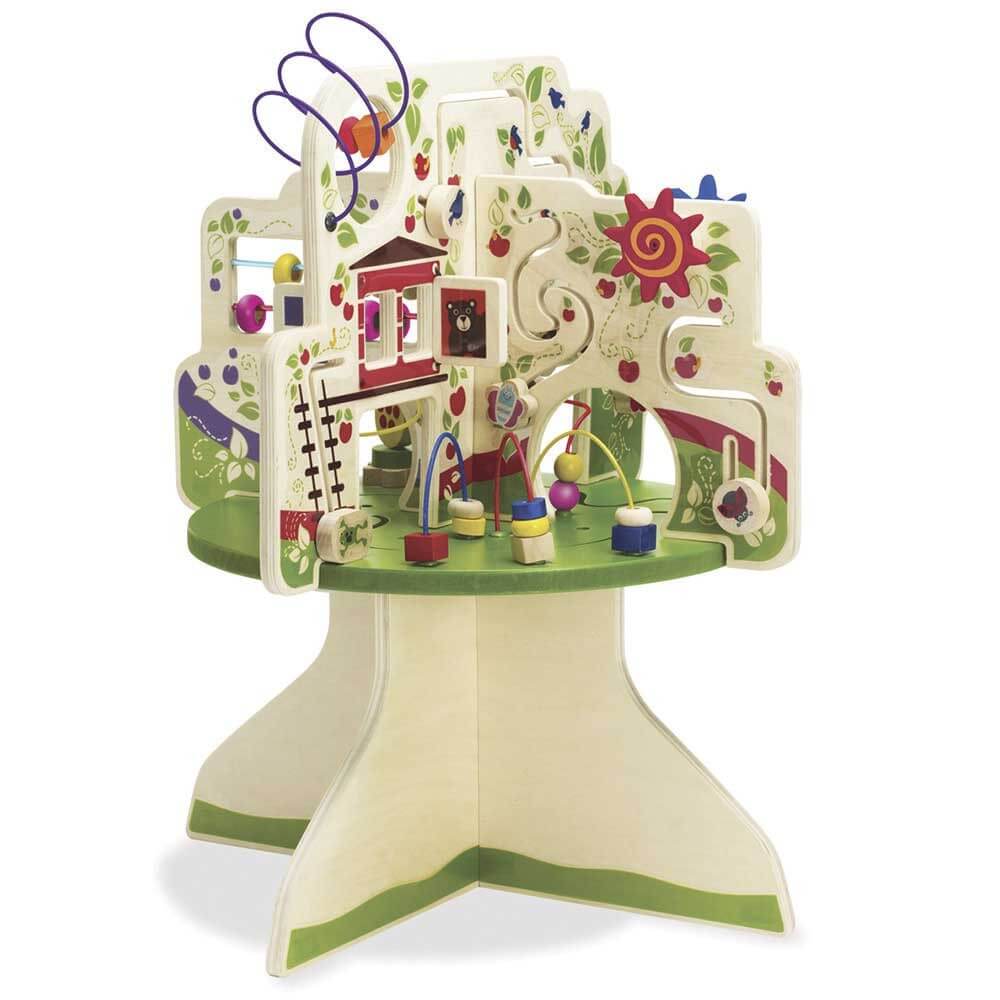 The Manhattan toy tree is made of quality wood painted with cool colors your baby will love. As you can see from the picture above, it has so many toys and little games on top of it, your kid will be engaged for a very long time. What's cool about this activity table is that its shape is unique, so your baby will feel different when playing with all the animals and peek a boo doors they hide behind.
This table is great to encourage your baby's motor skills along with the problem solving skills we all want to improve in our kids. The first on the best activity table for babies list, and with good reason.
Some notable features we love about this model: 
Doesn't work on batteries.
Nice choice of activities
Non toxic finish
5. Skip Hop Explore and More Baby's View 3-Stage Activity Center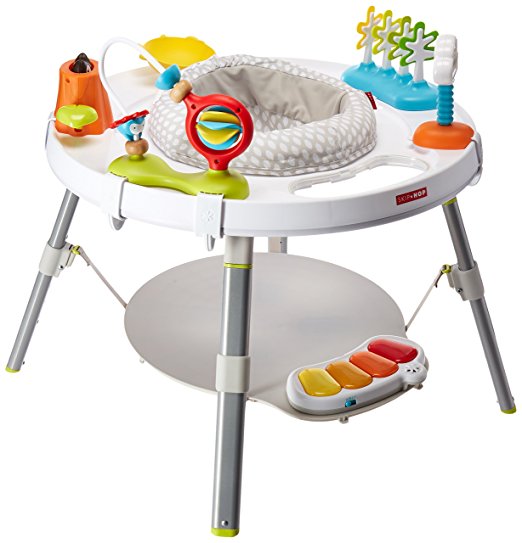 This is a great item and unique to this list, it can be used at first as a sit in play station and later develop into an activity table as your baby grows and being able to stand on his own. You can start introducing this item to your baby when he or she is about 4 months old and when they can hold their head without help. It's made to make them sit in a proper position while playing with the activities. The table can spin 360 degrees and this is what gives it the biggest advantage in my opinion. Your baby can spin and reach every side of the table with ease.
Some notable features we love about this model: 
360 spinning chair
Can be played from an early age
Toys can be attached to the table, and taken outside.
6. Bright Starts Around We Go 3-in-1 Activity Center Zippity Zoo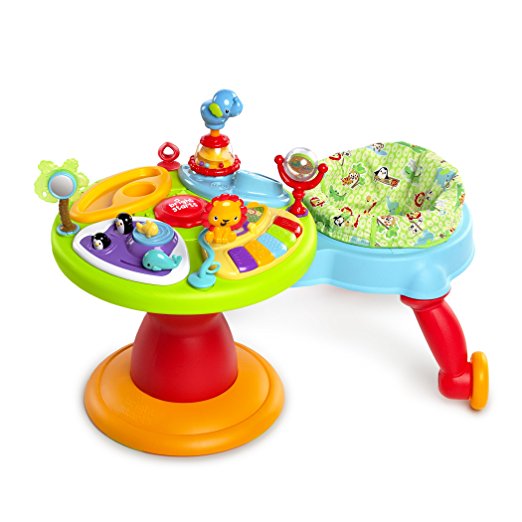 This product is actually a two for one deal. You also get the cool activity table, but it comes with a seat that can move around the entire table in a circle. When your baby is learning to stand and walk on his own, this is a great choice to ease them through that stage.
The base of the table is heavy and weighted so that it won't tip over when the baby is leaning on it, and when he feels ready, you can just detach the seat and let him or her walk around free and play with the big boys.
Some of the toys featured on this table are: Animal friends, rattle, push and spin to name a few. The colorful piano will actually play a realistic sound, overall, this table for babies has around 15 different activities to keep your angel busy and happy.
Notable features about this item:
Two for one, comes with a walker.
You can adjust the height.
Very easy to clean and maintain.
7. WinFun Letter Train and Piano Activity Table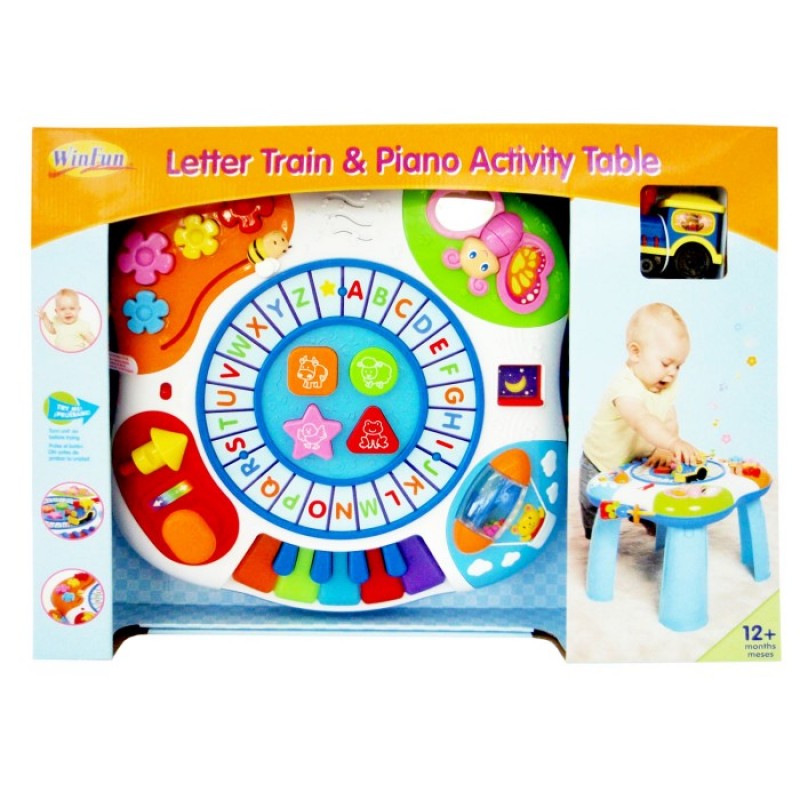 Want to start teaching your baby the alphabet and let him play the piano a little bit? This table is great for that. The WinFun letter with piano has a very big and clear train track that your kids can spin and learn the letters. Your baby can move the train and watch the center and learn. What a great idea. If all that wasn't enough, the table comes with a piano that will teach young kids how to play a simple instrument or at least just listen to the notes. Over all, this is a great product and table for babies.
Notable features about this item:
Two for one, comes with a walker.
You can adjust the height.
Very easy to clean and maintain.
8. 
Fisher-Price Laugh & Learn Around The Town Learning Table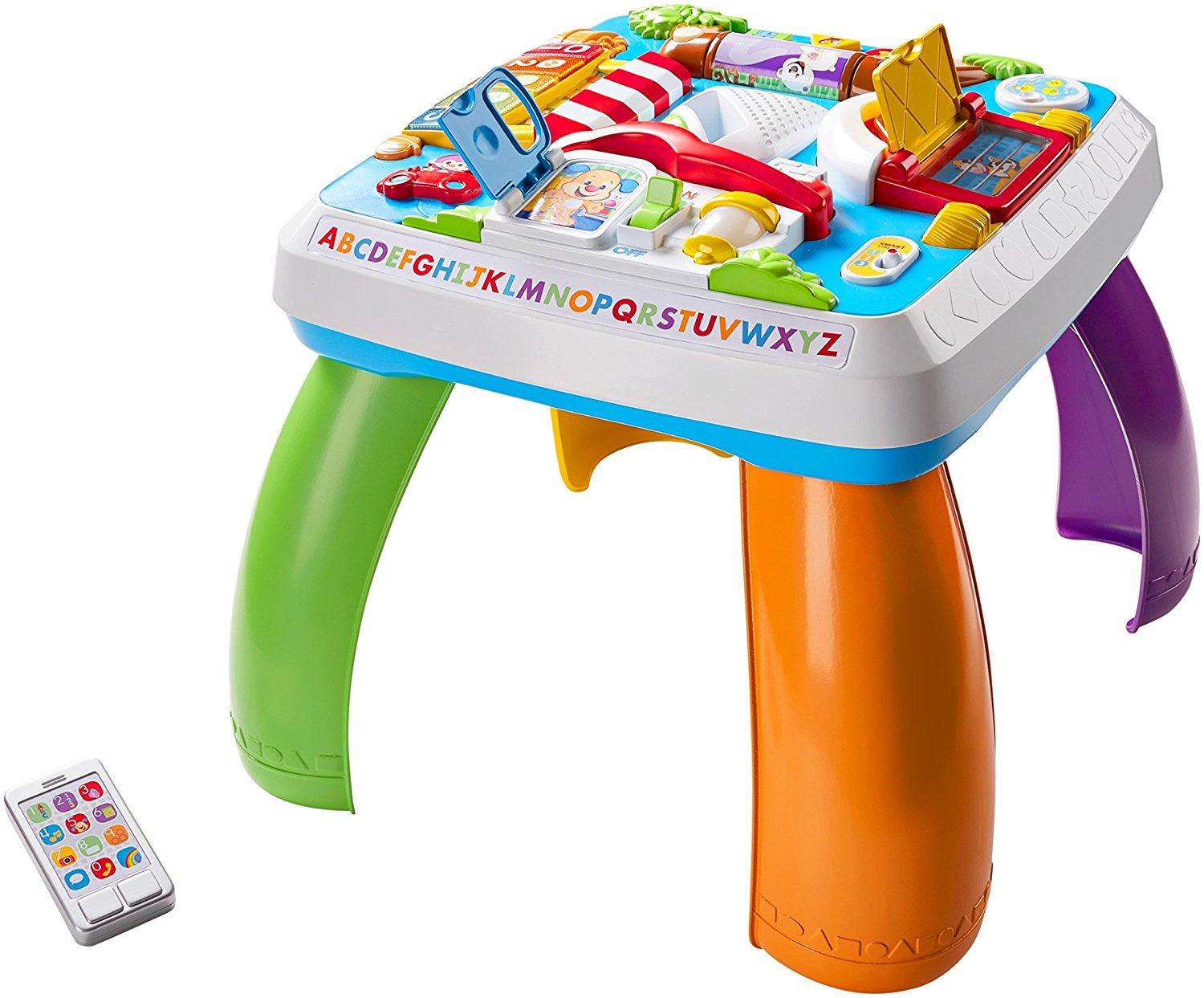 Suitable for babies from age 6 months and up, this activity table is designed to grow with your baby as he develops. When we say it develops with your baby, we mean it, this table has three stages or levels that will grow with your kid. The first level is a basic level aimed to alert the baby with sounds and simple words. The second level is aimed at encouraging your baby to follow simple instructions for simple tasks. The third level is where the table encourages your baby to work his imagination and think for himself.
Notable features about this item:
Cool design the table is designed like a little town
Baby will learn basic words
Removable legs makes it easy to adjust and move around.
9. 
VTech Magic Star Learning Table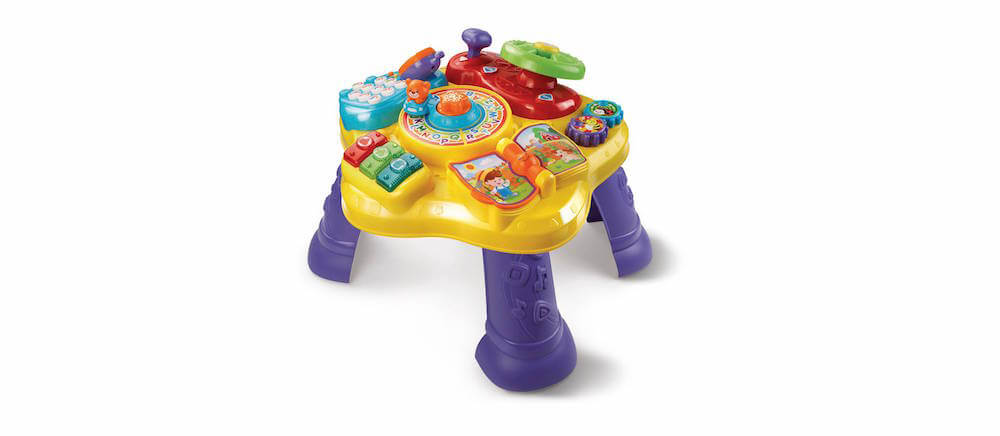 The Vtech activity table gives you the option to remove the table legs and put the activities on the floor. The table also features both English and Spanish games, we have to stress and point out the excellent color choice for this table, it makes sure the kids will stay focused on the games in front of them and not wander off with their eyes. The table is a great fit for 6 month old babies up until three year old kids. Definitely a table worth checking out.
Notable features about this item:
You can remove the table legs
Great color choice to keep babies focused
Both English and Spanish games
10. 
Kidoozie Sights and Sounds Splash Table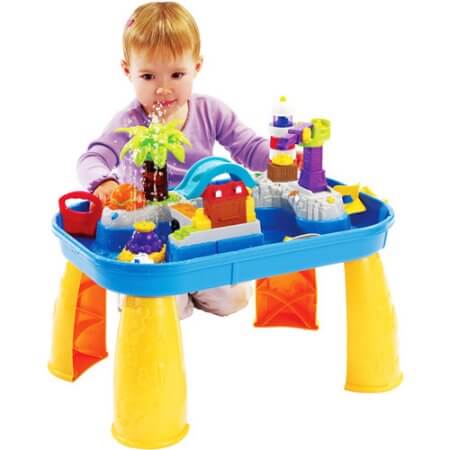 We love this table because it's very different from all the rest, you can notice the deep playing feature simulating water. Your baby can block and create paths of water and make a tiny world of oceans and boats. This is a great table for those who are looking to give something different to their kids.
Notable features about this item:
Different features and games
Easy to assemble
Sailing boats included
Well, that's it for this list and we hope we helped you find the best baby activity table for your kid, please share with us the models you liked and why.